There may be times when you need to send a common message to a number of people over a period of time. It is an annoying task if you have to keep typing the same reply every single time you need to provide that response. You can now use the Canned Responses feature in Gmail Labs to set an automated message. In this Google Apps tutorial, you will learn how to set automated Gmail messages using the Canned Responses feature..
How to Set Automated Gmail Messages Using Canned Responses
1. Login to your Gmail account and click the Settings link.
2. Select the Labs tab.

3. Scroll down and enable Canned Responses and click Save Changes.

3. Compose a new email with the message that you want to save for future use. Just below the Subject text box, click Canned Responses and select New canned response.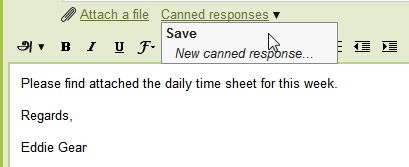 4. In the dialog box that opens, in the name text box, enter a title for the canned message and click OK.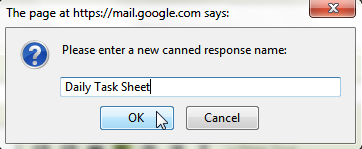 5. Your message is now saved to the Drafts folder. When you want to send the canned response to a contact, open up the email, click the Canned responses link and in the Insert section, select the message to insert it in the email message body. Enter the rest of the email specifications such as the To address and subject (if required) and send the email.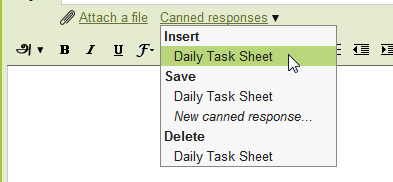 6. You can also apply further automation to the message by creating a filter with specific options to send the canned messages. For example, if you want to create an automated response to email received from a particular contact with specific words in the subject or message, here's what you need to do.
a. When you create a canned message click the Create a filter link.

b. Specify the filter criteria. In this instance, I have set the criteria to filter messages received from a particular email address with the specified words and clicked Next Step.

c. Check the Send canned response check box, select the canned message, and click Create Filter.
d. When you receive an email from the specified recipient with the set criteria, an automated email message is generated. All you need to do is click the Reply button, and send the message.
Canned responses is a great tool for Gmail users who provide customer services or technical support and who need to frequently send similar responses to a large number of users. If you haven't used this feature, give it a try and let us know if it is useful in your line of work.