A lot has been happening on Facebook these past few months; launch of Facebook messages, comments and more. Yesterday, Facebook Questions was finally launched and for those of you who have been dying to see what it's all about, here's the run down on everything you need to know before you upgrade to Facebook Questions. Facebook Questions allows you to ask a question to your friends as well as other Facebook users. When you ask a question, it is shared in your news feed and when your friends answer or follow that question, it will be shared with their friends and so on.
Upgrade to Facebook Questions and Ask Away
How to Ask a Question on Facebook Questions
You can ask questions which are designed to get quick short replies, such as poll-type questions but you can also ask questions that require a longer response.
1. On the Share bar, click Questions. You can also click the link on the left navigation pane.
2. In the Questions text box, type your question and press Ask Question.
3. If necessary, in the How Questions Work message box click Ask Question.
How to Answer a Question on Facebook Questions
Answering Facebook Questions is pretty simple. You can also vote on another person's answer by clicking the radio button next to the option you want to vote on. The answers to your question will be filtered in the order of responses from friends, followed by responses from others.
1. Click the Questions link on the left navigation to get to the Questions page.
2. In the Add an option text box, enter the relevant answer and click Add.
If you want to leave a longer response, click on the question title and in the dialog box that pops up, in the Posts section, enter your answer and click Share.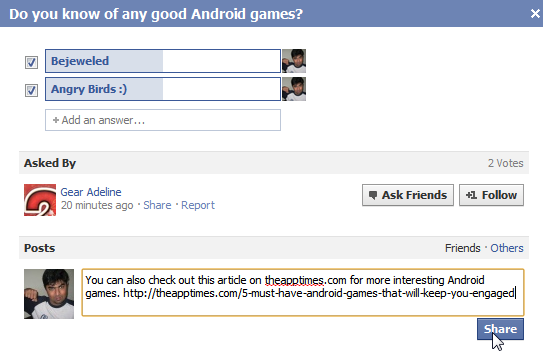 How to View Your Friends' Facebook Questions
1. Click the Questions link on the left to navigate to the Questions page.
2. At the top, click Friends Activity to view the questions posted by your friends.
What Can You Do on Facebook Questions
1. Suggest a question to a friend by clicking  Ask Friends in the top right corner of the question box.
2. Comment on other people's answers, but this is limited by their privacy settings.
3. Follow questions by clicking Follow in the top right corner of the question box.
4. Unfollow questions by clicking Unfollow below the question.
5. Add a poll by clicking Add Poll Options after entering your question. You can then add the answers you want and uncheck the Allow anyone to add options checkbox) if desired.)
6. Remove a poll option by unchecking the check box beside the option you voted for.
7. Delete a question by clicking the X button on the lower right of the box.
Still Haven't been Upgraded?
Facebook plans to roll out the Facebook Questions feature in stages, but for those of you who need to check it out right away, get started right away here.
Like or Dislike Facebook Questions?
Facebook Questions is a fun way to interact with various Facebook users and get good opinions and suggestions on the best spots to lunch in your city or on the coolest nightspot in a new city to plan to holiday in. For those who find the Facebook Questions feature annoying, unfortunately, there's no turning back. If you are irritated with all the changes happening on Facebook and need a more private social channel, you may want to check out the YapTime.