If you've got an Android device and you're a fan of the great outdoors, then these outdoor apps for Android can be a great partner for you. These apps are sure to add a little extra something to your experience outdoors. Whether you need to find your way around, measure distances, or tie knots for various purposes, these smartphone apps are your best friend.
Great Outdoor Apps for Android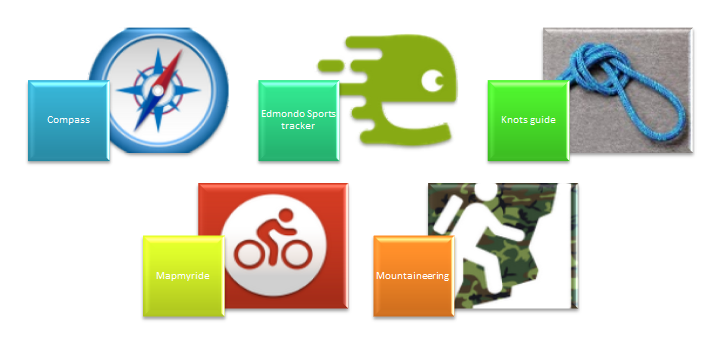 1. Compass
Know your direction and location through the Android app, Compass. This app can tell directions and locations and can even enable you to add places and geo-tagged notes. The app displays the compass in its classic appearance, but don't be fooled, as this app can help you with directions, the high tech way.
2. MyTracks
Another great app for Android users, who are outdoor enthusiasts, is MyTracks app. This app allows users to record tracks (through GPS) and share them with friends in their social circle.  The app is great for outdoor activities such as biking, hiking, climbing and running. This app measures useful outdoor data such as distance, elevation, speed, and time.
3. RunKeeper
This Android app tracks information such as time, pace, heart rate, calories burned and distance. It can also be set on a customized workout interval
4. MapMyRide
For those into cycling, this is a great app for you. This app can track distance, pace, calories burned and cycling route. The app utilizes real time GPS transmission.
5. Endomondo Sports Tracker
If you want to track outdoor activities real time, Endomondo Sports might just be the app for you. The app not only tracks activities real time, it also enables users to share them with the community. It also has a feature that enables users to challenge friends to beat "best records".
Preparation is a key aspect in any outdoor activity. Make sure you are prepared technology-wise, and gear-wise. Shops like Moosejaw and Backcountry can help you prepare for outdoor activities by providing you with the appropriate gear and apparel. You can even get Moosejaw coupon and Backcountry coupon for discounts. Prepare for the outdoors with the right technology and the right gears.
6. Knots Guide
Learning how to tie a knot is a necessity if one decides to embark on outdoor adventures. This skill is not only useful and cool to know, it can also be a life-saver. Knots Guide is an Android app that has a reference for over 92 knots across 10 categories. The app serves as a perfect guide on what type of knot to tie and how to tie it. This would come in handy in simple situations like, tying a canoe to your car or to more serious situations where you need rope for support.
7. Mountaineering
This is an app that can guide you on your mountaineering endeavors. The app features techniques you might need to employ if you are climbing rocks, ice, vertical urban environments and snow covered mountains. The app can also offer guides to other activities such as river crossing. This app is based on the U.S. Military Field Manual.
8. Packing List
If you always tend to forget to pack something, this app might just help you. The app is a list maker, but not just any simple list, you can create lists from previously existing lists, you can also make variations from one list to another and you can even make a list from scratch. If you tend to leave things out of your supplies, these simple to make lists will be a great way to remind you of the things to prepare and bring.
Guest Author Bio:  Amarendra, the guest author likes outdoor activities and he uses these great outdoor apps in his HTC Android mobile. He is a part time blogger and freelance article writer.