It is difficult to stay organized and focused when you are working on different tasks or projects. ?In fact, you often end up with a cluttered desktop with multiple windows open. Groupy 2 is a fantastic app organization tool that lets you effortlessly organize all your apps into tabs, creating a streamlined and efficient workflow. In this article, we discuss the features, benefits, and various use cases of Groupy 2 that can help you take your productivity to the next level.
What is Groupy 2?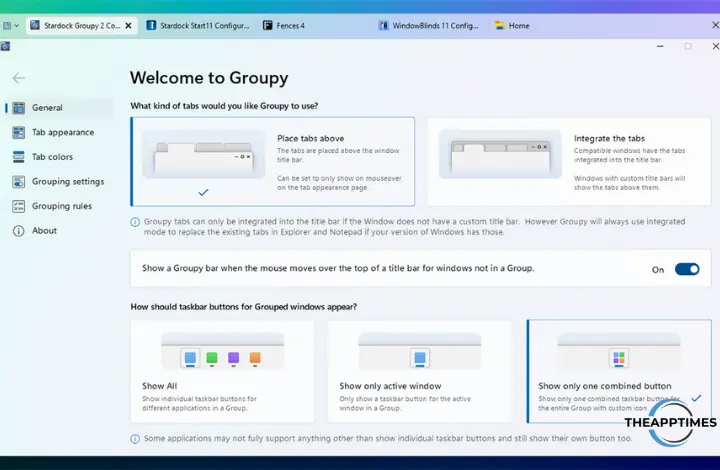 Groupy 2 is a powerful third-party application developed by Stardock. It allows users to organize any app or program into tabs on Windows 11 or Windows 10. Unlike the limited built-in tab feature that is only available for a few select apps, Groupy 2 offers a universal tab experience. This allows you to group together apps and tabs based on specific tasks or workflows. With this app, you can easily switch between different applications without the hassle of searching for open windows or cluttering your desktop.
The Benefits of Using Groupy 2
Groupy 2 offers a wide range of benefits that enhance your productivity and streamline your workflow. Let's explore some of the app's key advantages:
Effortless App Organization
With Groupy 2, you can say goodbye to a cluttered desktop and hello to a clean and organized workspace. By grouping apps into tabs, you can easily navigate between different applications without the need to constantly switch windows. It allows you to keep related apps together. This makes it easier to find and access the tools you need for a specific task or project.
Improved Task Management
Managing multiple tasks simultaneously can be challenging, but Groupy 2 simplifies the process. By grouping apps based on specific tasks or projects, you can create a dedicated workspace for each objective. This not only helps you stay focused but also improves your efficiency by eliminating the need to search for open windows or navigate through multiple applications.
Enhanced Productivity Features
It offers unique features that enhance your productivity and streamline your app experience. One such feature is automatic grouping, which automatically groups all instances of the same application together. This eliminates the need to manually organize your apps and ensures a seamless workflow.
Customization Options
The app provides users with a range of customization options to tailor the tab experience to their preferences. You can choose from different layouts, such as squared corners or the classic Windows 10 design language, to match your aesthetic preferences. Additionally, you can assign accent colors to tabs, making it easier to associate tabs with specific projects or tasks.
Quick and Easy App Launch
It allows you to launch multiple applications with a single click from the taskbar. By creating groupings of frequently used apps, you can quickly access the tools you need without wasting time searching for individual windows. This feature is especially useful for gamers, students, and professionals who work with multiple applications simultaneously.
How to Use Groupy 2 in Different Scenarios
Groupy 2 is a versatile tool that can be used in various scenarios to improve organization and productivity. Let's explore some common use cases:
Gaming
Gaming enthusiasts often have multiple gaming apps open, which can clutter the desktop. With Groupy 2, you can organize all your gaming launchers into a single window, keeping your gaming experience seamless and clutter-free. It also allows you to group your streaming apps by purpose, making it easier to engage with your community while gaming. By adding color to your tabs, you can quickly identify gaming or productivity apps, ensuring a smooth gaming experience.
School
Keeping schoolwork organized can be challenging, but Groupy 2 can make it easy. By adding color to each tab, you can sort your open apps by topic, subject, or purpose. This makes it easier to navigate through different assignments or research projects. Additionally, Groupy 2's automatic grouping feature allows you to keep research apps in their own window, ensuring a distraction-free learning environment. You can also quickly launch a grouping of school apps directly from the taskbar, saving you time and effort.
Productivity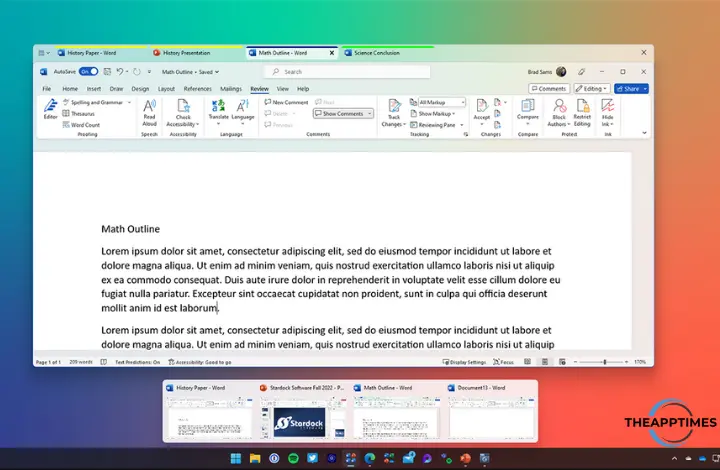 Groupy 2 shines when it comes to improving productivity and organization. By adding tabs to the windows of open applications and groupings to the taskbar, it helps you stay organized and get your work done faster. Groupings allow you to launch multiple applications at the same time, streamlining your workflow. The accent color feature makes it easy to organize your tabs, reducing the time spent searching for the right window. By grouping your productivity apps together, you can stay focused on specific tasks and boost your overall productivity.
Multi-Device Usage
Groupy 2 supports multiple device usage, allowing you to organize your applications across different devices seamlessly. Whether you're working on your Windows 10 desktop or Windows 11 laptop, it ensures a consistent tab experience. With up to five active installs, you can enjoy the benefits of the app on all your devices.
How to Get Groupy 2
Groupy 2 is available for purchase on Stardock's website. The home use license costs $9.99 and provides all the features and benefits for individual users. If you're looking to deploy the app across multiple computers in an enterprise environment, Stardock also offers Groupy 2 for Business($14.99). This version includes deployment tools and centralized licensing management. This makes it easier to install and manage the app in an organizational setting.
Conclusion
Groupy 2 is a game-changer for Windows users who want to enhance their organization and productivity. With its powerful features and seamless integration into the Windows operating system, it allows you to effortlessly organize your apps into tabs. The results: a clutter-free desktop and a streamlined workflow. Whether you're a gamer, student, or professional, it offers the flexibility and customization options to meet your unique needs.
Get organized, stay focused, and achieve more with Groupy 2 on your Windows device today!