Stargazing with the humble telescope isn't a lot of fun, at least initially. Newcomers to the world of astronomy need to have a lot of patience just learning to set up a traditional telescope. Huini is a company that is about to change all that with their  smart, connected telescope. The telescope works along with a connected app to bring you a live view of planets, stars, galaxies and other celestial objects along with tons of educational content to transform and enhance your stargazing experience. Here's more on the Hiuni telescope.
Why Buy the Hiuni Telescope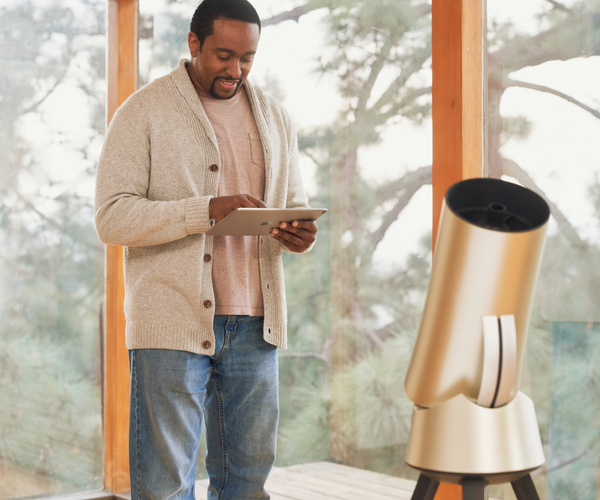 The Hiuni telescope is great for a number of reasons.
It works right out of the box making it ideal for amateurs
Lets you see real time view of celestial objects via a connected app
Lets you capture images of objects at 1280×1024 pixels.
Provides tons of educational content
Lets you enjoy viewing celestial objects in real time with friends and family
Wireless portability lets you stargaze from anywhere
How to Use the Hiuni Telescope
1. Turn on the Hiuni Telescope. It will self calibrate.
2. Connect the tablet app to Hiuni. Apps are available for iOS and Android.
3. On the tablet, select an object you want to view.
4. Hiuni telescope will navigate to the location of the object you selected.
5. You can view images of the object on the tablet device and learn tons of information about it as well.
Use Hiuni Right Out of the Box
One of the most exciting features of the Hiuni telescope is the fact that it is really easy to get started with it. Once you turn on the telescope and connect it to the Hiuni app on your favorite tablet, the telescope will automatically calibrate its routine.
Its built-in sensors including a GPS, accelerometer, magnetometer, and gyroscope quickly identifies its location and orientation. Then, it calibrates its viewpoint in greater detail using a Celestial Vision Alignment system.
Once that's done, you can select an object from the interactive Sky Map on the tablet and Hiuni will locate it for you. You will be able to see the object in real-time through the Space View on the tablet.
Dual Live Views
Hiuni's smart features makes it the first telescope to provide two different perspectives of the night sky.
In the Sky View, you can see a wide angled view of the sky with a greater number of stars and constellations. This view is like a map of the sky, except that you also real-time overlaid information about the celestial objects that you can see. In this mode, you can control the telescope manually through the virtual joystick in the app.
The second view is the Space View. You can use this view when you want to see a celestial object in greater proximity. This is the view from the eye of the telescope. Since Hiuni uses a color image sensor, you can enjoy watching the Space View in stunning true colors.
The Hiuni Interactive iOS and Android App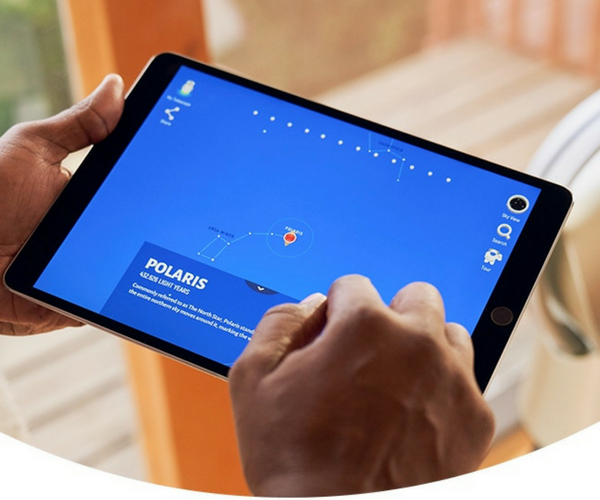 Whether you are young or old, an amateur or an expert, you'll enjoy learning about the objects you see in the sky with the interactive Hiuni app for iOS and Android. The app uses STEM principles to invoke curiosity and encourage exploration of its content.
Hiuni has reimagined the telescope by replacing the traditional eyepieces with double image sensors. This enables family and friends to gather around and enjoy viewing the observation in real time together. Apart from its live view, the app has lots of videos, images and audio content to enhance the learning experience.
The app also offers interactivity through its Discovery, Story mode and Tours. There are also several challenges thrown in and learners can play mini-games, earn badges and unlock more content to expand their stargazing experience.
If something in the sky caught your eye and you want to remember it forever, you can use the app to capture photos at an image resolution of 1,280 x 1,024 pixels.
Also Read: Stargazing Apps for Astronomy Buffs
Good to See Guide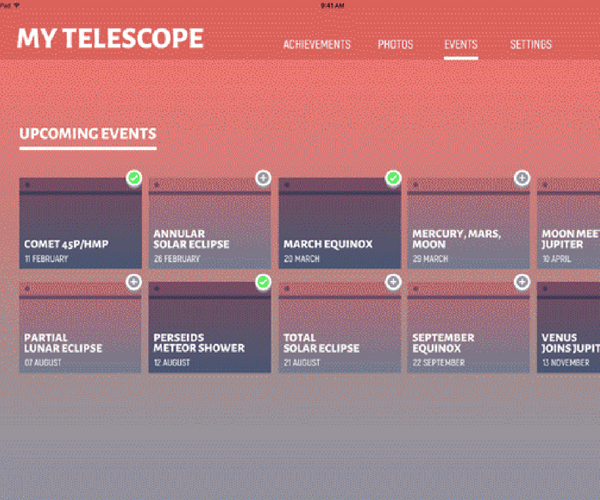 You may own a good telescope but knowing where to look and what to look at requires research. Hiuni's simple Good to See Guide offers just the sort of information you need for the purpose. Here are some of the things you can get in the guide:
Celestial Events Calendar: Depending on your location, the guide creates a custom celestial events calendar for you. This calendar will reveal upcoming celestial events in your location. You can bookmark events you want to observe and even get custom alerts as the event approaches.
Augmented View: As you explore objects, the app uses its extensive SkyMap database to provide overlay information on the object you are viewing. This way you not only see objects, but also learn about what you are observing.
Guided Tours: You can also learn about astronomy topic-wise or based on themes via guided tours. The tours are highly interactive with activities, challenges and mini games thrown in.
Viewing with Friends and Family
Perhaps the greatest benefit of using the Hiuni telescope is that it brings friends and families together. The traditional telscope, with its single eye-piece is only suitable for a single viewer. Since this telescope allows viewing via the tablet, you can gather family and friends to enjoy the views together. You can also share Hiuni's view with other people's smart devices using a QR code. This allows everyone to enjoy a great view, allows for lots of discussions and brings enthusiasm to the fore.
Availability
The Hiuni telescope can be preordered on Kickstarter at a fabulous discount of 55%, which brings the price down from $1190 to $489. The project has been backed many times over with 34 days more left. The telescope comes with a charger and a protective carrying case and will ship sometime around June 2019.
If you've been eying a telescope for some time, Hiuni might be just what you're looking for. Check it out at here.