In today's fitness-conscious world, selecting the ideal fitness wearable can be a daunting task. With countless options available, it can all seem overwhelming to find a device that suits your unique needs and goals. We'll help you make an informed decision, focusing on crucial aspects like functionality, compatibility, durability, comfort, and price. Whether you are a novice jogger, a professional athlete, or someone who simply wants to monitor your health, this post will give you all the knowledge on how to choose the perfect fitness wearable that aligns seamlessly with your lifestyle and goals.
How to Choose the Perfect Fitness Wearable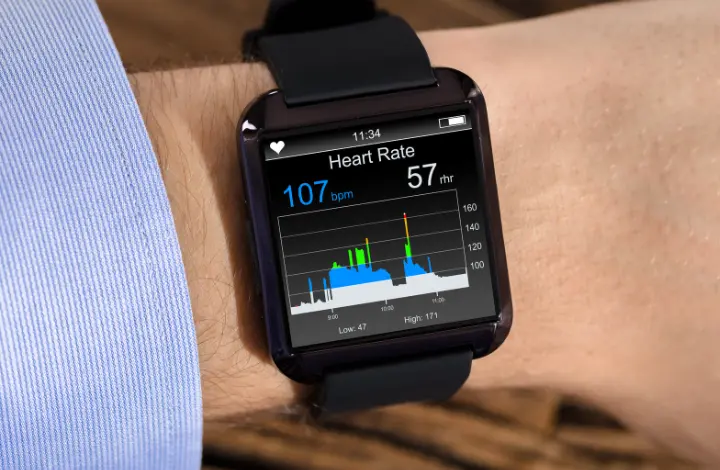 Determine Your Fitness Objectives
Before diving into the features of various wearables, it is important to know your fitness objectives. Are you aiming to shed some pounds or train for a marathon? Or, do you want to monitor your sleep or enhance your overall well-being? Identifying your goals will enable you to narrow down the type of wearable that best aligns with your needs.
Fitness Trackers for Casual Users
For individuals seeking a basic device to track steps, sleep, and daily activity, a fitness tracker might be the perfect choice. These devices are ideal for monitoring everyday movement and encouraging users to stay active throughout the day.
Smartwatches for Advanced Features
If you're looking for a more comprehensive device that offers additional features such as GPS, heart rate monitoring, and smartphone integration, a smartwatch could be the ideal option. These wearables provide a more sophisticated user experience and can often be customized to match your specific needs.
Specialized Devices for Athletes
For dedicated athletes seeking advanced metrics and precise data, specialized wearables like heart rate monitors, GPS trackers, or electrocardiogram (ECG) monitors might be more appropriate. These devices are tailored to specific activities and can provide valuable insights to optimize your performance.
Prioritize Features Based on Your Goals
Once you've identified your fitness objectives, it's time to prioritize the features that matter most to you. Here are some common features to consider:
Activity Monitoring
Essential for tracking steps, distance, calories burned, and exercise duration, activity monitoring is a standard feature in most fitness wearables.
Sleep Tracking
Monitoring your sleep patterns can provide valuable insights into your overall health and well-being. Many wearables offer detailed sleep analysis, including total sleep duration and sleep stage data.
Heart Rate Monitoring
Heart rate monitoring can help optimize your workouts and track your cardiovascular health. While many fitness trackers and smartwatches include wrist-based heart rate sensors, dedicated heart rate monitors often provide more accurate readings.
GPS Capabilities
For outdoor enthusiasts, built-in GPS functions can track your location, speed, distance, and elevation changes. This feature is especially useful for runners, hikers, and cyclists.
Water Resistance
If you're a swimmer or frequently engage in water-based activities, opt for a wearable with a high water-resistance rating to ensure your device can withstand exposure to water.
Smartphone Integration
Many wearables offer smartphone integration, allowing you to receive notifications, make calls, send messages, and access apps directly from your device.
Additional Features
Some wearables offer extra features like stress monitoring, electrocardiogram (ECG) monitoring, and contactless payment options, providing added convenience and functionality.
Consider Your Budget
Fitness wearables come in a wide range of prices, from affordable entry-level models to high-end devices with advanced features. Determine your budget before shopping to avoid overspending. Ensure you select a wearable that meets your requirements without breaking the bank.
Evaluate Design and Comfort
Design and comfort play a significant role in choosing the perfect wearable. Consider the size, shape, and materials of the device, ensuring it fits comfortably on your wrist and suits your personal style. Many wearables offer interchangeable bands for added customization.
Assess Display and Readability
A wearable's display should be easy to read, especially during exercise. Look for devices with bright, high-resolution screens that can be easily viewed in various lighting conditions, including direct sunlight.
Examine Battery Life
Battery life varies greatly among wearables, with some devices lasting only a day or two while others can last for weeks. Consider how often you're willing to charge your wearable and how important extended battery life is to your needs.
Research Accuracy and Consistency
While no wearable is entirely foolproof, it's crucial to find a device that provides consistent and accurate data. Read reviews and research the accuracy of various wearables to ensure you select a device that will reliably track your fitness progress.
Ensure User-Friendly Experience
A wearable's user experience encompasses device setup, data syncing, and ease of interaction. Opt for devices that offer intuitive interfaces, seamless syncing, and straightforward navigation to ensure a hassle-free experience.
Investigate App Compatibility
Many wearables rely on smartphone apps to display and analyze your fitness data. Ensure the device you choose is compatible with your preferred fitness app or offers a user-friendly, feature-rich app of its own.
Examine Additional Features and Functionality
Depending on your goals and preferences, you may desire additional features such as smart notifications, NFC payments, LTE connectivity, or music functionality. Weigh the importance of these features and consider whether they're worth the added expense.
Conclusion
Choosing the perfect fitness wearable is a deeply personal decision that depends on your unique goals, preferences, and budget. By considering the factors outlined in this guide, you can confidently select a device that will help you achieve your fitness objectives and enhance your overall well-being. Now that you know how to choose the perfect fitness wearable, strap it on and embrace the future of fitness.