Apple has made great strides in making widgets more useful in iOS 10. In simple words, you can now access your favorite widgets right from your device's lock screen. In this post, we take a look at how to configure Lock Screen widgets in iOS 10 on the Home screen.
iOS 10 Improvements to the Lock Screen
One of the first things you'll notice when you make that upgrade to iOS 10 is that your lock screen looks a little noisy. The swipe-to-unlock feature which I found pretty annoying all these years has now gone. Instead, you can unlock your phone by tapping the Home button a second time, or use your Touch ID or enter a pin to unlock it.
If instead of tapping the Home button, you swipe to the right as you've been doing for so many years to unlock your phone, you'll see an iOS 10 widget screen. In iOS 9, you had to first unlock your phone and swipe down from the top to see the widgets.
If you haven't used iOS widgets before, the iOS 10 place change should give you a good enough reason to start using them. Widgets can be used with native iOS apps such as finding your parked car in Maps. And it can also be used with third-party apps that support widgets.
How to Configure Lock Screen Widgets in iOS 10
You can configure your lock screen widgets:
1. Press the power button to wake your phone.
2. On the lock screen, swipe to the right to bring up the iOS Widget screen. In case you never set up widgets previously, you'll find that iOS 10 does some guess work and list a bunch of widgets that you might find useful. You'll likely find widgets related to the weather, the news, calendar events, reminders and so on.
If there's something you don't like using, or you want a more useful widget to show up on your screen, you can configure the widgets to suit your requirements. To do this:
3. Scroll down to the bottom of the widget screen and tap the Edit icon.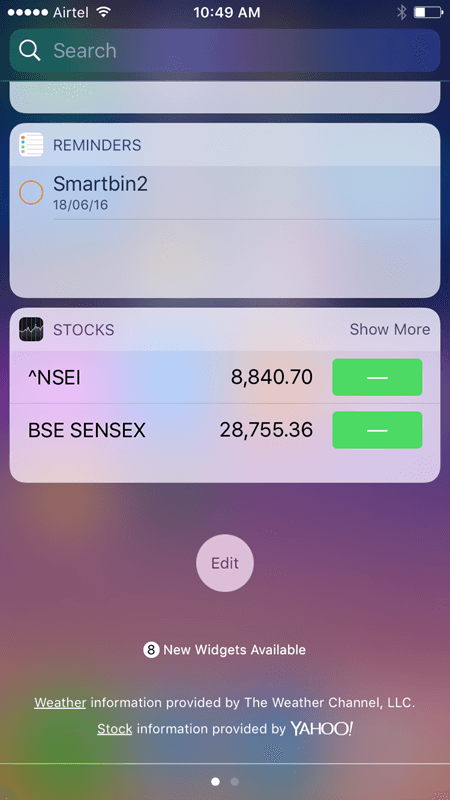 4. This will display the Add Widgets screen.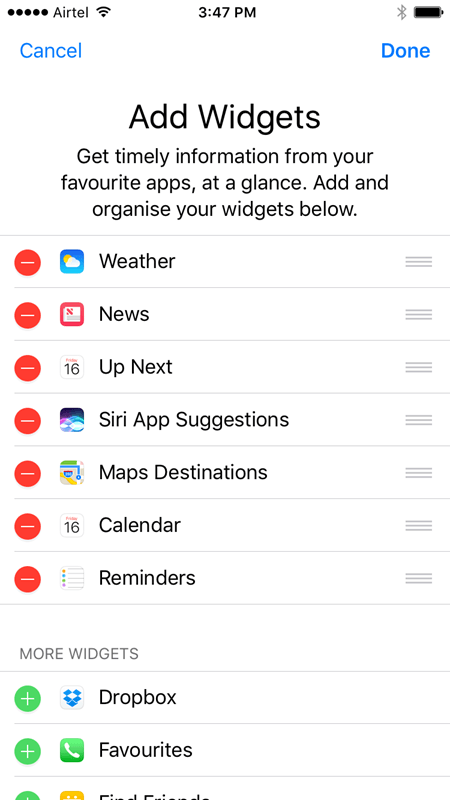 5. At the top of the Add Widgets screen, you can see all your currently active widgets. On the left side of each widgets is a big red icon. Tap the icon to activate the Remove button and then tap Remove to delete an unwanted widget.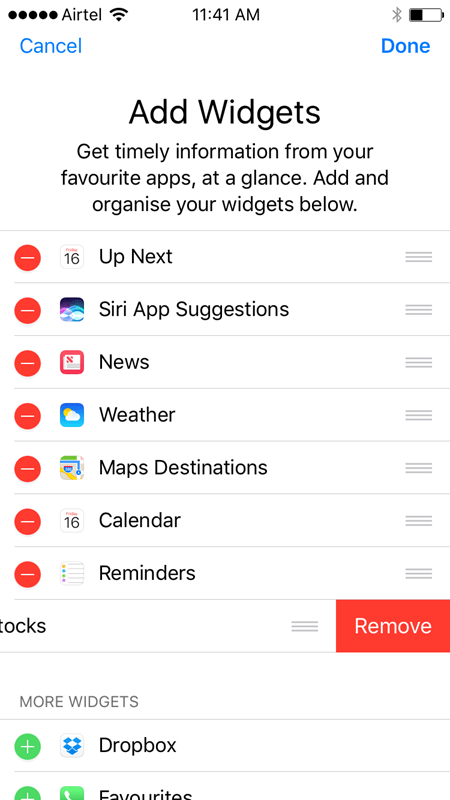 On the right, you'll find a small 3-liner bar. Tap and hold this bar to slide it up or down to reorder the widgets.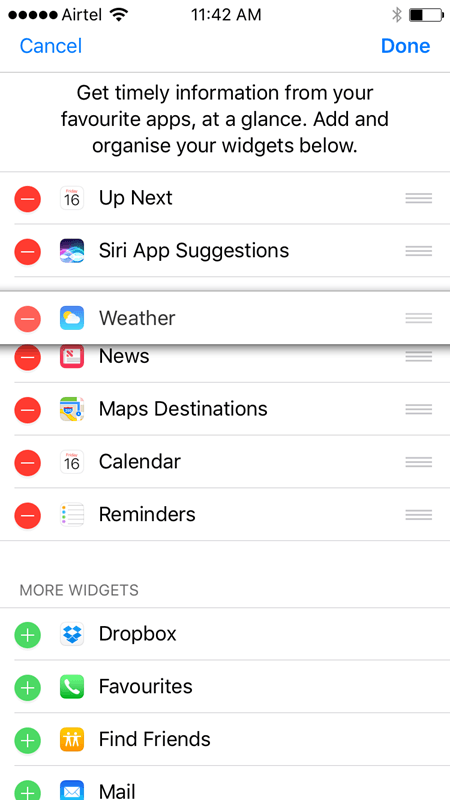 If you delete a widget and realize later on that you need it, just head over to the unused widgets list at the bottom of the screen to add it back.
6. Once you have got rid of the widgets you don't need, head over to the More Widgets section at the bottom of the screen. Scroll through the widgets available to add what you need. Tap the green + icon next to any widget to add it to the lock screen. Again, you can use the 3-liner bar to reorder it to where you want it placed on the lock screen.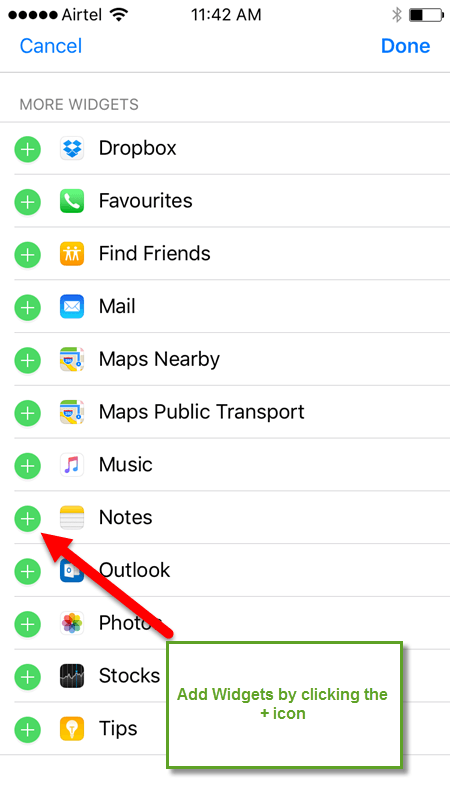 7. Tap Done at the top left of the screen.
That's about it! Configuring widgets in iOS 10 is rather easy. Plus you have a lot more flexibility in accessing them as well.
If you found this tutorial useful, check out our archives section for more iOS tips and tutorials and get the maximum out of your iOS device.