Whether you are a blogger, a marketer, a teacher, or a professional engaging with a big community of people, one of the most common ways to market your products and services is by sharing content through podcasts. You don't need to have elaborate settings, or be a tech geek to create a podcast. With a few tools, I'll show you how to create a simple podcast with Windows 7. It's easy and fun and you'll be creating podcasts in no time at all.
Requirements
1. Windows 7
2. A microphone or microphone headset
How to Create a Simple Podcast with Windows 7
1. Ensure that the microphone with headset is connected to your computer.
2. Click Start and in the Search text box, type, sound.
3. In the list box, select Sound Recorder.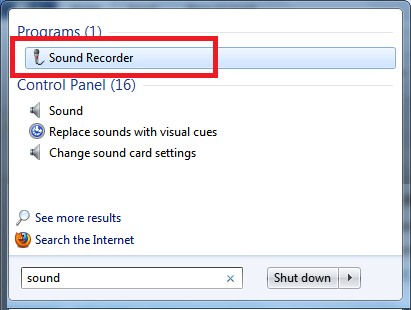 4. The Sound Recorder is displayed. Click Start Recording to begin the recording process.

5. Once you have completed the broadcast, click Stop Recording.
6. Enter a title for the audio file and save it. By default, it will be saved in the WMA format. If you want to do a bit of editing or require additional save format options, you could go in for better tools such as Audacity.
7. Rerun your podcast, check that everything is fine, and then upload your podcast to a web directory from where you can share it with your audience.
Podcasting all by yourself may sometimes be a bit stiff and boring. You could polish your podcasting with some additional sound effects using tools like Audacity, or you could interview or co-host the podcast with another person using Skype.
If you're just looking for a simple tool to do a simple podcast, this tutorial should be of help. Have you tried your hands at podcasting with the windows 7 tools? Share your experience with us using the comments form.
You can follow us on Twitter or join our Facebook fan page to get tutorials, updates and how-to articles on Microsoft, Google and Apple products.