In a previous iOS tutorial I showed you how to send handwritten messages from the Messages app. Over time, all your handwritten messages get added to the Recent list of messages making it easier for you to send the same message again, should you need to use it. However, there may be some terms that have no use to you again and you may want to delete them. In this tutorial, I'll show you how to delete handwritten messages in iOS 10 from this Recent list.
How to Delete Handwritten Messages in iOS 10
All handwritten messages that you send are stored on your device. They can be seen on the Apps tab in the Messages app. The danger in this is that anyone who accidentally or deliberately peeks or snoops into your phone may be able to read those messages. Something like that "locker-room talk" you don't want anyone else to know about. So, here's how to delete them:
1. Open the Messages app.
2. Tap on any message or conversation.
3. Next, tap the Apps icon next to the iMessage box on the list. If you are not able to see the Apps icon, tap the right pointing arrow next to the iMessage box and you should see it.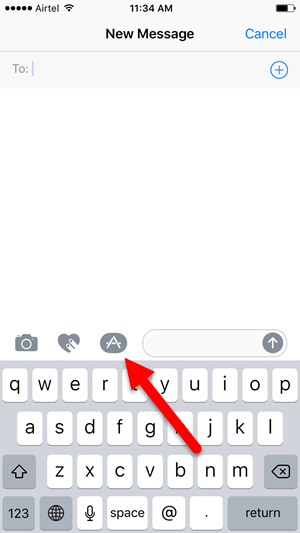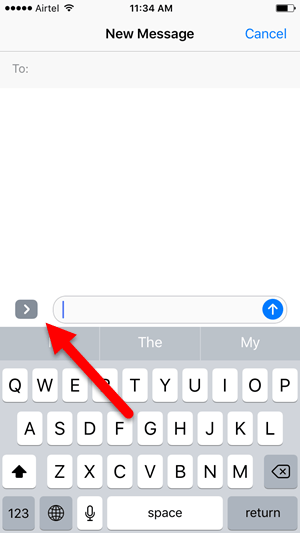 4. All the handwritten messages you wrote previously will become visible for you to use. If you don't see it, tap the tiny circled icon at the bottom of the screen.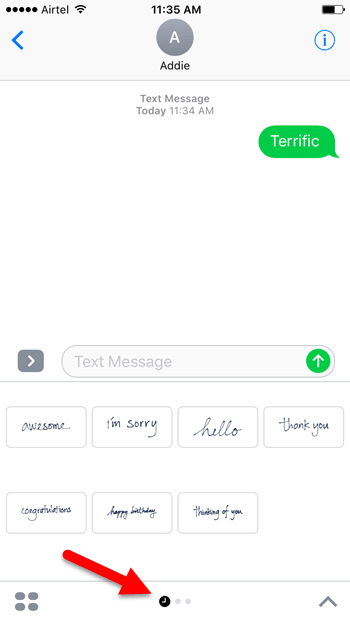 5. You cannot delete these messages from the Apps screen. So in order to delete the handwritten message, you need to rotate your phone to display the landscape mode.
6. Now, the handwriting screen will be displayed. If you don't see this screen, on your keyboard, tap the handwriting icon in the lower-right corner.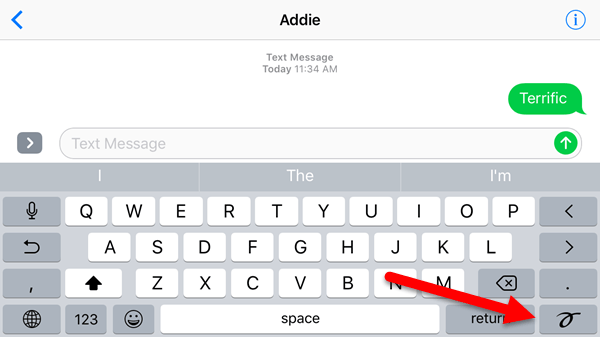 7. You'll once again see all your previously written messages displayed at the bottom of the screen. Long press a message to make them wiggle, just like you would when uninstalling an app. The X delete button will become visible now in the upper-left corner of each message. Tap the X button to delete the message.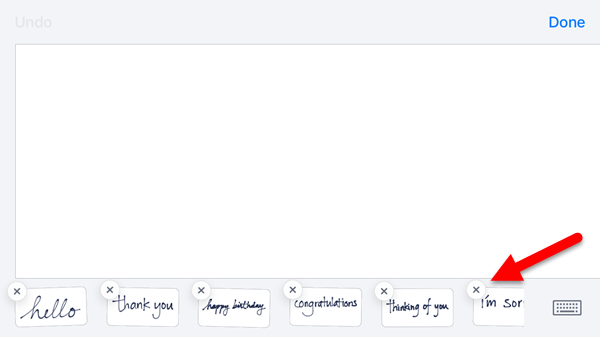 8. After you've deleted the necessary messages, tap inside the screen to get out of deletion mode.
9. Tap Done to return back to the usual Messages screen.
That's it! All the handwritten messages you deleted will be removed from your recent history on both the Apps tab and in handwriting screen.
If you found this tutorial useful, be sure to visit our Archives section for more useful iOS tips and guides.