Adding your home country currency symbol in a message or chat conversation on your iPhone or iPad device is no big deal. You tap the 123 key on the keyboard and there it is. But what if you wanted to enter the currency symbol for another country like the Chinese Yuan or the British pound?
Do you know that you can still find it on your iOS device. Its actually hidden inside the keyboard so finding it is similar to finding most hidden characters in your keyboard, using a long press. In case, you still can't figure it out, here are the quick steps to enter currency symbols on your iPhone.
How to Enter Currency Symbols on your iPhone
Although you cannot enter all the currencies of the world, you can get access to 7 of the most popular currency symbols in the world. They include the dollar, ruble, yen, euro, cent, pound, and the Yuan. These are the currency symbols available on the iPhone's English language keyboard. You may find other currency symbols available on other language keyboards. To enter currency symbols:
1. Open the app where you want to type the message, such as Messages or Notes.
2. Tap the 123 button in the lower left corner of the keyboard.
3. Long press the currency symbol in the number section of the keyboard.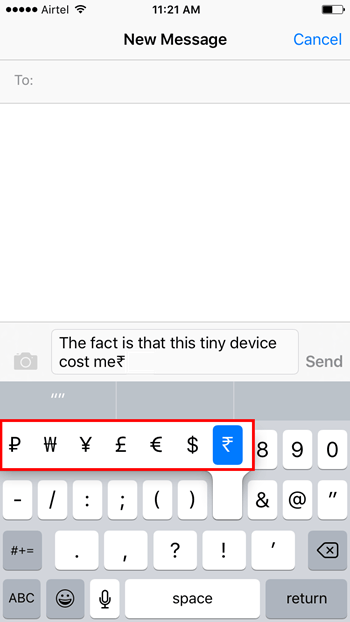 4. A contextual panel will open up displaying the popular currency symbols of other countries. Slide your finger to the currency symbol you want to your message.
That's it! You just learned a super quick way to add a Yuan or a Euro to your iOS messages.
If you want to discover more cool iOS tips and tricks, visit our Archives section.