If you are a pro blogger, advertiser, or marketer, you are probably looking for a quick way to discover trends and insights for a Google search term, in a specific product category, a specific geographical location, or even for a specific time period. The Insights for Search Google chrome extension lets you accomplish this and more in a visually engaging manner. In this tutorial, I'll show you how to find the latest trends on Google Search results using the Insights for Search extension for Chrome. .
How to Find the Latest Trends on Google Search Results
1. Install the Insights For Search Chrome extension.
2. Navigate to the Google home page, enter a search term in the search box and press Enter.
3. The right pane of the search results page will display graphically the interest in the search term over a period of time. By default, the timeline graph displays data only for the previous 12 months. You will have to check out the full report to modify the time range.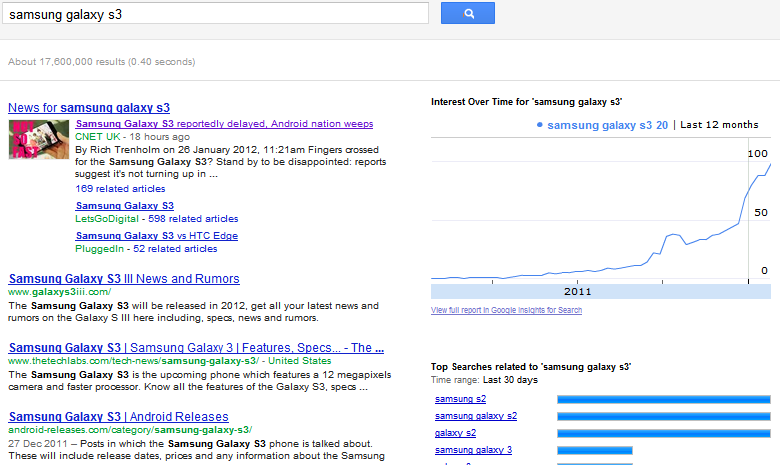 Below the graph, you will find the top searches related to your search term and below that the rising trends over the last 30 days. Rising trends is usually indicated as a percentage but if the percentage of interest is over 5000%, it is indicated by the term Breakout.
To get a full report on the popularity of a search term, by country, city, or time range, simply click the View full report in Google Insights for Search link at the bottom of the right pane.
The full report also lets you filter your search by images, news or products, country-wise, category wise and more.
Check out how Insights for Search works in this video preview.
Insights for Search is a valuable keyword research tool for users keen to know the latest trends on Google in a specific category, in a specific country or city, for a specified period of time. Installing the free Google for Insights extension will help you discover great keywords quickly and effortlessly.
Insights For Search is also available on other browsers such as Opera, Firefox and Safari by installing the Greasemonkey userscripts.
Download the Greasemonkey userscripts for Opera, Firefox and Safari.
Download Insights for Search for Chrome