Setting up a WordPress test site used to be a time-consuming process that involved manual work and some skill, but now TasteWP saves you from all that effort and does the job entirely for you.
Creation of WordPress test sites was commonly done on local machines earlier, but now you can save your time and resources by having such service completely online, available from any side of the globe. With TasteWP, in a couple of clicks, fresh test sites will be generated in the blink of an eye for you.
TasteWP is quite straightforward to use, even for beginners, and you can have your first test sites with just 2 clicks, without even registering. However, signing up will expand the rich set of features that TasteWP offers, so we recommend starting up from there.
How to Generate Free WordPress Test Sites via TasteWP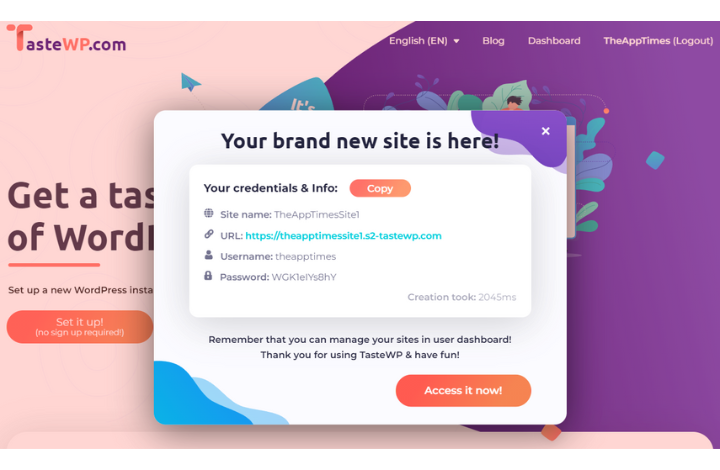 Quick launch of the WordPress test sites
By clicking on the "Set it up!" button, you can quick-start a test site with the latest stable version of WordPress and PHP. In just a couple of seconds, full WordPress installation will be available for you to use, with login credentials available for sharing.
For signed-up users, test sites last up to seven days. Unregistered users can get up to two days for testing. Signed-up users also enjoy a maximum of six active test sites, instead of two. Premium test sites don't count toward these account limits.
Launching WordPress test sites with Advanced Setup
For additional options, click on the "Advanced setup" button, where you can create a test site with a pre-defined setup. Advanced Setup lets you choose specific WordPress and PHP versions that will be used, along with a range of a few pre-installed plugins and themes. There are also several options from Advanced WP Config such as WP debug and log, WP cron, WP cache, and automatic updates.
If you prefer a more serious name for a site than the randomly generated ones, here you can give a custom one. Optionally you can also set up a WP multisite. Finally, you can choose to create it as a standard or a premium test site.
Sites overview and control options from TasteWP Dashboard
TasteWP user can manage their test sites from the Site Manager section of TasteWP Dashboard. Here you have a clear overview of the active websites. You can also see information about sites, such as size, expiry timer, WordPress and PHP  versions that are used for each test site, and if the instance is of multisite type.
Site Manager also provides users with quick login directly to a test site's admin area. Users can also reset the admin password from this menu. Additional options include disabling all plugins on test sites, downloading debug logs, and changing the active PHP version. Users can also delete sites or upgrade them to premium ones.
Premium test sites have a size limit boosted to 25GB, and last as long as users want them to.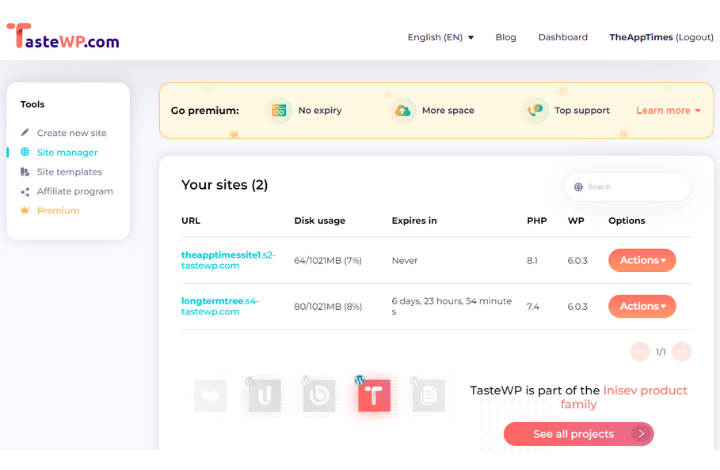 TasteWP plugin demo links
TasteWP offers the coolest way to launch demo sites of any plugin from the official https://wordpress.org/plugins/. All you need to do is edit the plugin page URL and replace "wordpress" with "tastewp". Then press Enter.
Let's say, for example, that you were just reading our article on How to Speed Up Your Website with ShortPixel Image Optimizer. You want to check out how the ShortPixel plugin works out with your hands on it. Starting from the ShortPixel plugin's page: https://wordpress.org/plugins/shortpixel-image-optimiser/ you may just change the URL to https://tastewp.org/plugins/shortpixel-image-optimiser/ and run it.
In just a flash, a fresh test site will be generated with the specified plugin. You will be redirected to the plugin's menu within the WP Admin area.
To make the process even faster, TasteWP provides a magic bookmark. This will replace the URL editing process with one mouse click, so manual typing is not required anymore.
TasteWP also provides a more sophisticated way of constructing demo links, called Site Templates. Plugin developers are full of praise for this feature. It allows users to pre-define up to 5 plugins and a theme that will be installed with a single demo link.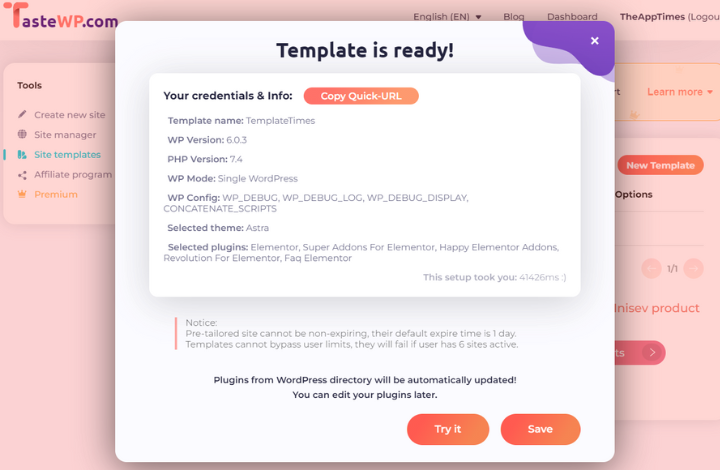 Conclusion
TasteWP is a simple and effective service that quickly delivers WordPress test sites. It serves users worldwide in 20 languages available, automatically adjusted to match the favored one of the user's browser.
TasteWP serves WordPress veterans, and new enthusiasts, as all of them are giving their own purpose to it. Cool new features are being introduced with each major update of the TasteWP service. It will be interesting to see what Inisev, the team that established TasteWP, is bringing up next.