There is no question about the appeal of visually engaging websites. The trouble for webmasters though is optimizing the images to meet Google's page speed guidelines and ensuring a fast loading experience for website visitors. If a website visitor has to wait one second more than necessary for a page to load, he will simply move on to another site that offers a better experience.
There are plenty of WP plugins that can help optimize images and I've been through my share of them. In my experience many of these plugins (WPSmush It and EWWW Image Optimizer and such) either stop working or are poorly coded that they end up slowing down the site anyway.
That's one of the reasons why I moved my website to Thrive Themes. Thrive is integrated with the premium image optimization tool Kraken and I never had to worry about my images or image quality while I was on Thrive. However, now that I am back to StudioPress, image optimization work has become a perennial pain in the neck.
After having searched long and short for a good plugin and given up on the task, I was introduced to the ShortPixel Image Optimizer WP plugin whose service reminds me a lot of Kraken and so I decide to check it out further.
Installing and Using ShortPixel Image Optimizer
You can find ShortPixel Image Optimizer by doing a keyword search in the Plugin section of your WP dashboard. The plugin installation process is typical to another other plugin. Once installed and activated, you will need to get an API key to start the optimization process. This can be received by signing up to the service with your email address. [Click here if you want to sign up right away.]
After receiving the API key (should take a few seconds), you can input that into the ShortPixel Settings area in the WP dashboard to validate it.
ShortPixel Image Optimizer offers 2 types of compression:
Lossy: The recommended option which can alter the original image ever so slightly that it is hardly noticeable; and
Lossless: Which shrinks the images to a smaller size, but retains the original. It can be used in some special instances where lossy cannot be used like technical drawings.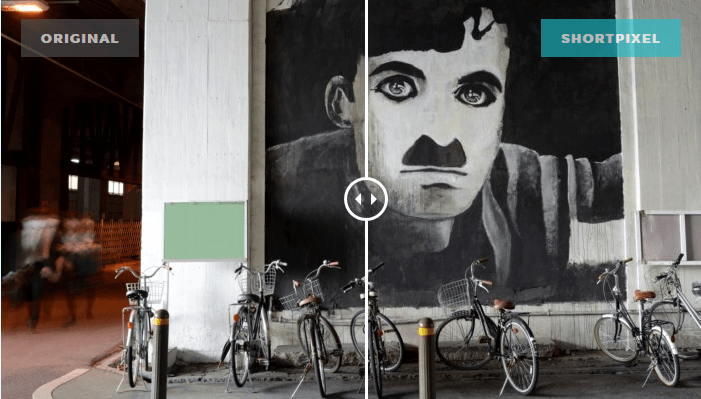 By default the plugin applies compression even to the thumbnails and keeps a backup of the original images in a separate folder for safety reasons. It also allows for bulk optimization via a single click option so you can optimize multiple images all in one time, even older ones. Other features of the plugin includes the ability to adjust images for computer and mobile screen display and option to remove the EXIF tag of the image to allow for better compression. The plugin also lets you set the resolution for large images like the ones you take on your smartphone.
If you want to see how much benefit you have received from use of the plugin, such as disk space or bandwidth saved, you can check out the Statistics section of the plugin on the WP dashboard.
Key Features of ShortPixel Image Optimizer
24×7 support
Compresses JPG, PNG, GIF images and PDF documents
Optimizes thumbnails as well as featured images
Rescales featured images before optimizing. No need for additional plugins like Imsanity
CMYK to RGB conversion
Skips already optimized images
Allows easy testing of lossy/lossless versions of the images
Lets you keep or remove EXIF data from your images
No file size limit
Works on both HTTPS and HTTP websites
Retains copy of all the original images in case restoration is required
Allows bulk optimization of existing images with one click
40 days optimization report with all image details and overall statistics
Works on eCommerce websites using WooCommerce plugin
Use the same API Key on many sites (including multisites)
Compatible with WP Engine hosted websites and all major hosting providers
Compatible with WPML and WPML Media plugins
Get 100 free image optimization credits each month.
If you want to give the ShortPixels online image optimization service, click here to do it. You can add up to 20 JPEG, PNG or GIF images within 10MB size from your computer for testing. Or you can simply download the plugin and test it on your WP site directly.
ShortPixel Image Optimizer Pricing
ShortPixel offers flexible plans for their image optimization service. I can tell you that it is easily more affordable than Kraken, since Kraken plans are based on the file size rather than number. Here's the breakup of the ShortPixel Image Optimizer pricing for you.
Free Plan – Includes processing for 100 images/month ($0.00)
Short Plan – Includes processing for 5,000 images/month ($4.99)
Large Plan – Includes processing for 12,000 images/month ($9.99)
XXL Plan – Includes processing for 55,000 images/month ($29.99)
Yearly Plan – Includes processing for 10,000 images/month for a year ($49.00)
Conclusion
If you own a website and use plenty of images to showcase your work, using a premium image optimization plugin greatly helps. ShortPixel Image Optimizer is a worthy tool to consider, considering the fact that it has plenty of awesome features, affordable pricing plans and quality output. If you care about page speed, SEO and visitor retention, give ShortPixel Image Optimizer a try.
Click here to visit the website
Click here to visit the WP Plugin page
Check out our Archives section for more useful WordPress plugins to manage your site.