If you are a Whatsapp user, you probably know that by default, your contacts can see when you are using the app. If someone sends you a message and you see it but don't respond right away, they may feel offended. More so when you don't share read receipts. However, you can block anyone of your contacts from seeing your online or last seen status easily. Here's how to hide your WhatsApp status from all or some of your contacts.
WhatsApp's Last Seen Feature
WhatsApp's Last Seen feature lets your contacts see the exact time you last used the app. Earlier, WhatsApp allowed you to have some control over who saw your status or when you were last using the app. Now WhatsApp has tweaked its privacy options, allowing you to have more control over the feature.
Earlier, you could show your online status to everyone on the app. This was the default option that could not be changed. Now, in the latest privacy update, you can set your online status to the same configuration as your last seen preference. That means you can now limit your online status to just your contacts, to no one at all, or to specific people.
How to Hide Your WhatsApp Status from All or Some of Your Contacts
1. On your Android device: Launch the WhatsApp app and go to Settings –> Account –> Privacy –> Last seen.
If you are using an iPhone: Open the WhatsApp app and tap the Settings tab. Then go to Privacy –> Last Seen.
If you are not able to see the Privacy menu in Settings, tap Account and then go to Privacy.
2. Now you can choose who can see your status, that is, when you last visited the WhatsApp app and if you are currently using it.
Under the heading "Who can see my Last Seen" you have the following options.
Everyone
My Contacts
My Contacts Except…
Nobody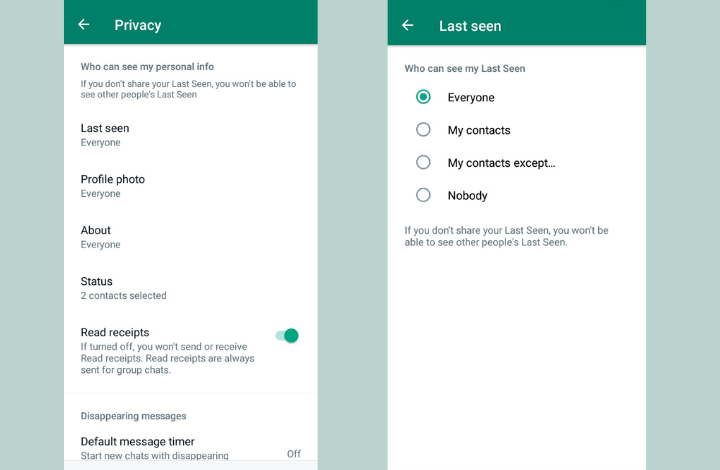 Among the above options, the new option is My contacts except.
This option lets you pick only the contacts whom you want to hide your last seen status from. Click the option and choose the contacts you want to hide your status from.
Keep in Mind
Just know that if you don't share your last seen or online status with your contacts, you won't be able to see their last seen status either.
Do you like the new privacy option in WhatsApp? Have you used it to hide your status from specific people? Let us know in the comments below.