In the wake of the EU GDPR (General Data Protection Regulation) and the Cambridge Analytica scandal, Facebook owned group and popular messenger WhatsApp has made it possible for you to request and export a report of your WhatsApp account settings and information. This includes data such as your profile photo, contacts, groups and such. The Request Info feature, however, does not allow you to download and view your chat history. Want to know what information Whatsapp has on you? Here's how to request your WhatsApp data on iPhone and export it.
How To Request Your WhatsApp Data
1. Check to make sure you are running the latest version of WhatsApp.
2. Open the app and go to WhatsApp Settings.
3. Tap Account.
4. Tap Request account info.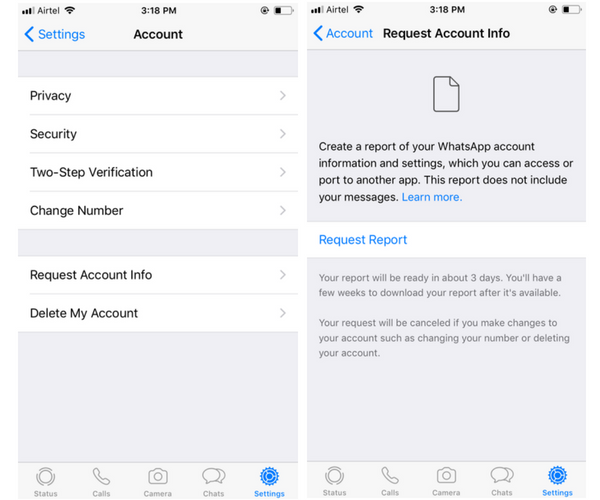 5. Tap Request report. You will get a status report indicating that it will take about 3 days to prepare the report and it will be available for download for just a few weeks.
Note: You will receive a notification on your phone stating that your account info report is ready to download.
6. Once the report is ready, tap Export Report to access your report. The report is downloadable as a ZIP file, which contains an HTML file with all your data.
The HTML file includes details such as the WhatsApp phone number, phone model, IP address, profile picture, phone numbers of contacts, Group names, and privacy settings.
Also Read: How to Enable Two Step Verification on WhatsApp
That's it. If you want to know how to save your chat history, you can check out the WhatsApp's help center where you will all the information you need about saving your chats.
If you found this tutorial useful, be sure to check out our iOS tips section. And let us know if you have any other questions on the app.
Cheers,
Adeline