When you create several worksheets in Excel, all the worksheets names are not displayed on the worksheet tab. This may make navigation to a worksheet that's not visible a little bit annoying. You will have to use keyboard shortcuts such as the Ctrl+Page Up, Ctrl+ Page Down or the navigation buttons at the bottom left of the worksheet to move around. In this Excel tutorial, I'll show you how to navigate to any worksheet quickly in Excel 2010. It should work on previous versions of Excel too!
How to Navigate to Any Worksheet Quickly in Excel 2010
By far the easiest method of navigation involves selecting a worksheet name from the right-click menu. To display the menu:
1. Right-click the navigation buttons at the bottom left of the Excel workbook.
2. Select the worksheet name from the right-click pop-up menu.
By default, the pop-up menu displays 15 worksheet names. If you want to view more worksheet names, you have to click More Sheets and select the worksheet from the Activate dialog box.
You can also create a new Excel worksheet containing the names of all the worksheets and hyperlink the names to the worksheets. Here's how to accomplish this:
1. Create a new Excel worksheet. Move it to the beginning of the workbook if you have created it toward the end of the workbook.
2. Name the workbook Worksheet Names or something that is indicative of its contents.
3. Enter the names of all the worksheets in your workbook in the newly created worksheet.
4. Move the cursor to the worksheet name and click Ctrl+K.
5. This will display the Insert Hyperlink dialog box. Click Place in This Document, select the sheet name you want to link to and click OK.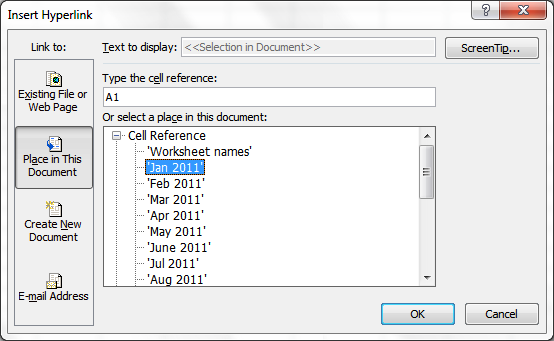 6. Repeat this process for all worksheet names until done.
This process may take a bit of time to set up but if you frequently work with the workbook, it's probably worth the trouble.
You can also resort to other techniques such as creating macros, but I'll leave that for another day.
These simple tips should help you accomplish your job pretty effortlessly. If you have cool tips like this one, share them with us at [email protected].
You can follow us on Twitter or join our Facebook fan page to get tutorials, updates and how-to articles on Microsoft, Google and Apple products.