A couple of months ago, I reviewed an awesome resume builder that allowed you to create resumes online. You can check out my web app review on ResumeBaking which might help you prepare a professional resume in minutes. If you're looking for another tool to help you accomplish this awfully boring yet extremely important task,  read on as I review Resume.io and show you how to prepare a resume with Resume.io.
Getting Started with Resume.io
As with most web apps, you need to register and set up an account with Resume.io. This should take a couple of minutes as all you need to do to register is enter an email address and a password. You don't have to activate or sign in. You can access the resume template right away and get going. The app has a clean interface with only fields to input the necessary data. You can skip fields you don't want to fill up and they won't appear in your final resume.
How to Prepare a Resume with Resume.io
Preparing your resume with Resume.io is simply a matter of filling in the various fields. Enter your personal details such as name, mailing address, phone number, website and objective in the first section.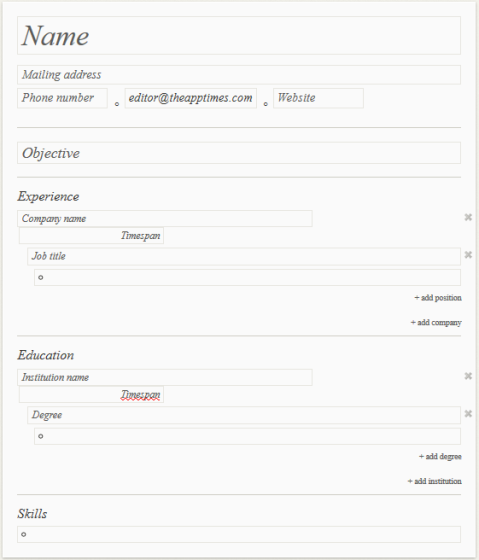 Then enter your experience, educational qualifications and skills. If you need to provide more information such as including an additional educational experience, or an additional position you held in your company, or even additional companies you worked for all you need to do is to click the additional company/institution link and fill in the required fields. You can also include additional descriptions by recording an item and then hitting Enter.
Then click Save and Close to complete the process. Your complete resume is now ready for printing or sharing online. Just copy the link to the resume and email it to potential employers or other associates with whom you are networking with.


The Resume.io dashboard lets you perform additional tasks such as creating multiple resumes, setting up tracking to see who's viewing your resume, cloning an existing resume, renaming and editing, and deleting a resume. Cloning an existing resume helps you create a quick alternate resume with all the original details intact. All you need to do is just tweak the fields that need to be altered.
Resume.io stands out with one significant feature; the ability to create your resume in seconds by importing your LinkedIn profile (if you've got a complete one! There's no need to waste hours putting together your many many years of experience and then formatting the data. If you have a good LinkedIn profile, you can consider the job done. The best feature of Resume.io is
Conclusion
Resume.io is one of the simplest resume building apps out there. It has a clean interface, is easy to operate, and lets you create your resume pretty quickly. The best features of the web app is the ability to track users who are viewing your resume, and the ability to import your LinkedIn profile into your resume. The downside is that there are no fancy resume templates if you are looking for a more sophisticated resume format. Also, there's no simple option to convert and save the resume in the PDF format online.
If you're looking to create a new resume or a free easy option to create a simple and neat resume online, Resume.io is one you can definitely try out.
You can follow us on Twitter or join our Facebook fan page to get tutorials, updates and how-to articles on Microsoft, Google and Apple products.