There are times when you become so engrossed in your work that you forget that you never saved your document. And in a rush to get to that next task, you close the file without saving it. It may also happen that your laptop crashed before you had a chance to save the file you were working on. Whatever be the reason for your failure to save your document, Microsoft offers some hope for recovery.
By default, Office applications automatically save backup copies of your documents every 10 minutes as you work and although this is just temporary, you have a good chance of recovering them the sooner you discover your mistake. Here's how to recover an unsaved document.
How to Recover an Unsaved Document
This tutorial was performed in a Word 2016 document, but the steps should be more or less identical in previous versions of Office as well.
1. Open the Office application that you were working on when your file did not get saved. If it was a Word document that did not get saved, open Word.
2. Select the File tab and click Info.
3. On the Info page, click Manage Document and from the drop-down menu, choose Recover Unsaved Documents.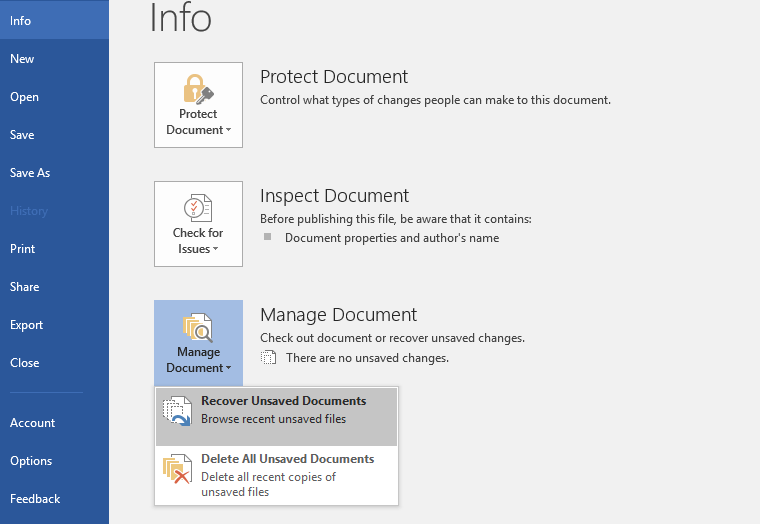 NOTE: Alternately, you can select the File tab and in the Open tab (on the left pane) in the Recent section, you can scroll down the right pane and select Recover Unsaved Documents.
4. The Open dialog box will open up. This will take you to the UnsavedFiles folder where all your unsaved files are temporarily backed up. Select the file you need and then click Open.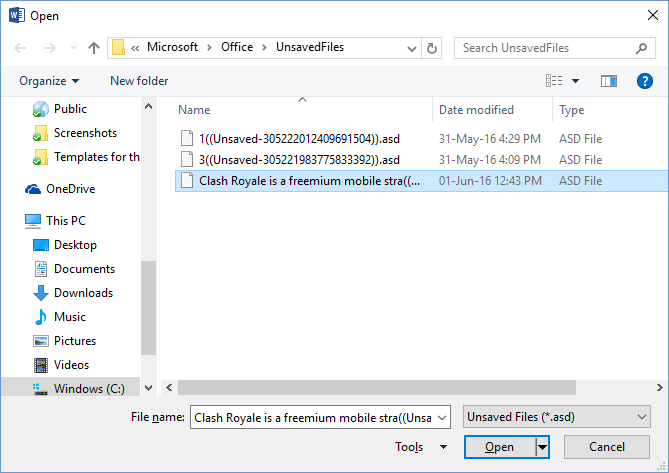 5. You can now save your file in a location of your choice.
How to Change the Way Office Automatically Save Files
Office applications are highly customizable and this works even when it comes to changing the way it automatically saves temporary files. You can decide where you want your files saved, how often they should be saved, and whether to save a temporary file if you close a document without saving. Here's where you can set or customize those options.
1. Open Word and select the File tab.
2. On the File menu, click Options to open up the Word Options dialog box.
3. In the dialog box, select the Save tab.
4. In the right pane, in the Save documents section, select the options as per your requirement.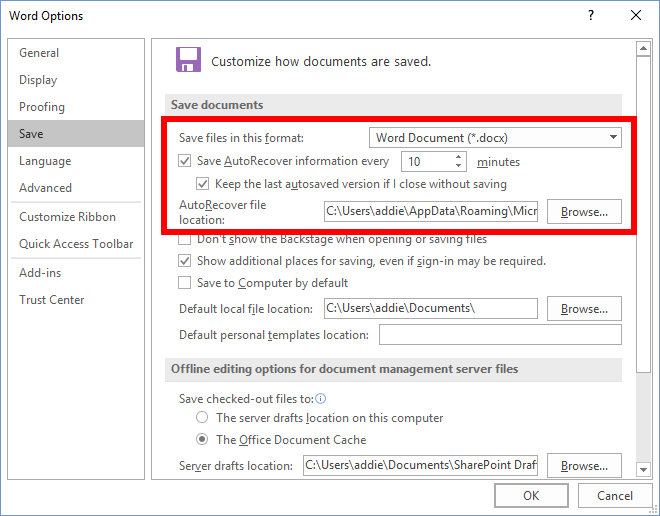 You can change the AutoSaving time to less than 10 minutes if that seems like a long time to you. Two minutes is something that I prefer to set it at, but you can choose a timing from every one minute to every 120 minutes.
The other 2 options are better off at their default settings as you always want to keep the last autosaved version if you close without saving and the file saving location is easier to access at its default setting than at one you may choose on your own.
That's it! The Office recovery feature will not save you from every kind of situation you may face with regards to losing your data, but it can definitely come in handy when you accidentally close a document without saving it.