What is a Microsoft Word Document?
Word document is a registered word processing software that was developed by Microsoft in 1983. The Microsoft word document format was designed to support Apple Mac, SCO Unix, OS/2 and Windows. In 1995, when the Office Suite was introduced, Microsoft office was merged into it as its essential tool. Microsoft Word is capable of supporting 106 different languages. It has many different font styles to offer. If you want to edit any document, it is necessary to convert it into a word file. After editing, a word document can be further converted into other formats such as a PDF file using a Word to PDF converter.
Why You Need a PDF File?
The word "PDF" stands for "portable document format". The chief purpose of any PDF file is to share any informative documents between computers securely. A PDF document cannot be edited so your settings will remain the same.
PDF files allow users to apply password level security before sharing over a network, intranet or the Internet. They can also be safely emailed to another person without fear of being misused.
Another great reason to use the PDF format is that these files can be opened and shared across multiple computer platforms. They work independent of the software used to create them. The software needed to open these files is freeware so anyone can quickly access its contents without having to worry about compatibility.
Finally, PDF files are in a compressed format, taking up less storage space and making them far more easy to transfer.
So, if you want your Word document to be easily transferable, accessible and secure, you can convert word to pdf using one of the many tools available in the market.
How to Convert a Microsoft Word Document to a PDF?
A Word document can be converted into a PDF file using a number of tools, both downloadable and online.
SearchEngineReports.NET: Word to PDF Converter
searchenginereports.net offers a secure and reliable way to convert your documents from Word to PDF. To convert a Word to PDF document, just follow the simple steps explained below: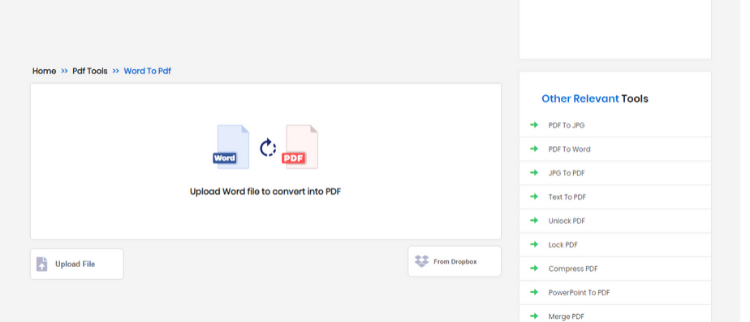 Head over to the official website and navigate to the section where you see the phrase "Upload Word file to convert into PDF".
Just below the upload box, you'll see a couple of options:

Upload: if the file is in your computer you can click on this button to select the file.
From Dropbox: if the file is safe in the Dropbox, select this option.

After uploading the file, the word document icon will appear in the box. Below the icon, there will be a yellow sign saying "convert to pdf."
Click the yellow sign. Your file is converted, and you can download the PDF version on your computer or smartphone as per your choice.
Searchenginereports.net is an online Word to PDF converter that is free to use. It guarantees to keep your data safe while uploading and converting. The site also offers various other conversion tools including one that lets you unlock a PDF that you accidentally password protected or where you forgot the password.
Nova PDF by Soft-Land
This is another Word to PDF converter, but you have to download and install it first, which makes it less convenient than searchenginereports.net. In this tool, you just have to select novaPDF as a printer and click the print button to have the file converted into PDF flawlessly.
ALTO PDF
Just open this app in your browser and chose the file to upload. In the second step, click "convert now" to process. Click "download pdf" to save the file. You can use this app on your smartphone too. This application is not efficient enough to deliver quick results like Searchenginereports.net.
Conclusion
There are many tools available online to convert documents from Word to PDF. Choosing the right tool is indeed a difficult task. Searchenginereports.net offers one of the best Word to PDF Converter tools for this purpose. It is free of cost, safe and secure. Moreover, you don't have to download or install it. It functions online perfectly.
Just try it yourself and let us know what you think in the comments section.