This quick Windows 10 tutorial shows you how to show app badges in Windows 10 so that you can see any new activity that's happened on the app or how to hide them should you decide you no longer find them useful.
The Taskbar icons in Windows 10 can now do more than just look pretty. Yep! They can give you some idea of what is happening with the app, assuming you opened them some time during the course of your work.
Say, you had your Mail app open and you received a few messages while you were away from your desk, the taskbar icon will display a tiny badge letting you know that you received some email. Its a nifty little feature that can be you up-to-date on any new activity without extra effort. If you haven't used the feature yet, or if you don't like it and want it removed, here's how to do it.
NOTE: These steps only work on a PC running the Windows 10 Anniversary Update or higher build.
How to Show App Badges in Windows 10
1. Click the Start button and select Settings.
2. On the Settings page, select Personalization.
3. On the next screen, in the left pane, select the Taskbar tab.
4. On the right pane, scroll down. Turn on the Show badges on taskbar buttons option. If you don't want to see the badges, turn this option Off.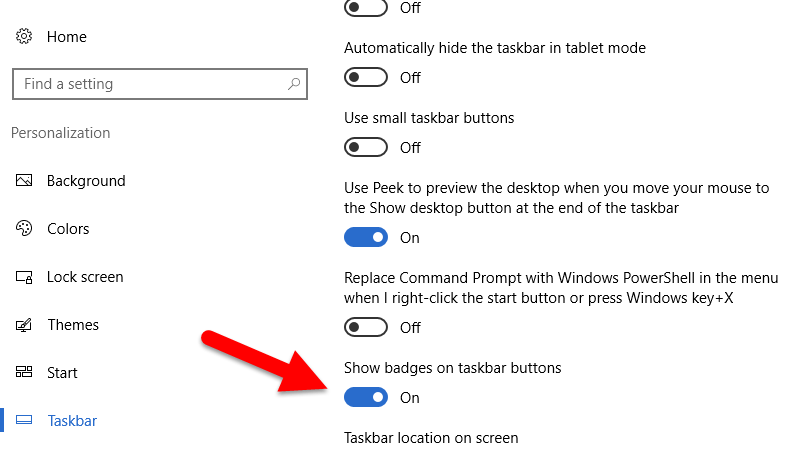 That's it!
Note: One point to remember though is that not all apps will show badges. This feature must be integrated to the app by the developer for it to work, so if you don't see the badges after activation, its most likely that the app does not support the feature.
One of the drawbacks of this process is that its rather inflexible. You cannot choose which apps you want to activate the badge and which apps you'd rather not see the badges. So if you do turn it on, it will apply to all icons on the Taskbar.
One of the most useful apps that supports badges is the Mail app, but hopefully we will see more third party app developers integrate this feature into their products.
If you found this Windows tip useful, be sure to check our Archives section for more useful stuff.