If you've been using your Mac for a few years now, you've probably noticed that it is not performing as efficiently as when you first started out. That's because with daily use, your Mac has no doubt accumulated unwanted junk and clutter. If you want to optimize your Mac manually, it can become a long, slow pain-staking process. A quicker way to get the job done is to use a good cleanup tool. Today, I take a look at iMac Cleaner from Elimisoft, a Mac cleaning software that offers a safe and efficient way of optimizing your Mac. If you are on the lookout for a good Mac cleaning solution, I hope this this review will help you make an informed decision.
Intro to iMac Cleaner
iMac Cleaner is a tool that scans every inch of your system and helps you removes every piece of junk, unwanted archives, unused apps, and malware. It can scan and delete large files, erase files to make them unrecoverable and even manage and delete extensions and plug-ins. It can also extract RAR files, open & save Winmail.dat files and compress PDFs. Another noteworthy feature of the app is startup optimization, a method to help you manage startup items to optimize Mac Boot speed.
Getting Started with iMac Cleaner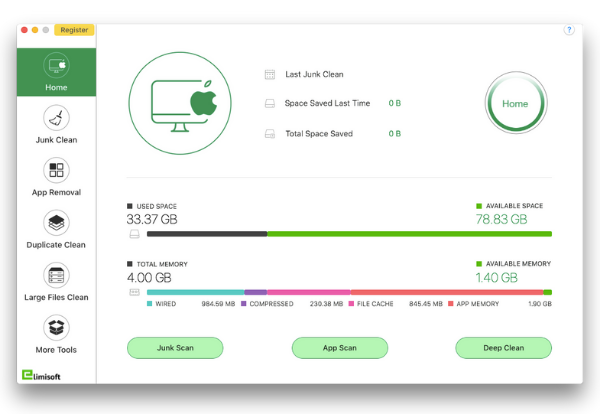 iMac Cleaner can be downloaded from the official website cccleanmac.com. Once installed and launched, the cleanly designed Home page opens up displaying details such as usage of disk space and CPU. You can see at a glance the space available on the computer, the space used, and the space available. You can also see the total memory available and the memory used. Details of the last junk scan and the total space saved is also displayed.
On the left side of the iMac Cleaner window, you have several options to do a specific task. For instance, you can only clean junk, remove unused apps, do a duplicate or large file cleanup or find additional tools like File Shredder, Extract RAR and such. You also have options to do a junk scan, app scan and deep clean.
Quick Look at Main Features of iMac Cleaner
iMac Cleaner offers plenty of great functionality, but its core functionality is cleaning junk, removing apps and associated files and weeding out duplicates. Here's a closer look at these functions.
Junk Clean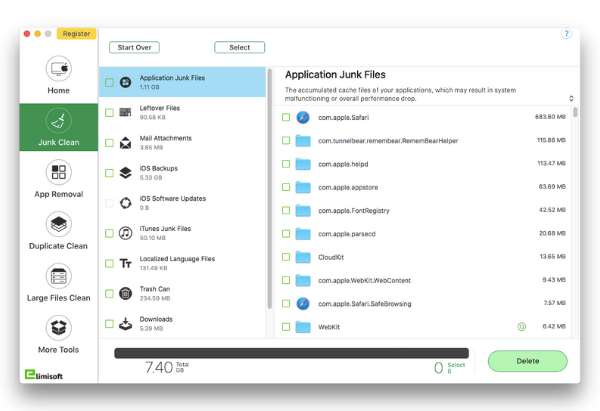 Junk Clean is a feature that lets you find and remove junk files that affect your Mac's performance. Here are some things it can do.
Clean app junk files, such as app caches, logs, and system cache.
Clean mail attachments and browser data such as history, caches and mail downloads.
Get rid of iTunes junk files such as old iOS device backup, iOS software update files, and iTunes downloads.
Remove localized languages and useless language files.
Detect remaining files after uninstalling apps.
App Removal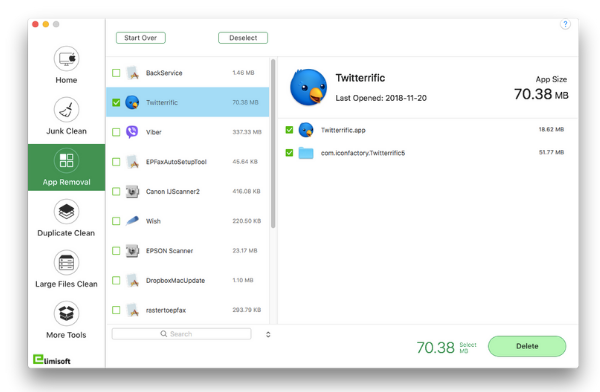 This feature lets you remove applications and its associated files. It can:
Quickly scan all apps on the Mac and its related junk files such as logs, caches, preference and crash reports.
Select apps and its associated junk files automatically, making it easy for you to delete infrequently used apps.
Isolate all viruses and malware threats.
Find and delete rogue apps such as Advanced Mac Cleaner, Mackeeper, and others.
Duplicate Clean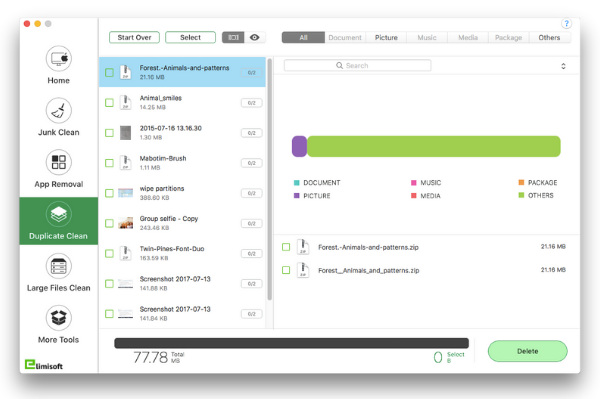 This feature lets you find and delete duplicate files on your Mac and free up space. This includes:
Quick, accurate detection of duplicates using MD5 value checksum algorithm.
Scan duplicates in one or more folders of internal and external hard drives, or in Photos or iTunes.
Find duplicate files automatically so you can choose the newest or oldest files to remove.
Check duplicate files with different categories, sort them by size, name, count, and type and search file by keywords.
Cleanup Startup Disk
One of the problems you often face on firing up your Mac is slow boot times. That's because you probably have a lot of programs that load when you login. The Startup Optimization feature (in the Additional Tools) section lets you see at a glance apps that load on startup. If there are unnecessary apps loading on startup, you can simply uncheck them from the list and speed up performance.
Working with iMac Cleaner
On installation, iMac Cleaner does not install any third party utilities. Also, the installation file itself is small, not taking up much space on the computer. That's a good thing because we don't want a tool that's going to take up more storage space. One thing you'd probably want to do though after installing is head to its preferences and uncheck the Run on Startup option.
The iMac Cleaner UI is clean, easy to navigate and displays all the required information to monitor the usage of disk space and CPU. It also has all its functional buttons set out clearly so you know exactly what to do without having to search through manuals and how to guides.
In my time spent with iMac Cleaner, I was able to scan and clean junk data easily in a matter of minutes. There were no hiccups or issues and the entire process went through smoothly and efficiently. On my scan, the app was able to identify system junk, old iOS backups, duplicated photos and left overs from un-installing third-party apps. It did a fairly quick job of helping me clean up the unwanted files without any stress.
Overall, I am impressed with iMac Cleaner and its functionality.
Pricing
iMac Cleaner is available on the official website at 3 price points. Before you get yourself a license, I encourage you to download the trial copy of it on your Mac and check it out. If you like what you see, you can pick up a 30-day license for $19.99 (currently discounted at $8.99), a 1-year license for $39.99 (currently discounted at $25.99), or a lifetime license for $69.99 (currently discounted at $35.99). If you're not satisfied with the app, you can simply take advantage of the 30-day money-back policy and claim a refund.
Click the link below to download your copy of iMac Cleaner.
Download link: iMac Cleaner
If you have used iMac cleaner before, share your experience with us! We'd love to hear how it worked for you.