Incase make some of the best bags to carry your tech gadgets safely and securely. Their Incase Camera Pro Pack, is a fantastic accessory for the photographer. It has a bigger capacity compared to its popular DSLR Pro Pack letting you hold a full frame DSLR camera, a drone and much much more. If you are a serious photographer, adventurer or someone who carries a lot of photography accessories, you need to check out what the Incase Camera Pro Pack camera bag has to offer.
Incase Camera Pro Pack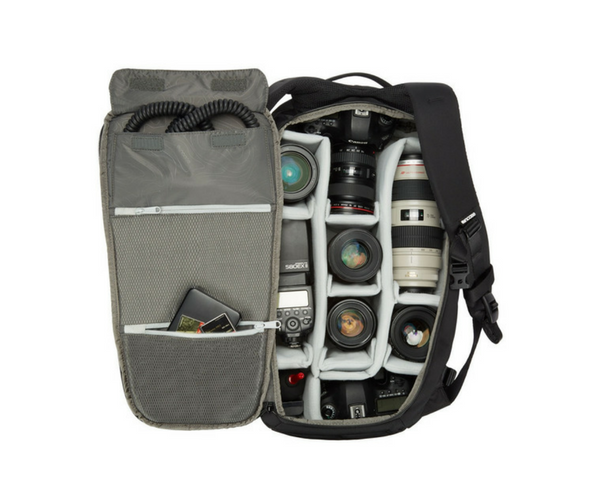 The Incase Camera Pro Pack is a well compartmentalized camera bag that can hold a lot of stuff. You can pack a full-frame DSLR camera with the lens attached. There is room for you to drop 5 additional lenses. You can also put in a flash unit. And, there's still more room for a few more lenses.
---
Incase Camera Pro Pack – Features
Fits full frame DSLR camera with lens attached;
Houses DJI Mavic Pro drone comfortably
Built with 840D abrasion resistant nylon for lasting protection
Sports padded, internal compartments
Has adjustable shoulder straps with air mesh padding
Dimensions 21″ x 13.75″ x 8.75″
The backpack's straps have soft padding and there's a sternum strap for better mobility as well. The internal compartments of the bag have multiple accessory pockets for you to keep other essential items as well.
Its main compartment is extra deep with comfortable, plush dividers to best place your stuff. The compartment in the front has space to securely hold your drone with its compression case, like the DJI Mavic Pro, DJI Spark and Mavic Air. And it even has place for your gimbals like the DJI Osmo Mobile 2. The Camera Pro Pack also has room for a 15-inch Macbook or an iPad.
Price
The Incase Camera Pro Pack is available on the official website or on Amazon for $219.95. For a limited time, anyone who buys the bag get a free Neck Strap with the purchase.
Check it out and tell us what you think!