Incase make some of the coolest travel accessories in the market and their ProConnected 4 Wheel Hubless Roller is targeted towards the always-connected traveler. It is a carry-on smart luggage that has reserve power to charge a MacBook via USB-C Power Delivery. And there are 2 extra USB-A ports to charge any other device on hand as well. Here's more on the Incase Proconnected Smart Luggage, a travel accessory you just might want to own.
Incase Proconnected Smart Luggage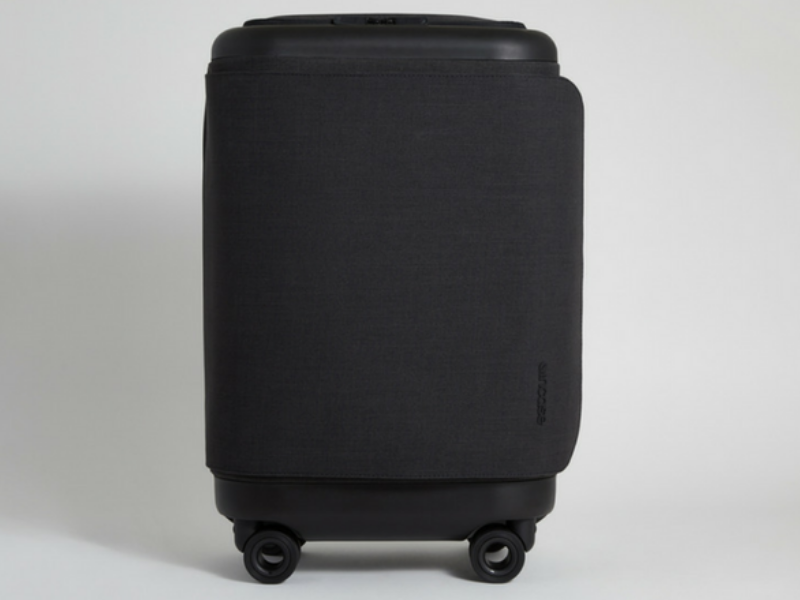 Design
The ProConnected 4 Wheel Hubless Roller is a sleek, well built carry on with 4 removable wheels at the bottom. The wheels can be rotated 360 degrees, making it easy to glide or turn the bag any which way you want.
At the top is a zipped panel that opens into a compartment to store small items like a phone, passport, keys and such. This section also holds the charging tray that has a battery. The 20,100 mAh battery can charge a Macbook Pro and the 2 USB-A ports can power two devices simultaneously. When not in use, you can remove the battery and use it as an external portable battery.
Main Compartment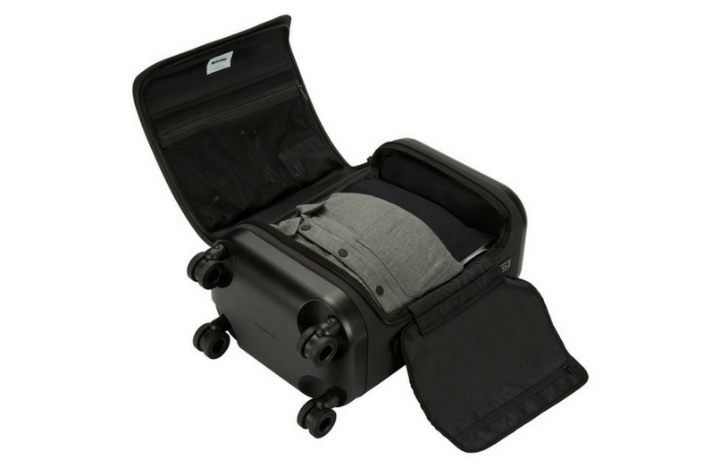 Opening the carry on is a little unconventional. You'll need to unlock the Transportation Security Administration (TSA) approved lock and release 2 zippers. The front flap then opens like a door revealing a wide, spacious main compartment with tie down straps to hold your clothes in place. On the inside of the compartment is a mesh with 2 removable pouches to keep accessories and other stuff.
Durability
The ProConnected is a hybrid soft and hard case. It is made using a material called Woolenex, a sort of polyester fabric. Woolenex is woven using polyester of two different thicknesses. This is to ensure better durability, resist wear and tear, and keep the carry on case lightweight.
Incase Smart App
The ProConnected battery has Bluetooth support making it easy to pair it with the Incase Smart app for iOS and Android. You'll need to sgn up with a account for the app to locate your carry on.
Once that's done, you can see how much life is left on the battery. You can also see how much longer it will take before the device is fully charged. And you can also find out the location of your bag on a map with a time stamp of the last known location (with some limitations).
If you need to locate your bag in a terminal, you can ping the battery, which will make a continuous beeping noise for easy identification. But I am skeptical about using that in today's jittery travel conditions.
Takeaway
The ProConnected is a pretty standard carry on case with a powerful battery. It has a solid construction, looks good and can comfortably carry your belongings for a two day trip. Does the battery weight make it difficult to lug the case when you're on the move? Well, that's a question only hardcore travelers can answer.
If you are a big time traveler, especially one who works with a Mac while traveling, the ProConnected Roller may be an attractive option. However, the $400 price tag may just want to hold you back.
Learn more about the ProConnected by visiting the official website.