The Google Plus One button was released by Google to enable website owners to allow readers to quickly +1 a post they liked. But hitting the +1 button doesn't really get very far and is most likely lost on readers looking for a quality article on a specific subject.  A better way to let others know about a post you like is to share it with them, but then again Google has not released a Google Plus Share button to make that possible. If you wish to install the Google Plus Share button on your blog, you can use a cool plugin developed by Alex Moss. Alex is the founder of Pleer a website that designs websites for small businesses, and offers SEO, online marketing, social media and WordPress development for businesses worldwide.
If you are interested in letting your visitors not just +1 a post but also share it with their Google + circles, just download the plugin and insert a shortcode.
How to Install the Google Plus Share Button on Your Blog
Download the Google + Share plugin from the developers site.
Upload the whole plugin folder to your /wp-content/plugins/ folder.
Go to the Plugins page and activate the plugin
Insert the shortcode [gplusbutton] within a page, post, or text widget to display the Google + share button on your blog.
The plugin is still in its infancy and Alex has used the mobile version of Google+ to make this plugin work. You also do not have options to customize the button. Future updates will hopefully include customization options and better plugin functionality.
If you don't want to add shortcodes to every post, you can enter the shortcode echo do_shortcode('[gplusbutton]'); directly into templates using PHP. If you're using Genesis framework just select the spot you want the Share button to be displayed using the Genesis Hook Visual Reference guide and use the Genesis Simple Hooks plugin to insert your code.
Once installed, simply click the Share button and in the pop-up window, click Post to share the post with your Google + Circles. The Share your thoughts text box lets you add your own message and links and the Edit button lets you choose the Circles you wish to share the post with.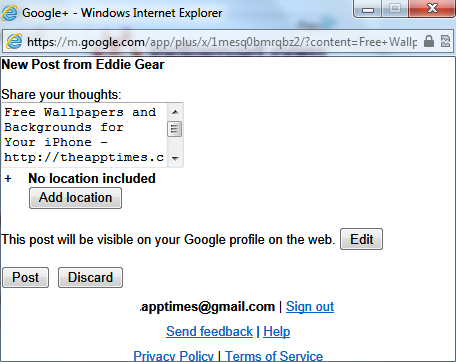 Have you installed the Google+ Share button on your blog? Let us know in the comments.
Be sure to check out other interesting WordPress plugins created by Alex Moss at Pleer.co.uk.