Kids are getting cell phones younger and younger. Go to any mall and you will see hoards of pre-teens texting their friends and surfing the internet. A phone that is popular with parents and kids is the iPhone. When kids get an iPhone, they have access to their friends and social media. With this access comes the challenge for parents to keep their kids safe. When they have this instant access to the internet, they also have information at their fingertips. You don't want your child to access things that are too mature for their age. As a parent, you also want to make sure that your kids aren't talking to people they don't know online. Predators lurk everywhere and keeping your kids safe from them should be a parent's top priority.
Keep Your Kids Safe On Their iPhone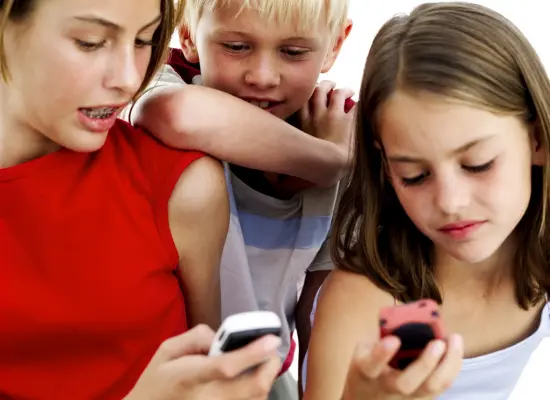 When you give a new iPhone to your child, there are 5 safety measures that you can take before handing it over.
1. Set Parental Control For iPhone
It's not just what your kids are looking at but also how much they are using their iPhone that you should be concerned about. The American Academy of Pediatrics has set some guidelines about media use for kids and teens. Having parental control that enforce these guidelines is important, too. Install on the phone before you give it to your kids.
2. Turn Off Geotagging
Geotagging can be dangerous as it may share your child's location with every picture that they post online. Disable this setting from the "Settings" option in the Menu. This can occasionally reset to default when a new update is done, so checking this setting on a regular basis is crucial.
3. Download Age Appropriate Apps
It's easy for kids to download new apps. Make a rule that they cannot download apps without you being present. Even though the App Store has strict inspection procedures, occasionally a malicious app will sneak through. By having your child or teen choose apps with you present, you are avoiding the chance that they will accept the permissions on a malicious app and infect their device.
This also allows you to control the type of apps that they are loading to make sure that they are age appropriate. It also keeps them from choosing paid apps on your dime. Ask to see their phone from time to time to check in and make sure that they haven't downloaded any apps that you haven't approved.
4. Teach Them About Internet Safety 
Since this phone will mean more freedom with the internet, you need to have an honest and open conversation about the dangers that lurk online. Teach them about internet safety and make them aware about predators, bullies and trolls.
5. Set Up Guidelines For Use
Give your child set rules. What sites they can look at, how much they can use it, what happens to the phone if they get in trouble, where the phone stays at bed time. Put it in writing so they know their expectations.
Keeping your kids safe when using their iPhone can be challenging but with guidelines, parental control for iPhone, and monitoring it makes it a bit easier.
Kevin Garin is a teacher and freelance writer. He currently contributes to the blog at Phone Sheriff, parental control for iPhone that can help your kids stay safe online.