Smartwatches today have come a long way. They offer an array of cutting-edge features that make them more than just timekeepers. From voice control for hands-free operation to advanced sensors for accurate tracking, these devices are revolutionizing the way we interact with technology. Stay tuned as we explore some of the latest features in smartwatches that help you stay fit and connected.
Want to dive into the pool or take part in water sports? No problem! Many smartwatches now come with water resistance, allowing you to wear them without worry. And if you're concerned about compatibility, no worries! These smart timepieces seamlessly integrate with popular smartphone operating systems.
Gone are the days of clunky designs; smartwatches now boast sleek and stylish aesthetics, such as the TicWatch Pro and the classic Apple Watch. Whether it's stainless steel or a sporty version you prefer, there's a smartwatch out there that suits your style. Let's first take a look at some of the latest features of smartwatches in 2023.
Latest Features of Smartwatches in 2023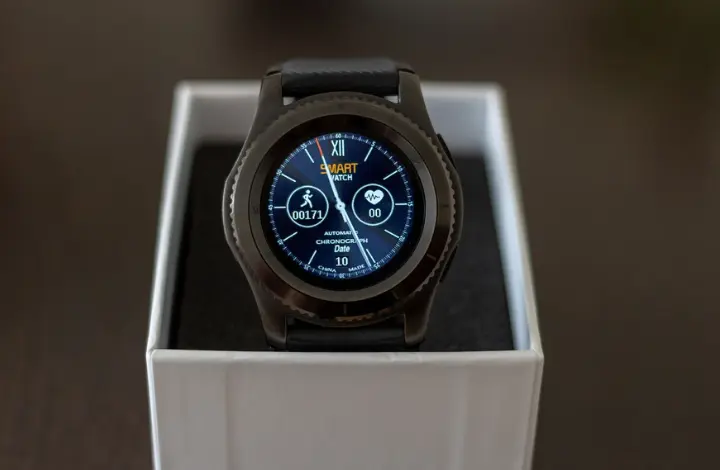 Apple Watch Series 8 with enhanced display and faster processor
The Apple Watch Series 8 is the latest iteration of Apple's popular smartwatch lineup. Building upon the success of its predecessor, the Series 8 comes with several exciting new features and enhancements.
One of the standout features of the Apple Watch Series 8 is its enhanced display. With a larger and more vibrant screen, users can enjoy a more immersive and visually appealing experience.
In addition to the enhanced display, the Apple Watch Series 8 also boasts a faster processor. Powered by the latest chip technology, the Series 8 delivers lightning-fast performance and responsiveness.
Furthermore, the Apple Watch Series 8 introduces a range of new health and fitness features. From advanced heart rate monitoring to sleep tracking, the Series 8 provides users with valuable insights into their overall well-being. Additionally, the watch includes new workout modes and coaching features, helping users stay motivated and achieve their fitness goals.
The Series 8 also offers improved connectivity options, allowing users to stay connected wherever they go. With built-in cellular capabilities, users can make calls, send messages, and stream music directly from their watch, even when their iPhone is not nearby. This enhanced connectivity ensures that users can stay in touch and access their favorite apps and services on the go.
Overall, the Apple Watch Series 8 is a powerful and feature-rich smartwatch that takes wearable technology to the next level. With its enhanced display, faster processor, and advanced health and fitness features, the Series 8 offers a compelling package for tech-savvy individuals looking to stay connected and prioritize their well-being.
Samsung Galaxy Watch 5 with advanced health monitoring features
The Samsung Galaxy Watch 5 is the latest addition to Samsung's lineup of smartwatches, boasting even more advanced health monitoring features than its predecessor. Building upon the success of the Galaxy Watch 4, this new model takes health tracking to the next level.
One of the standout features of the Galaxy Watch 5 is its enhanced heart rate monitoring capabilities. With improved sensors and algorithms, it can provide more accurate and real-time heart rate data. This is particularly useful for those who engage in high-intensity workouts or have specific heart rate goals.
In addition to heart rate monitoring, the Galaxy Watch 5 also introduces advanced sleep tracking. It can analyze your sleep patterns and provide detailed insights into your sleep quality, duration, and stages. This can help you understand your sleep habits better and make necessary adjustments for a more restful night's sleep.
Furthermore, the Galaxy Watch 5 includes a blood oxygen saturation (SpO2) monitoring feature. This allows you to measure the oxygen levels in your blood, providing insights into your overall respiratory health. It can be particularly beneficial for individuals with respiratory conditions or those who want to keep a close eye on their oxygen levels during physical activities.
Another noteworthy addition to the Galaxy Watch 5 is its stress monitoring feature. It can detect and analyze your stress levels throughout the day, offering personalized breathing exercises and relaxation techniques to help you manage and reduce stress. This can be a valuable tool for maintaining overall well-being in today's fast-paced and stressful world.
Moreover, the Galaxy Watch 5 continues to offer a wide range of fitness tracking features. From step counting and calorie tracking to automatic workout detection and guided coaching, it can help you stay motivated and on track with your fitness goals.
Fitbit Sense 2 with stress management tools and sleep tracking
The Fitbit Sense 2 is an upgraded version of the popular fitness tracker that comes with advanced stress management tools and sleep tracking capabilities. Building on the success of its predecessor, the Sense 2 offers even more features to help users better understand and manage their stress levels and improve their sleep quality.
The Fitbit Sense 2 uses advanced sensors and algorithms to track various physiological markers, such as heart rate variability and skin temperature. It provides users with a comprehensive picture of their stress levels throughout the day. It also offers guided breathing exercises and mindfulness prompts to help users relax and reduce their stress levels.
In addition to stress management, the Fitbit Sense 2 also excels in sleep tracking. It utilizes a combination of heart rate monitoring, movement detection, and SpO2 monitoring to accurately track the different stages of sleep, including light, deep, and REM sleep. With this information, users can gain insights into their sleep patterns and make necessary adjustments to improve their overall sleep quality.
Garmin Fenix 7X with rugged design and long battery life
The Garmin Fenix 7 Pro is a highly anticipated smartwatch that boasts a rugged design and impressive battery life. Building on the success of its predecessor, the Fenix 6 Pro, this new iteration is expected to offer even more advanced features and capabilities.
One of the standout features of the Garmin Fenix 7 Pro is its rugged design. Designed to withstand the harshest conditions, this smartwatch is built to military-grade standards for thermal, shock, and water resistance. Whether you're hiking in the mountains or participating in extreme sports, the Fenix 7 Pro is up to the challenge.
In addition to its durability, the Fenix 7 Pro also offers an exceptional battery life. With its long-lasting battery, you can expect to use the smartwatch for extended periods without worrying about recharging. This is particularly beneficial for outdoor enthusiasts who may be away from power sources for extended periods.
Furthermore, the Garmin Fenix 7 Pro is expected to come equipped with a wide range of features that cater to various activities. From advanced GPS tracking to heart rate monitoring and sleep tracking, this smartwatch offers comprehensive health and fitness tracking capabilities. It also includes features such as music storage, contactless payments, and smartphone notifications, making it a versatile companion for everyday use.
Overall, the Garmin Fenix 7 Pro is shaping up to be an impressive smartwatch with its rugged design, long battery life, and extensive features. Whether you're an outdoor adventurer or simply someone who values durability and functionality in a smartwatch, the Fenix 7 Pro is definitely worth considering.
Design and Personalization Options for Smartwatches
Smartwatches have come a long way in terms of design and personalization options. With the latest features, these versatile smartwatches offer a range of choices to suit individual preferences.
Interchangeable bands
Many smartwatches now come with interchangeable bands, allowing users to match their watch with different styles. Whether it's a sleek stainless steel band for a formal occasion or a vibrant silicone band for a casual look, there are plenty of options to choose from.
Customizable watch faces
Personal expression is key. Users can now customize their watch faces, adding a touch of personality to their wristwear. From classic analog designs to digital displays with various complications, the possibilities are endless.
Slimmer profiles
One noticeable trend in the latest smartwatches is their slimmer profiles. Manufacturers have been working on creating sleeker designs that sit comfortably on the wrist without compromising functionality. These slim profiles give the wearer a more refined and stylish appearance.
Various color options
Smartwatch makers understand that color preference varies among individuals. That's why they offer an array of color options to cater to different tastes. Whether you prefer bold and vibrant hues or subtle and sophisticated shades, there's a smartwatch out there for you.
With these design and personalization features, popular brands like Samsung Galaxy Watch and Apple WatchOS have taken the world by storm. The Samsung Galaxy Watch offers an innovative digital bezel that allows easy navigation through menus and apps, while Apple WatchOS provides seamless integration with other Apple devices.
As wearables continue to evolve, we can expect even more exciting design elements and customization options in future smartwatch releases like the highly anticipated Google Pixel Watch.
Battery Life and Charging Considerations
Smartwatches have come a long way in terms of battery life and charging capabilities. With the latest features, you can expect extended battery life that lasts up to several days on a single charge. This means you can wear your smartwatch without worrying about running out of power throughout the day.
Fast charging is another great feature found in many smartwatches today. With fast charging capabilities, you can quickly top up your device's battery when it's running low. This is especially convenient for those times when you need a quick boost before heading out.
Wireless charging options have also become popular among smartwatch manufacturers. Instead of dealing with tangled cables, you can simply place your smartwatch on a wireless charger for hassle-free recharging. It's a convenient and efficient way to keep your device powered up.
To further optimize battery usage, many smartwatches offer power-saving modes. These modes help conserve energy by reducing certain functionalities or dimming the display when not in use. By activating this mode, you can extend the battery life even more.
In addition to these considerations, there are other factors to keep in mind. Some models offer cellular options that allow you to make calls or receive notifications without relying on your smartphone's connection. However, it's important to note that using cellular services may impact the overall battery life.
Water resistance is another feature worth considering if you lead an active lifestyle or enjoy water-related activities. Look for smartwatches with a high waterproof rating, ensuring they can withstand splashes or even being submerged underwater.
Some smartwatches come equipped with built-in NFC technology that allows contactless payments using compatible credit cards or mobile payment apps. This eliminates the need to carry cash or credit cards while providing convenience at your fingertips.
Health and Fitness Tracking Capabilities
Smartwatches have revolutionized the way we monitor our health and fitness. With their advanced health tracking features, these wearable devices offer a wide range of functionalities to help us stay on top of our well-being. Let's explore some of the latest features in smartwatches that are designed specifically for health and fitness tracking:
Heart rate monitoring
Smartwatches now come equipped with heart rate sensors that provide real-time data on your heart rate during workouts and daily activities. This feature allows you to gain better insights into your fitness levels and adjust your workout intensity accordingly.
Built-in GPS
Gone are the days when you needed a separate device to track your outdoor activities. Many smartwatches now have built-in GPS functionality, enabling you to accurately track your runs, hikes, or cycling routes without needing to carry your phone along.
Sleep tracking
Understanding sleep patterns is crucial for maintaining overall wellness. Smartwatches like Fitbit Versa offer sleep tracking features that analyze your sleep duration and quality, providing valuable insights into how well you're resting at night.
Blood oxygen level measurement
Another noteworthy feature in modern smartwatches is the ability to measure blood oxygen levels. By assessing this vital health stat, you can get a comprehensive understanding of your body's wellness and make informed decisions about your lifestyle.
These health and fitness tracking capabilities make smartwatches an essential tool for anyone looking to improve their well-being. Whether it's monitoring heart rate during workouts, accurately tracking outdoor activities with built-in GPS, analyzing sleep patterns, or assessing blood oxygen levels for overall wellness assessment – smartwatches have become indispensable companions on our journey towards a healthier lifestyle.
Advanced Communication Features in Smartwatches
Smartwatches have come a long way, offering an array of advanced communication features that make staying connected easier than ever. These latest features in smartwatches revolutionize the way we communicate on the go. Let's explore some of the key advancements:
Cellular connectivity
Gone are the days when you needed to carry your smartphone everywhere to make or receive calls. With cellular-enabled smartwatches like the Apple Watch and Apple Watch SE, you can now make phone calls directly from your wrist, even if your smartphone is not nearby.
Text messaging directly from the smartwatch
Sending text messages has become more convenient with smartwatches. You can compose and send text messages right from your wrist, eliminating the need to reach for your smartphone constantly. It's quick and hassle-free.
Quick replies using pre-set messages or voice dictation
Smartwatches offer quick reply options that allow you to respond effortlessly. You can choose from pre-set messages or use voice dictation to compose personalized replies without taking out your smartphone.
Social media notifications at a glance
Stay updated with social media notifications without having to constantly check your smartphone. Smartwatches provide real-time updates, allowing you to view notifications from platforms like Facebook, Instagram, and Twitter with just a glance at your wrist.
These advanced communication features cater to today's fast-paced lifestyle where staying connected is essential. Whether it's making phone calls without a phone, sending text messages effortlessly, or receiving social media updates on-the-go, smartwatches have become indispensable companions for smartphone users.
With their sleek touchscreen displays and compatibility with both Android smartphones and iPhones like Google Pixel and Apple devices respectively, these smart devices offer seamless integration into our daily lives. The vibrant AMOLED displays and durable sapphire crystal ensure clear visibility even in bright sunlight.
So if you're looking for a smartwatch that not only tracks your health but also keeps you connected, consider exploring options like the Apple Watch or Mobvoi's range of smartwatches powered by Google Wear OS. Embrace the latest features in smartwatches and experience the convenience of advanced communication right on your wrist.
Conclusion
In summary, the latest features in smartwatches have revolutionized the way we interact with technology on our wrists.
Integration with other devices and apps makes smartwatches more versatile than ever before.
Seamless connectivity to smartphones, tablets, and smart home devices makes it easy to use them as a central hub to control various aspects of our digital lives.
Furthermore, smartwatches have become highly customizable in terms of design and personalization options. Interchangeable bands and customizable watch faces allows you to express your individual style while enjoying the benefits of advanced technology.
Battery life and charging considerations have also improved significantly in recent years. Many smartwatch models now offer extended battery life and faster charging times, ensuring that users can rely on their devices throughout the day without frequent interruptions.
Health and fitness tracking capabilities have seen significant enhancements as well. Modern smartwatches come equipped with an array of sensors that monitor heart rate, sleep patterns, activity levels, and more. These features empower users to take control of their well-being by providing valuable insights into their daily routines.
Lastly, advanced communication features such as voice assistants and built-in calling functionalities have transformed smartwatches into powerful communication tools. Users can make calls, send messages, or interact with virtual assistants directly from their wrists.
To stay ahead in this rapidly evolving market, it's crucial to keep up with the latest features of smartwatches. Explore various models to find one that suits your needs best and embrace the convenience and functionality they bring to your everyday life.
FAQs
Q: Can I use a smartwatch without a smartphone?
While some basic functions may work independently on certain models (such as step tracking or playing music), most smartwatches require a smartphone for full functionality and connectivity.
Q: Are smartwatches waterproof?
Many smartwatches now offer water resistance, but the level of protection varies. It's important to check the specifications of each model to determine its water resistance rating.
Q: Can I reply to messages directly from my smartwatch?
Yes, depending on the model and operating system, you can often respond to messages using voice dictation or pre-set quick replies directly from your smartwatch.
Q: How accurate are the health tracking features in smartwatches?
The accuracy of health tracking features can vary between models. While they provide valuable insights, it's important to remember that they may not be as precise as medical-grade devices.
Q: Do all smartwatches support third-party apps?
Most modern smartwatches support a variety of third-party apps. However, compatibility can vary depending on the operating system and app availability.
Q: How long does a typical smartwatch battery last?
Battery life varies depending on usage patterns and specific models. On average, most smartwatches last between one to three days before needing a recharge.
Q: Can I use different watch bands with my smartwatch?
Many smartwatches offer interchangeable bands, allowing users to switch between various styles and materials easily. However, compatibility may vary between brands and models.