The modern workforce is now embracing a hybrid work model. This means businesses need more efficient and adaptable office solutions. The Logi Dock Flex is a state-of-the-art docking station designed to improve the hotdesking experience, streamline workspace management, and enhance collaboration among team members. We take a look at the various features and benefits of this innovative docking station and explain why it's a game-changer in the world of hybrid workspaces.
The Inspiration Behind the Logi Dock Flex
With employees working in-office, remotely, and on-the-go as per business needs, companies have the chance to reevaluate their office spaces, optimize productivity, and encourage employee collaboration.
The challenge: The need for innovative solutions to manage shared workspaces effectively and motivate employees to return to the office.
The Logi Dock Flex docking station is designed to address these challenges by offering a seamless desk booking and management experience for employees, IT teams, and workspace managers.
A Multidimensional Approach to Workspace Management
The Logi Dock Flex was developed with a multidimensional approach. It's focus is not only on desk booking and management, but also to promote social collaboration and provide valuable data to IT and workplace managers. This data can be used to understand usage patterns, optimize office space configurations, and make informed decisions about future investments.
Logi Dock Flex: The Ultimate Docking Station for Hybrid Workspaces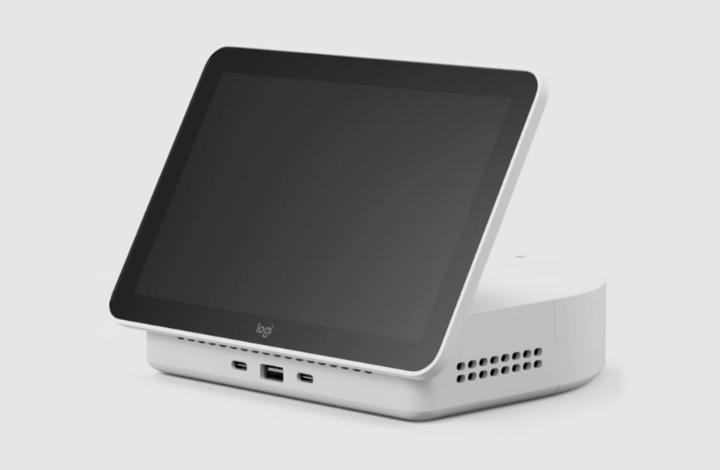 As a fully-featured managed docking station built for shared desks in flexible work environments, it offers a range of benefits for modern hybrid workspaces. Such as:
Easier Desk Booking and Management
Employees can plan in-office days, book a desk, and notify teammates in-app with the Logi Dock Flex. They only need to plug in with a single USB cable to start working. Plus, the docking station has an interactive panel that signals desk availability, making ad-hoc booking quick and convenient.
Enhanced Collaboration
A recent McKinsey Social Capital survey highlighted that employees generally feel less connected to their colleagues in hybrid work environments. The Logi Dock Flex docking station helps employees plan and coordinate their office days with their teammates, fostering camaraderie and collaboration.
Dual Display and Multiple USB Ports
The Logi Dock Flex boasts an 8-inch display, three USB ports in the front, and three more in the back. These features support dual display, network connection, and up to 100 watts of power. This allows for secure, standard-issue device connections as well as employees bringing their own devices.
Personalized Workstation
Employees can personalize their workstations by uploading their own background photos or setting away messages. Moreover, they can also join meetings with a single touch through calendar integrations with the Logi Tune app.
IT Team Support
IT teams can quickly install and deploy the Logi Dock Flex docking station at scale. That's possible, thanks to its secure cable management system, which ensures clutter-free desk areas. It can be monitored and managed remotely through Logitech Sync. This allows IT teams to adjust booking settings, manage equipment, and customize settings according to company policies.
Multiservice Capability
The Logi Dock Flex is compatible with multiple platforms, including Microsoft Teams, Zoom Workspace Reservation, and Logitech's own desk booking service. This allows IT teams to choose the platform that best suits their organization's needs.
Real-Time Insights for Facilities Managers
For workspace managers, the Logi Dock Flex provides real-time insights and analytics on space usage. This data includes information on desk utilization, peak occupancy rates, and user behaviors. It helps facilities managers make informed space planning decisions based on the performance of flexible office and return-to-office policies.
Pricing and Availability
The Logi Dock Flex docking station will be available in off-white color for $699. It is expected to land in stores globally in Fall 2023 through authorized sellers and on the Logitech website. Logitech's desk booking service is available for free and can be requested through the Sync management portal.
Final Thoughts
The Logi Dock Flex is a groundbreaking docking station that offers a comprehensive solution for modern hybrid workspaces. Its multidimensional approach to desk booking, management, and collaboration makes it an indispensable tool for hybrid work.
What do you think of this solution from Logitech?
Source: Logitech