Satechi, known for its innovative accessories, has once again delivered a unique solution that stands out from the crowd. The Satechi Dual Dock Stand is a versatile docking station that is designed to enhance your Mac experience. This new docking station not only expands the I/O of your MacBook but also includes a convenient NVMe SSD enclosure. We take a look at the features and benefits of the Satechi Dual Dock Stand, and why it's the perfect addition to your at-home workstation.
A Novel Design for Mac Enthusiasts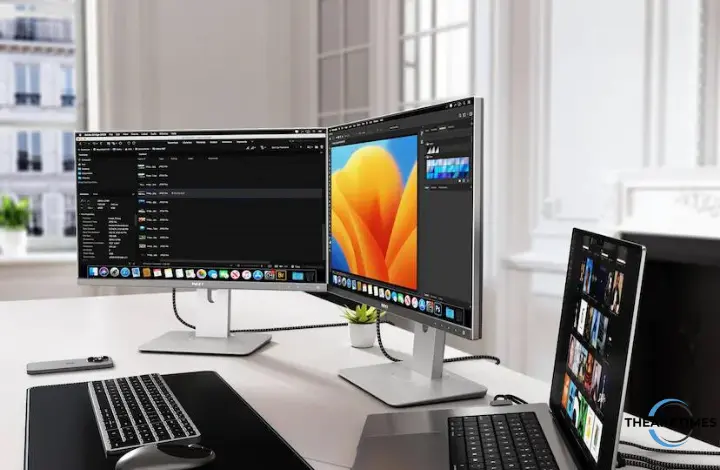 The Satechi Dual Dock Stand is designed to complement your MacBook perfectly. Its wedged build fits snugly underneath the back two feet of your laptop, propping it up at a comfortable angle. It provides a great ergonomic typing experience and also offers improved ventilation for your device. With this novel design, Satechi has found a way to enhance both form and function.
Expanded Connectivity Options
When it comes to connectivity, the Satechi Dual Dock Stand doesn't disappoint. With nine ports available, you can expand your MacBook's capabilities like never before. Let's take a closer look at the ports:
Gigabit Ethernet Port: Stay connected to a fast and reliable network with the built-in Gigabit Ethernet port. Whether you're working from home or streaming your favorite content, a stable internet connection is essential.
Dual USB-A Slots: Need to connect your legacy devices? The Dual Dock Stand features two USB-A slots, allowing you to effortlessly connect your peripherals such as keyboards, mice, or external hard drives.
DisplayPort and HDMI Outputs: Seamlessly connect your MacBook to external displays for enhanced productivity and immersive entertainment. The Dual Dock Stand includes both a DisplayPort and two HDMI outputs, providing flexibility in setting up your workstation.
USB-C Slots: With three additional USB-C slots, you have even more options for connecting devices or charging your MacBook. The USB-C interface offers high-speed data transfer and power delivery capabilities, ensuring optimal performance.
All these ports are powered by a 10Gb/s bus, ensuring fast and efficient data transfer between your MacBook and connected devices.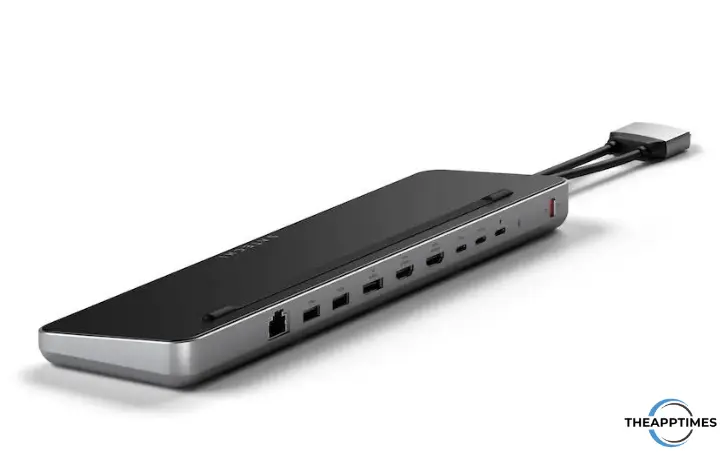 A Game-Changing Feature: Integrated SSD Enclosure
One of the standout features of the Satechi Dual Dock Stand is its integrated NVMe SSD enclosure. While other docking stations may offer NVMe support, Satechi takes it a step further by incorporating a permanent desktop companion for your MacBook. This means you can easily upgrade your storage capacity whenever you need it, without the hassle of external enclosures or adapters. Satechi understands the needs of Mac users and has delivered a solution that combines convenience and versatility.
Price and Availability
The Satechi Dual Dock Stand is now available for purchase exclusively from Satechi's online store. Priced at $149.99, it offers exceptional value for Mac enthusiasts seeking to enhance their at-home workstations.
Conclusion
The Satechi Dual Dock is a game-changer for Mac users. It has a unique design, expanded connectivity options, and integrated SSD enclosure. Whether you're a creative professional, a student, or simply someone who values productivity and convenience, the Dual Dock Stand is a worthy investment. Upgrade your Mac experience today and unleash the full potential of your MacBook with the Satechi Dual Dock Stand.