The iPad is a fantastic tablet, but it doesn't come with a keyboard case: which is a bummer. A good keyboard case for the iPad can help you get the most out of the device. It adds more versatility, protection and convenience. You'll get a great typing experience and an almost laptop feel. If you own 12.9 inch iPad Pro, you should consider getting the Logitech Combo Touch keyboard case, which is a lot more affordable than Apple's very own Magic Keyboard and the popular Brydge keyboard cases. Let's take a look at what the Logitech Combo Touch offers.
Logitech Combo Touch iPad Pro Keyboard Case Features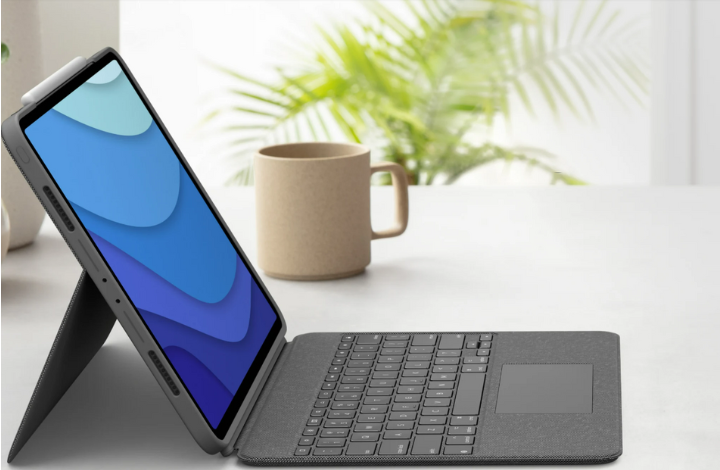 Sleek Design
The Combo Touch keyboard case has a sleek, clean design with an elegant woven outer fabric giving it a cool, comfortable look. Considering that it comes with a trackpad, it is surprisingly thin.
No Need for Batteries
The Combo Touch instantly pairs with your iPad via Smart Connector. The power for the keyboard is sourced directly from your iPad, so you don't have to bother about batteries and recharging.
Dependable Trackpad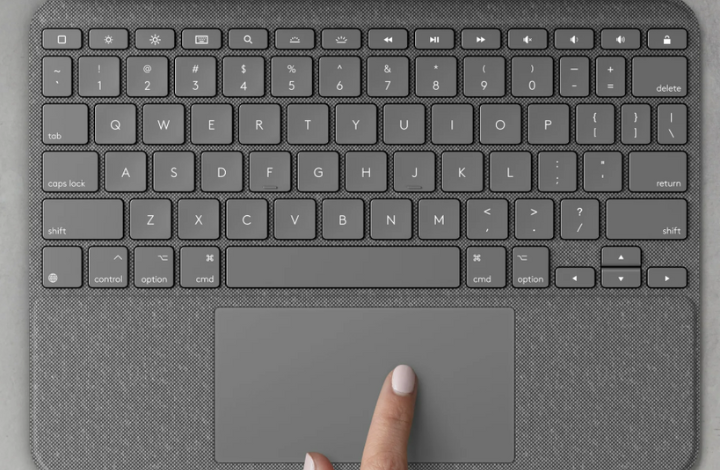 This keyboard sports a very big trackpad making it easier to  work with. You can swipe, tap, pinch or scroll and take advantage of the Multi-TouchTM trackpad gestures with greater convenience. Since you don't have to pair the keyboard case, you can enjoy a more responsive and reliable experience.
Room to Charge Apple Pencil
This case sports an open side where you can keep your case on while you charge your Apple Pencil.
Adjustable Kickstand
The keyboard case doubles up as an adjustable kickstand. It supports up to 50 degrees of tilt so you can get the perfect viewing angle for whatever task you are undertaking.
4 Versatile Modes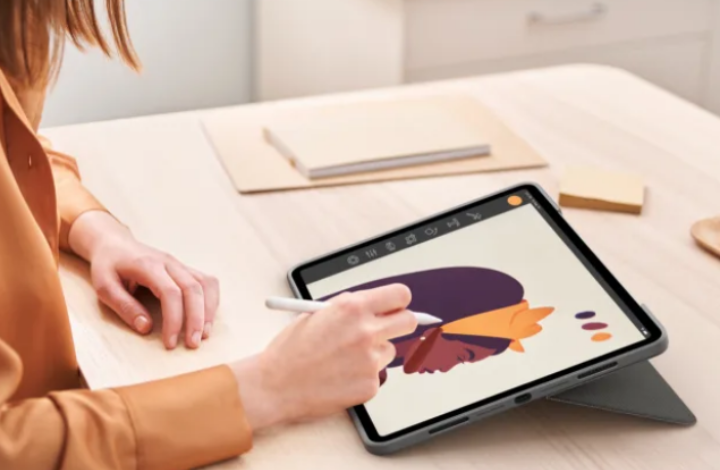 The Logitech Combo Touch lets you accomplish any task with 4 different modes.
Type Mode: If you intend on writing up a storm, dock the keyboard upright and pull out the kickstand. You can then conveniently write essays, notes, emails, and more.
View Mode: If you just plan to just watch movies and videos, you can detach the keyboard, pull out the kickstand to sit back and relax.
Sketch Mode: If you are into drawing and designing, you can flip out your Apple Pencil or Logitech Crayon, tilt the kickstand to the right angle and get on with it.
Read Mode: If you simply want to read a book or browse the web, you can detach the keyboard or reattach it with the keys turned inward and enjoy.
Solid Protection
This keyboard is moulded to perfectly fit your iPad, offering protection to the front, back, and corners from scrapes and bumps. It keeps the iPad secure preventing it from slipping out of the case when you're carrying it around.
Shortcut Keys
This keyboard even offers an entire row of iPadOS shortcut keys. That way, you can conveniently adjust the volume and media controls, or set the brightness level in just one-tap.
Comfortable Backlit Keys
If you have to get something done in a place where the lighting is poor, the backlit keys in this keyboard will come to your rescue. Unlike the 2020 edition of the Combo Touch, this one is capable of automatically adjusting to your environment with 16 levels of brightness. There are also shortcut keys at the top of the keyboard to allow you to manually adjust the brightness.
Conclusion
The Logitech Combo Touch is a versatile keyboard case for the 12.9 inch iPad Pro. It is lightweight, offers a comfortable typing experience, and an adjustable kickstand to use in different situations. It is also comparatively cheaper than the official keyboard case or the well endowed Brydge keyboard.
This 4.5 star rated keyboard case is available on Amazon for $182.
Check it out and tell us what you think!