If you own a third generation iPad Pro, chances are you'll need a good keyboard case that can help you get more done out of your iPad. Logitech has launched a brand-new keyboard case for the 2018 iPad Pro model that is worth checking out if you're in the market for a case that is feature-rich. Here's more on the Logitech Slim Folio Pro Backlit Keyboard Case for the 2018 iPad Pro.
Logitech Slim Folio Pro
The Logitech Slim Folio Pro is a continuation of the Logitech Slim Folio accessories lineup. This backlit keyboard case is specifically designed for the 11-inch and 12.9-inch iPad pro (2018).
3 Modes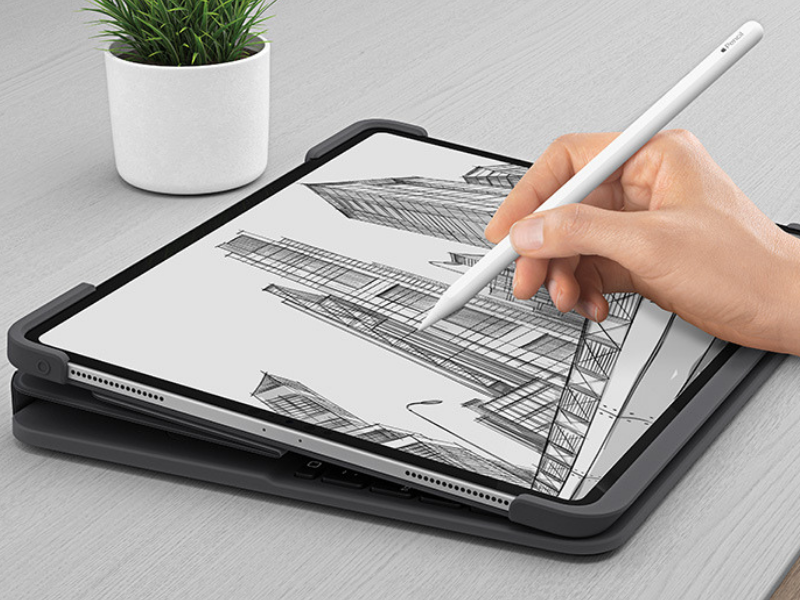 This keyboard lets you use the iPad Pro like a laptop, thanks to its 3 different work modes that let you accomplish various tasks more efficiently.
In the Type Mode, you just dock the keyboard upright and start typing. There are two slots on the case that support two different (58 degrees and 10 degrees) typing angles . The Sketch Mode allows you to collapse the iPad screen so you can take notes or draw with the Apple Pencil. In the Read Mode, you can fold the keyboard back to read books, articles, and more.
3 Adjustable Levels of Brightness
This keyboard case is great for using any time of the day or night. The integrated keyboard features backlit keys with 3 adjustable levels of brightness. Whether you are working at night or in a dim, low light environment, you can work without straining your eyes.
Comfy Keys
Logitech has great expertise in working with keyboards. You can see the result of that expertise in the way the keys are designed and how they deliver fluid, natural, and accurate keystrokes. You can type comfortably for hours thanks to the large, well-spaced keys that are stretched edge-to-edge. A scissor mechanism beneath each key helps to deliver the perfect bounce for fast, accurate typing.
Also Read: Logitech Combo Touch is a Versatile Keyboard Case with Trackpad for iPad Users
Sensible iOS Shortcuts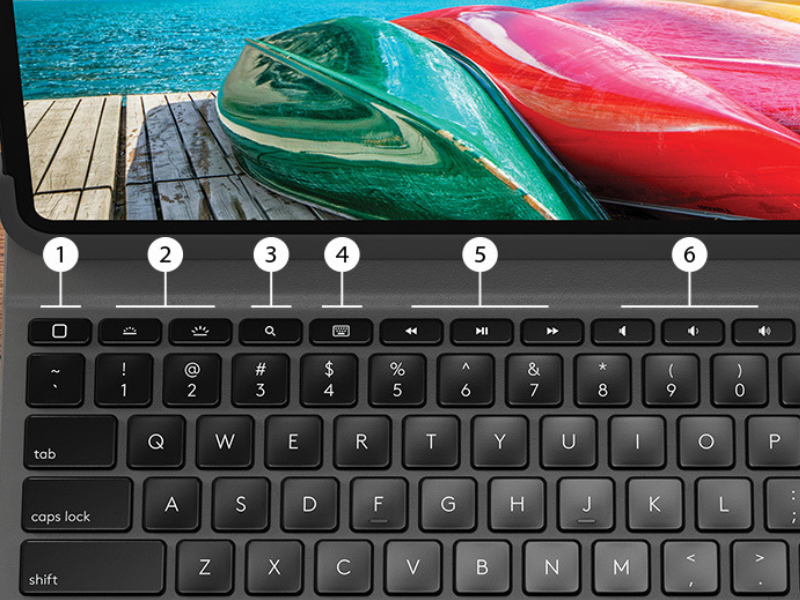 The Slim Folio Pro features a full row of iOS shortcut keys that give you quick access to key action and menu items. Home, Screen Brightness, Search, Virtual Keyboard, Media Controls, Volume Controls, On/Off, Bluetooth and Battery Check keys make life easy for you when operating the iPad Pro with the keyboard.
Protection
When you put your iPad in the bag, you can be sure that the case delivers complete protection from scuffs, scratches, and spills.
A secure magnetic latch keeps the case securely closed when not in. The latch also features a convenient storage loop that will hold your Apple Pencil or other digital pencils and prevent it from slipping around during travel.
Apple Pencil (2nd Gen) Support
The Slim Folio Pro case is designed with open sides so you can charge the Apple Pencil (2nd gen) with the case on.
Long Lasting Battery
The Logitech Slim Folio Pro has an impressively long-lasting battery that can run up to 3 months on a single charge. You can use the USB-C cable included with the iPad Pro to charge via a power brick or you can connect it directly to your iPad Pro.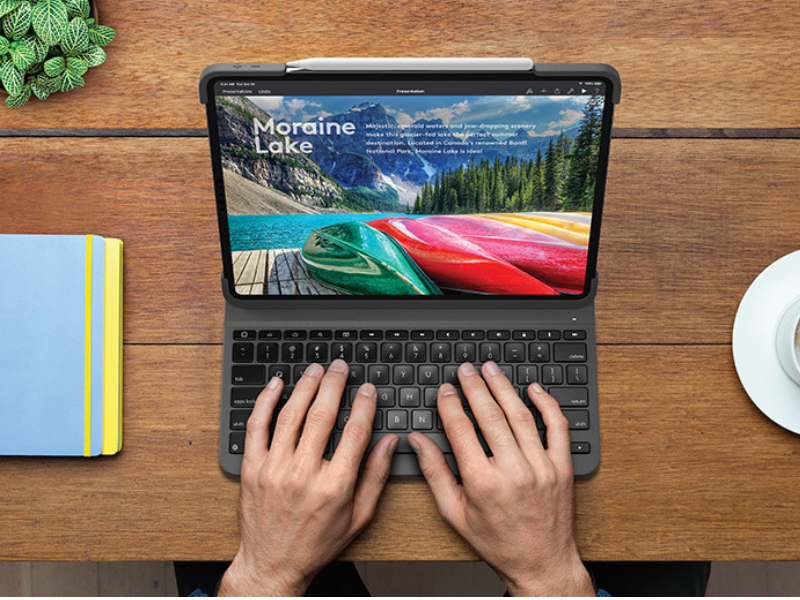 Pair Only Once
Slim Folio Pro uses advanced Bluetooth Low Energy wireless connection to deliver a reliable, energy-efficient connection between iPad Pro and keyboard. Once you pair your keyboard to your iPad Pro, it will automatically connect every time you place your iPad Pro into type mode.
Compatibility
The Logitech Slim Folio Pro is compatible with the iPad Pro 11-inch ( A1980, A1934, A1979, A2013) and iPad Pro 12.9-inch ( A1876, A1895, A1983, A2014) models.
Final Thoughts
If you are a power user of the iPad, owning a keyboard case like the Logitech Slim Folio Pro case will be a big bonus. With great protection, 3 user modes, backlit keys, long lasting battery and handy iOS shortcuts, you'll find yourself working more comfortably no matter where you are.
The Logitech Slim Folio Pro case is available at $119.99 and $129.99 for the 11-inch and 12.9-inch models respectively.
Learn more about the keyboard on Logitech's website or see it on Amazon.
And tell us what you think!
Note: When you purchase something on our website after clicking links in our articles, we may earn a small commission. Read our affiliate link policy for more details.