Video streaming is big business today. Social platforms like YouTube, Instagram, Twitch, Facebook make it easy for anyone to showcase their talents to the world. To make that job a whole lot easier and professional, popular keyboard and computer peripherals makers Logitech, have launched a webcam called the Logitech StreamCam. This streaming solution promises to help you broadcast vibrant, true-to-life videos without hassle and without spending a whole lot of money on setup. If you're into live streaming stuff, check out what the Logitech StreamCam can do for you.
Logitech StreamCam – Features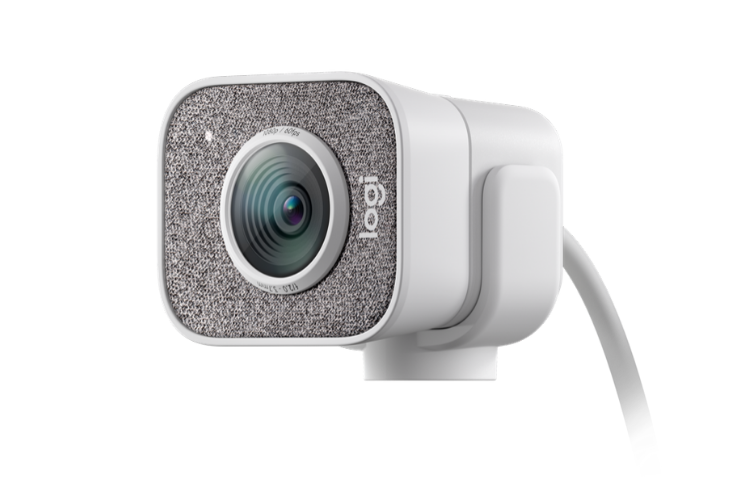 The web camera is a small, cubic device with a solid build quality. It sports a long cable that ends with a USB-C connector. The camera comes with two mounts. One is a flexible universal mount for fixing on the computer monitor. The other one lets you screw onto a tripod. The camera clicks into place on the mounts in either horizontal or vertical format.
Here's a look at some of the features of the StreamCam.
Videos at 60 FPS
The Logitech StreamCam can stream as well as record vibrant, true-to-life video with smooth motion and crisp details in full HD 1080p at 60 frames per second.
Audio
The web cam sports dual omnidirectional microphones with a noise reduction filter for a premium audio experience.
Smart Auto-Focus and Exposure
One of the most common problems with streaming live is that your often face problems with the focus. Logitech StreamCam's AI-enabled facial tracking promises to deliver accurate focus and exposure no matter where you are positioned. Plus, the auto-exposure feature is designed to ensure you look your best in a variety of lighting conditions.
Switch Easily Between Portrait and Landscape Mode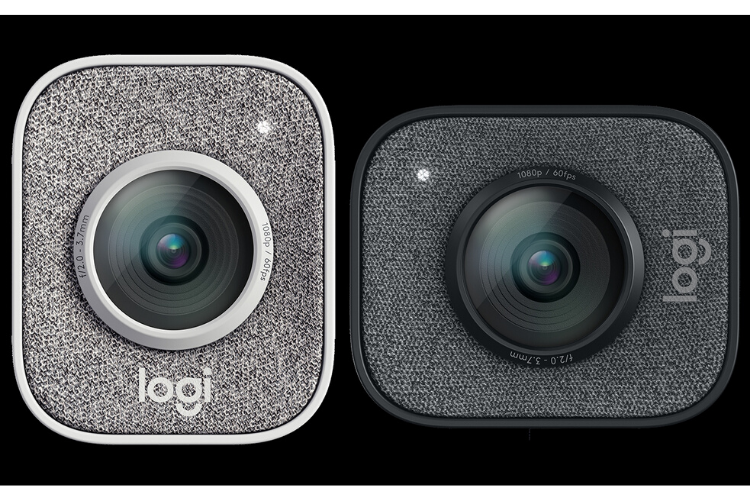 If you're into streaming videos on Instagram and Facebook, you can simply turn the StreamCam to the desired position to broadcast in full HD in the 9:16 format. (Portrait mode)
Various Mounting Options
Another great feature with the Logitech StreamCam is that you can get the perfect angle for any of your video streams, thanks to its flexible mounting options. You can tilt and pan the mount, or even place it on a tripod. A built-in electronic image stabilization feature helps to reduce camera shake in case of accidental bumps or movement.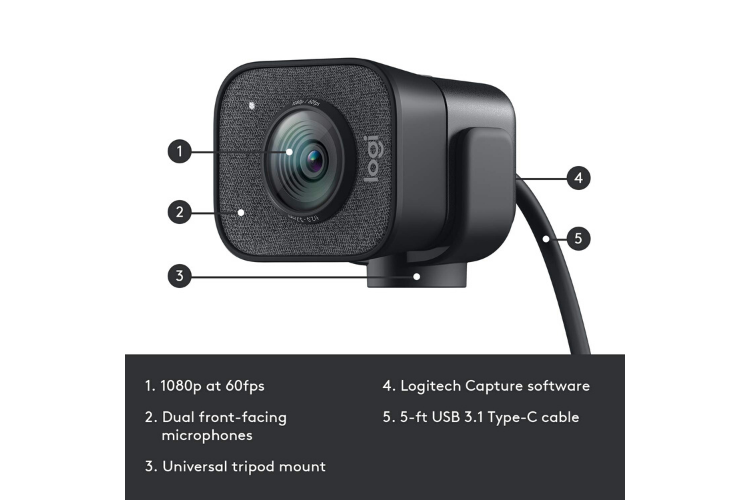 Video Transfer Speeds
StreamCam uses USB Type-C, the standard for fast and reliable connections, to ensure efficient video transfer speeds.
Logitech Capture
StreamCam's companion software, called Logitech Capture allows you to get the most out of the webcam. For instance, it automatically keeps you framed front and center in all your streams and videos. You can also use the software's built-in filters, transitions and borders to get more customized looks. And there's even a Dark Mode option.
Logitech has also ensured that the software works great on computers running MacOS, delivering better quality images than what the Macbook Pro offers. And that says a lot because the Pro has got one of the best webcams on a laptop.
Support for OBS, XSplit And Streamlabs
Logitech StreamCam is optimized for Open Broadcaster Software (OBS), XSplit and Streamlabs, which means you can effortlessly stream to Twitch, YouTube, and other platforms.
Tech Specs
Dimensions: 2.59 in (66 mm) x 2.28 in (58 mm) x 1.89 in (48 mm)
Weight: 5.28 oz (150 g)
Compatibility: Windows 10 or above; macOS 10.14 or above
Supported resolutions: 1920×1080, 1280×720, 960×540, 848×480, 640×360, 320×240
Max Video Resolution: 1080p/60 fps in MJPEG
Autofocus: (10 cm to infinity) / face based with Logitech Capture
Cable length: 5 ft (1.5 m) USB – C3.1 cable
Why Buy the Logitech StreamCam?
Superb video quality
Fast and reliable connection
AI enabled focus tracking
Versatile mounting options
Landscape and Portrait mode capture
Customizable video recording
Compatible with Windows and Mac OS
Affordable price
Final Thoughts
When it comes to streaming videos, the current webcam technology leaves a lot to be desired. Logitech StreamCam, with its easy setup, versatile mounting options and great video quality makes it easy for anyone with a laptop to broadcast their video content to the world.
Check out the Logitech StreamCam on Amazon