Android users may have always missed the ability to smoothly transfer music and video files from the PC to their Android device. Not anymore. Miro is a free, open source video player, developed by a non-profit Participatory Culture Foundation that has a host of amazing features including the ability to manage and sync your media files on Android. In this app review, lets take a look at the features of Miro and how to get started with the app.
Features of Miro
Miro's latest version is 4.0 and boasts the following features:
Pull all your music and videos together in one place
Add your favorite Video & Music websites
Sync to your phone or tablet
Convert any video format to MP4
Convert and sync to Android & Kindle Fire
Play podcasts and almost any music format
Stream or download from any website that offers audio, video or torrents
Installing Miro
Miro runs on Windows XP, Vista Windows 7, Mac OSX 10.5 and higher, Ubuntu Lucid, Maverick, and Natty.
2. Run the Miro_Installer EXE file.
3. Setup Miro by following the instructions in the Miro Setup wizard.
The Miro 4.0 Interface
There are two panes, the left sidebar that acts as the navigation pane. It displays all your music and video files, search, watch, or download videos from YouTube, Hulu, Torrent and other services, buy music from Amazon and Google Android stores, view downloaded podcasts, iTunes media files, and playlists.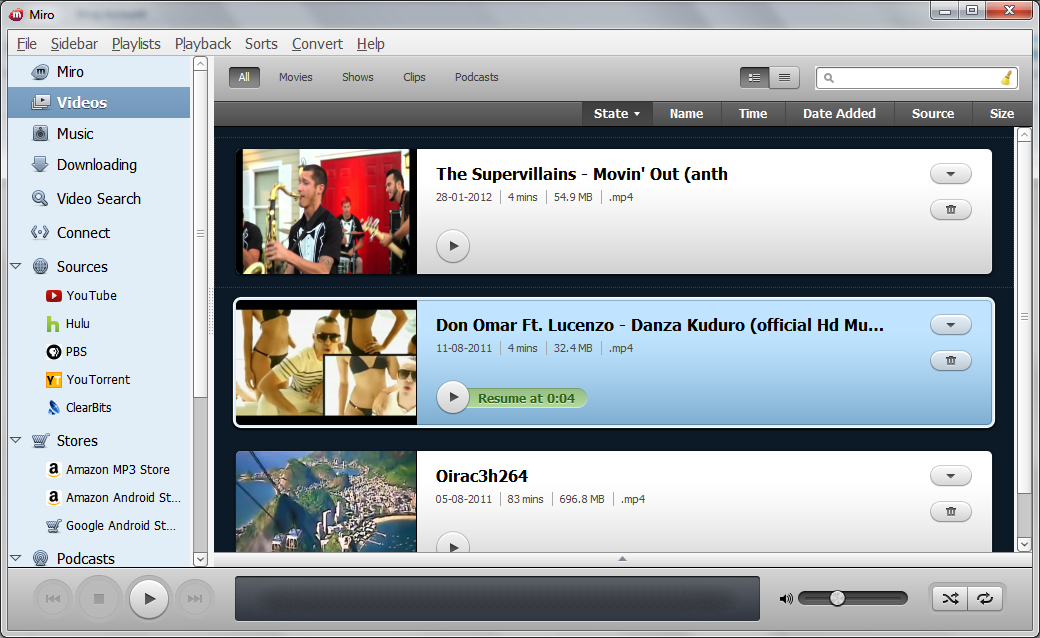 Manage and Sync Your Media Files on Android with Miro
You can add your favorite music, video, or download sites so that you can stream or download files right into your library. To do this from the Sidebar menu, choose Add Source and enter the website URL.
To share music and video files or stream files across computers in your home or local network,  from the Sidebar menu, select the Connect tab and enable sharing. Then open Miro on the computer to start streaming the files.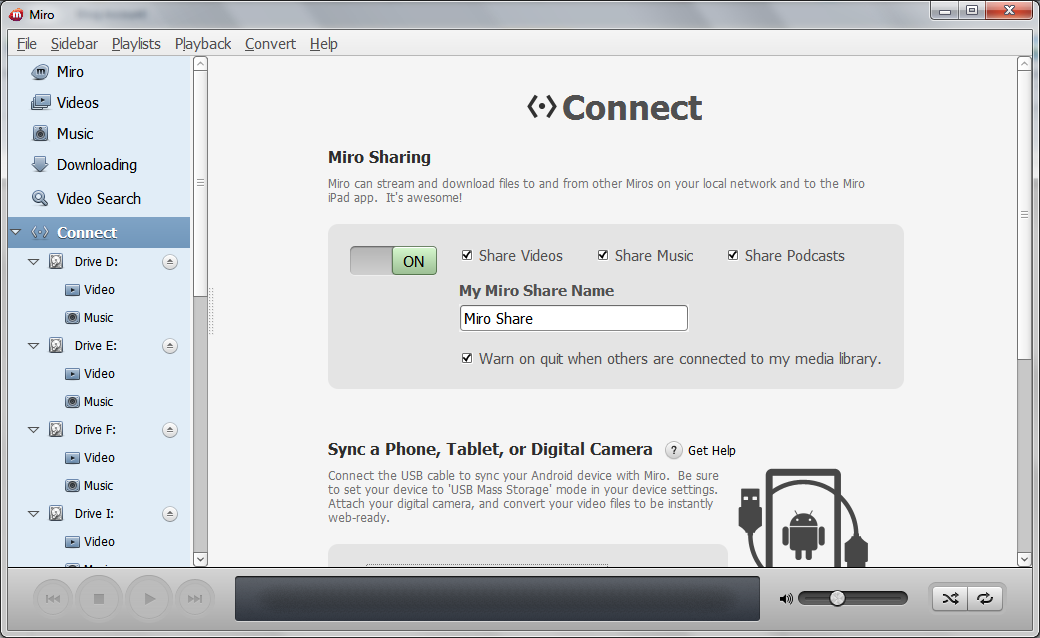 To sync your music files to your Android device:
1. Connect the device to the computer. Ensure that the device is set to USB Mass Storage mode.
2. Select your phone in the Connect tab, and drag the media files from the computer to the Connect screen. Alternatively, you can create a playlist, and sync songs from the playlist to the Android device.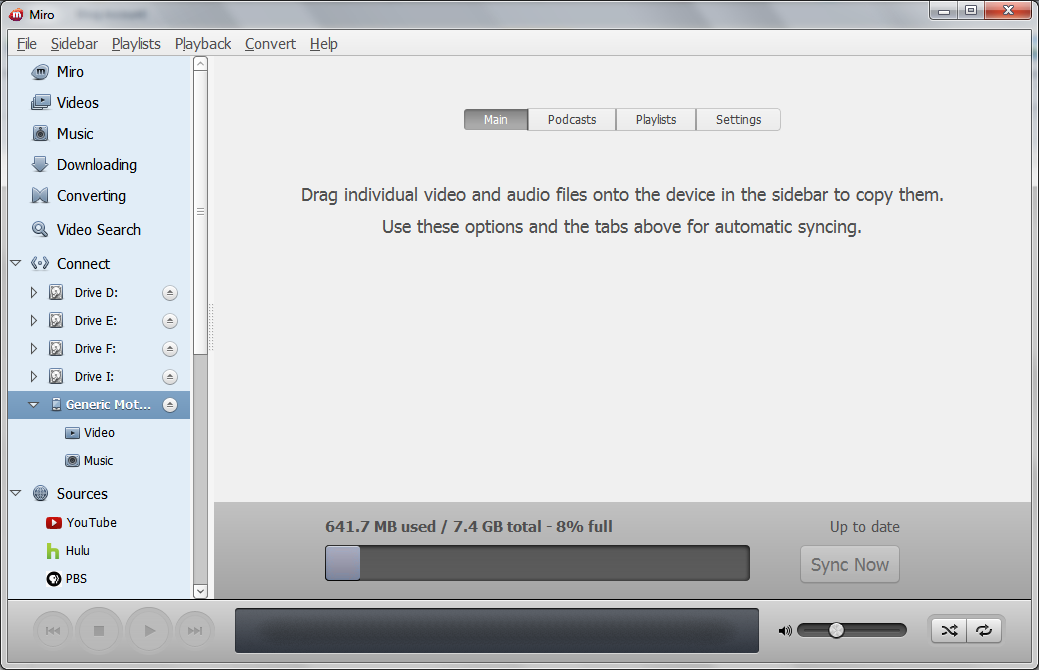 You can also copy songs from the Android device to the computer. To do this, select the Video or Music tab on your phone in the sidebar, and click Copy to Miro next to the song you want to download to the PC.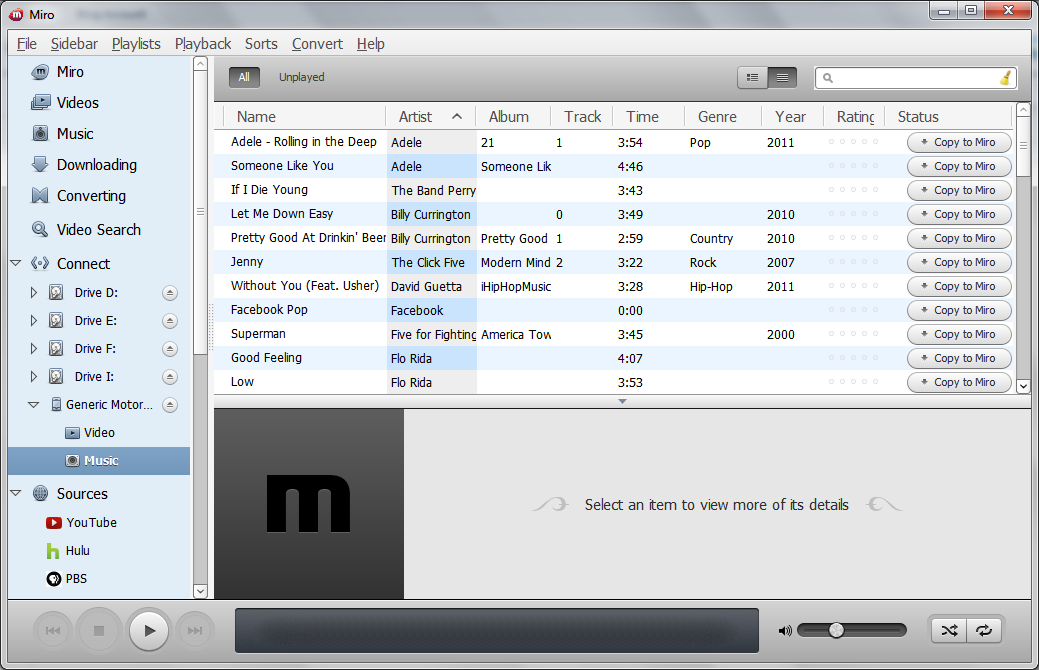 Miro also has the Amazon's MP3 and Android stores built into the app, so if you want to buy an MP3 song, simply select the store, and buy the song to load in onto the Miro player. If you choose to buy an app, it will automatically be synced to your phone.
Miro also has a bittorrent client built into the app enabling you to broadcast and share your media with the world.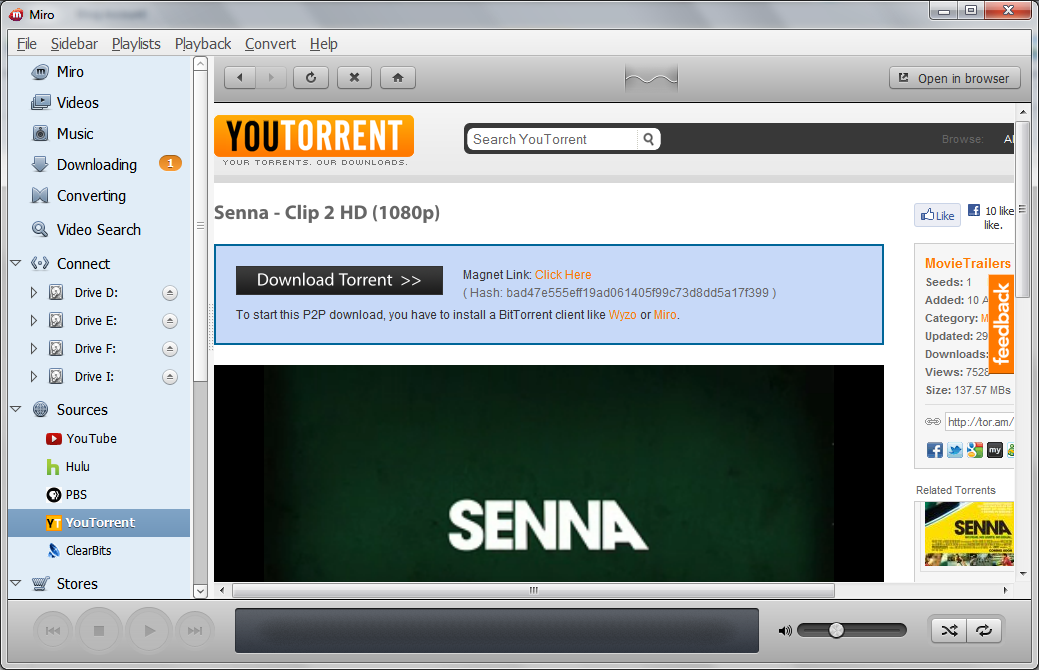 The same goes for YouTube, Hulu, or any other website that offers media files for download.
Miro offers a cool free solution to Sync Your Media Files on Android, access all your music, video, and podcasts from one location, and download, transfer and sync files across the iTunes library, windows library, or across networks. Miro is definitely one app you will not want to miss out on.
Be sure to check out Miro and share your thoughts on the app with us.
Follow us on Twitter or join our Facebook fan page to get tutorials, updates and how-to articles on Microsoft, Google and Apple products.