If you are running a small business or working with a team, coordinating your business activities and managing projects may become disorganized and messy if you don't have a powerful tool to manage them. Gmail may be one of the most popular email clients used for handling company email, but it does not offer exclusive features for handling customer support, delegating tasks and following up on sales and leads intuitively.
That's where a handy service called Grexit comes into play. Grexit is designed to help you delegate emails to your staff, assign and track project management activities, share, delegate and track sales leads and delegate email messages to virtual assistants for easier task management. Let's check out how Grexit works and how it manages to convert the tedious task of team collaboration in the workplace a breeze.
How Grexit Works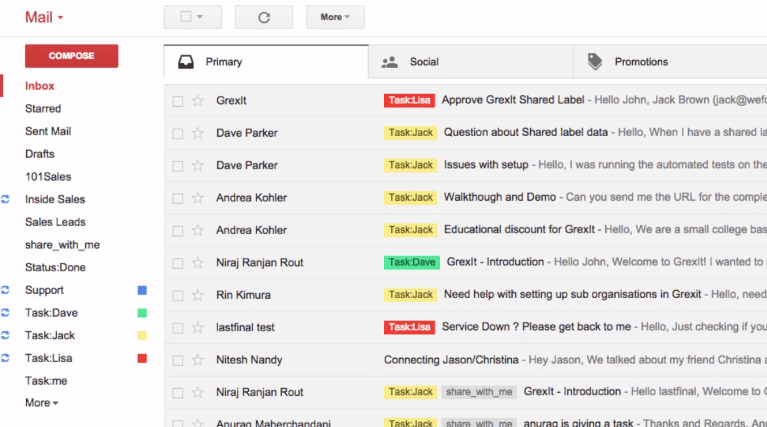 Once you sign up for Grexit, you will be required to connect it to your Gmail account. In the Admin Panel of the tool, you need to create shared labels then add the email addresses of the team members you want to coordinate with.
You can create fresh new labels such as Tasks: James (Colleague Name) or Tasks: Done (Status) or you can reuse labels you already created in your Gmail account.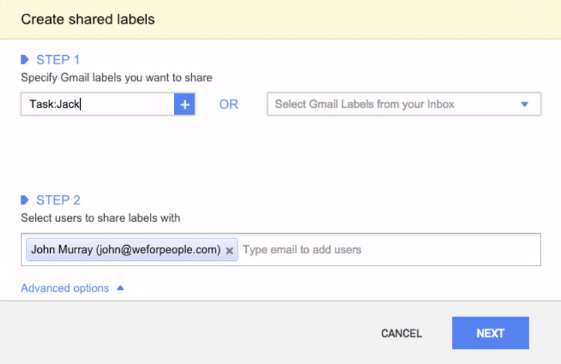 Once you configure these settings, Grexit will copy the shared labels to the Inboxes of your teammates. When you are ready to assign tasks to your teammates all you need to do is attach the respective Tasks: Colleague Name label to the email.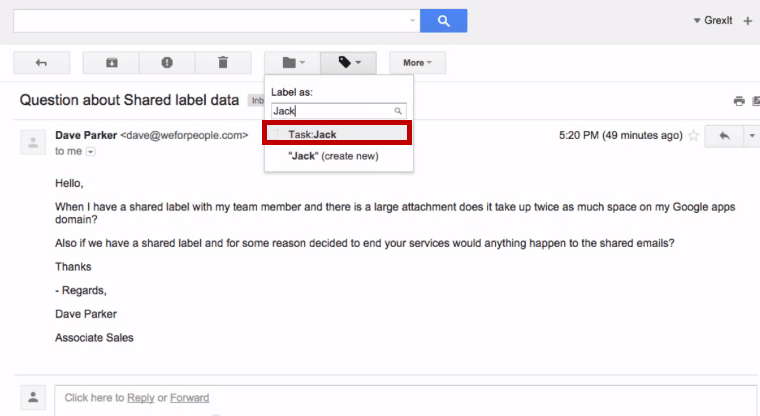 Team mates get instant notifications of tasks assigned right inside Gmail and can resolve them right away without switching between apps or other windows.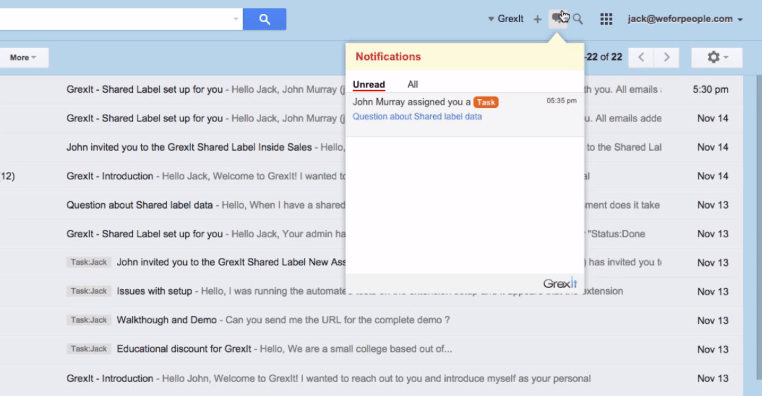 Another cool feature of Grexit is Shared Notes. You can convey important instructions and notes on a task via the Notes section that is available to the right of the email thread. Any notes shared are instantly made available to all shared contacts who will also receive a notification of the same. This ensures that all team members stay on the same page and avoid miscommunication and lapses when handling a task.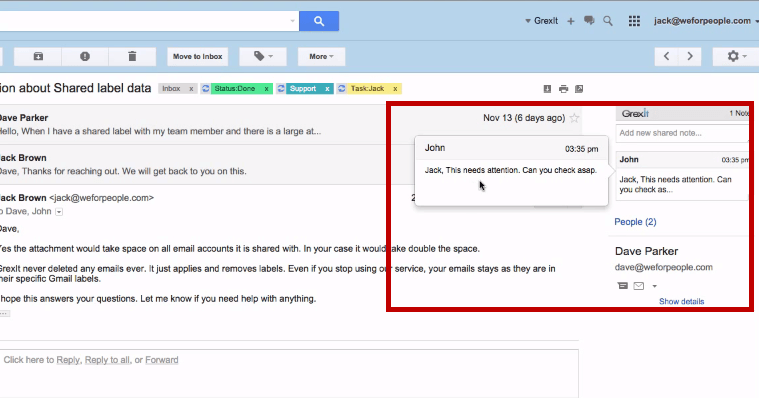 Here's a little teaser that explains what Grexit can do for your business!
Key Features of Grexit
Shared Labels: Shared Labels attached to an email are instantly copied to teammates' Inboxes and are a great way to assign tasks and track completion statuses. These labels work on other email clients such as Outlook and Sparrow and also work on Android and iOS devices as well.
Shared Notes: Shared Notes are available inside an email thread and helps team members coordinate their efforts smoothly when additional information about a task needs to be shared.
Email Templates: If you have the habit of using email templates to get things done faster, you can create them in Grexit. Just install the browser extension and click on the Grexit toolbar button to set up your templates.
Extensions: Grexit also offers Firefox and Chrome extensions for users.
Grexit Pricing
Grexit offers 3 plans for customers to choose from: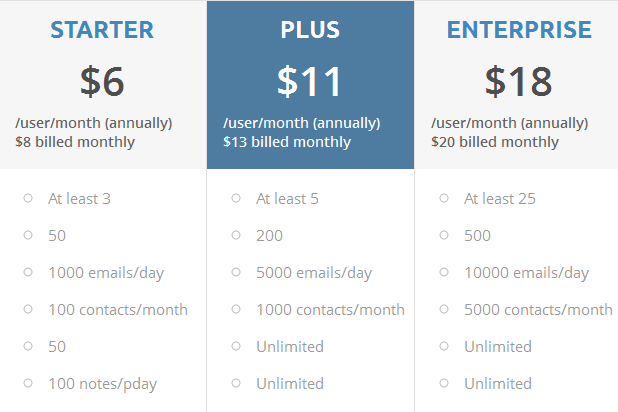 Starter: At $8/month ($6 if billed annually), the Starter plan is available for at least 3 users and allows adding up to 100 shared contacts, 100 shared notes, 1,000 shared emails/day, and 50 shared labels. Users have the option of using up to 50 email templates.
Plus: At $13/month ($11 if billed annually), The Plus plan is available for at least 5 users and allows adding up to 1000 shared contacts, unlimited shared notes, 5,000 shared emails/day, and 200 shared labels. There is no limit on the number of email templates that can be used.
Enterprise: At $20/month ($18 if billed annually), The Plus plan is available for at least 25 users and allows adding up to 5000 shared contacts, unlimited shared notes, 10,000 shared emails/day, and 500 shared labels. There is no limit on the number of email templates that can be used.
TRIAL: Users can check out the 14 day FREE trial to check out all the features of Grexit. You can add as many users to your GrexIt account and create up to 5 Shared Labels during the trial. If you don't upgrade your account during your trial period, your account would be suspended at the end of 14 days.
Final Thoughts
Grexit is a simple yet powerful tool that makes the task of delegation and task management a breeze. There are simple video guides for anyone who wants to get started and it requires very little learning curve. Once you sign up to the service, you can instantly start coordinating your email and managing your team activities.
Grexit is a fantastic service every business organization that runs on Gmail and Google Apps can benefit from. If you've been struggling with your team collaboration efforts, check out this handy service and let us know your experience.