Browsing the Internet today is not entirely secure. Your browsing activities are being monitored all the time. If this concerns you and you want to make your browsing experience private and secure, you need to make use of a Virtual Private Network (VPN). Even better, if you are using Chrome, you can make use of Chrome extensions to access a good VPN. In today's article, we discuss the pros and cons of using the ExpressVPN Chrome extension, one of the leading VPN services in the world.
How it Works and Benefits of VPN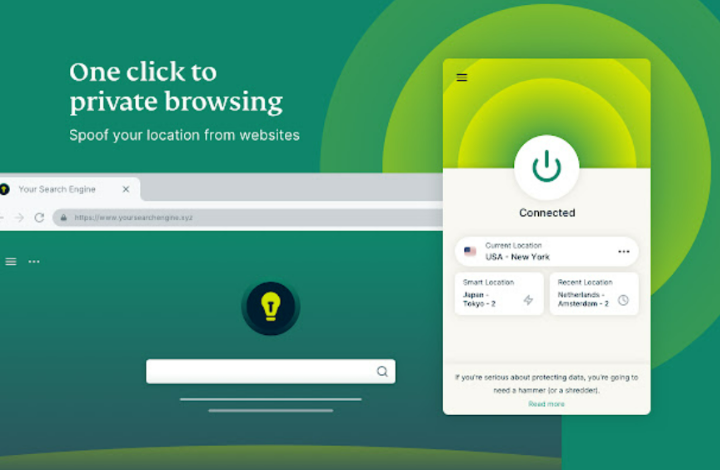 A VPN service works by routing your website interactions through the VPN provider's servers, which acts as a sort of middleman between you and the Internet. Since VPN offers complete encryption, your data including your device's IP address, location, and other sensitive information will be masked. No agency, be it a hacker or the government or even your Internet Service Provider will be able to see or know what you are doing online.
Apart from privacy and security, VPNs also offer plenty of other benefits. One is accessing geo-restricted websites, more popularly, streaming services that are not available in your country.
For example, if you wanted to access a streaming network that is only available in the United States, you can access this remotely via VPN. You could also get access to global markets and deals that are otherwise not possible in your country.
VPNs are accessible in a number of ways. You can use it through the official channels by signing in manually. You can use an app or use a browser extension. The only restriction with using the Chrome extension is that it will only work within the Chrome browser. If you access the Internet via another third-party application, you won't be using the VPN protection. Also, Chrome doesn't support extensions on its mobile app. So, the benefits of the VPN Chrome extension is restricted to its use only on your computer.
Picking a Good VPN Service
There are several things you need to consider when you're picking a good VPN service provider. The first one naturally is the price. VPN services are expensive and are usually available as a subscription service. Next, it is better to use a VPN that has a no-logs policy so that the provider has no records of you and your online activities. You may also want to make sure that the service is available via an app for all your devices be it laptop, tablet or phone. Of course, if you plan to use it on your Chrome deskop browser, you'll want to make sure they have Chrome extensions as well.
Next up, is device limitations. Most VPNs have device limits, allowing you to connect to say, 5-10 devices, although there are few services that offer unlimited connectivity. Also check if you get unlimited bandwidth and good transfer speeds.
One of the best VPN services in the world today is ExpressVPN. Their performance standards are very good with virtually no downtime, no-logs policy, multiple app support, good security protocols in place and over 3,000 high-speed servers in 94 countries across the world. All of this of course, comes at a price, details of which you can find here.
To start using the ExpressVPN Chrome extension, you need to have an ExpressVPN subscription. You can then access it via your Mac, Windows, or Linux system. Of course, you can also use it on your Android or iOS device, but there is a device limit of up to 5 devices at one time.
Quick Look: Benefits of Using ExpressVPN
Instant One-Click connectivity
Spoofs your location
Prevents websites from discovering your IP address and location.
Automatically connects to the more-secure HTTPS version of websites.
Connects to servers in 94 countries
Supports 17 different languages
Lets you access any content and apps
Available for Windows, Mac, iOS, Android, Linux, routers, smart TVs, and more
World-class encryption services
Industry leading privacy protection
Great customer service
Final Thoughts
With world-class features such as the ones mentioned above, it is hard not to consider using ExpressVPN for your secure online activities.
Once you sign up to a subscription, you can download the ExpressVPN Chrome extension here and enjoy all its benefits.
Are you a VPN user? Share your experience with us and the community.