Garmin, a renowned player in the GPS smartwatch market, has recently launched its latest offering – the Epix Pro Series. This new lineup of high-performance GPS smartwatches boasts a crystal-clear AMOLED display, rugged design, and impressive battery life. This next-gen smartwatch has innovative features that cater to various fitness and health needs. Read on to learn more about what the Epix Pro can do for you.
Key Features of the Garmin Epix Pro Series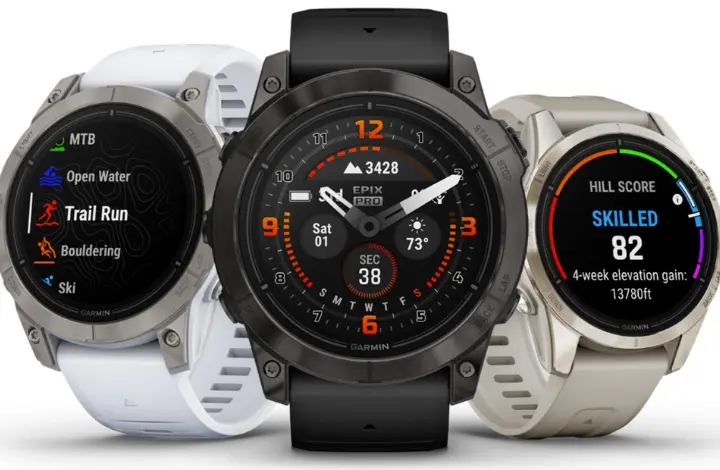 Rugged Design for 24/7 Wearability
The Epix Pro Series is designed for 24/7 wear. It combines a resilient athletic design with premium materials like sapphire and titanium. The full-color AMOLED display is complemented by a responsive touchscreen and a traditional 5-button design, ensuring quick access to maps, fitness stats, smart notifications, and more.
It is compatible with a wide variety of metal, leather, nylon, and silicone QuickFit™ bands. The Epix Pro Series is suitable for both the boardroom and the gym. You can even customize your watch by mixing and matching bands and bezels with the Your Watch Your Way feature on the Garmin website.
Built-In LED Flashlight for Greater Awareness
Each Epix Pro Series watch comes with a built-in LED flashlight that offers variable intensities and a strobe mode. This feature enhances safety and visibility during night-time workouts or training sessions in low-light conditions.
Red Shift Mode for Better Acclimatization
The Red Shift Mode changes the display colors to shades of red, helping you acclimate to darker conditions more effectively. This feature also reduces sleep cycle disturbances, making it an ideal for those who train during the late hours.
New Preloaded Activities for a Comprehensive Fitness Experience
The Epix Pro Series includes numerous new preloaded activities, such as soccer, basketball, racquet sports, horseback riding, and more. This addition expands the range of fitness tracking capabilities, ensuring a comprehensive experience for users with diverse interests.
Advanced Training Features for Enhanced Performance Tracking
The Epix Pro Series comes with advanced training features like hill score and endurance score. These features provide a better understanding of your fitness levels, helping you optimize your training and performance.
Up Ahead Feature for Improved Navigation
Runners using the Up Ahead feature can now view specific points of interest (POI) checkpoints, such as aid stations, on a map. This functionality gives you a better understanding of what lies ahead during your run, enhancing your overall experience.
Optimized Heart Rate Sensor
The Epix Pro Series features an optimized heart rate sensor that offers improved multisport performance tracking. This upgrade ensures better accuracy and reliability for fitness enthusiasts who engage in various sports and activities.
Weather Map Overlays and Relief Shading
New weather map overlays make it easier to view upcoming weather conditions. The relief shading feature enhances the readability of topographic maps. Both features provide glanceable awareness, allowing you to make informed decisions during your adventures.
Three Size Variants for a Perfect Fit
The Epix Pro smartwatches come with three size options, for a comfortable fit for any wrist size. The availability of different sizes makes the Epix Pro Series a versatile choice for a wide range of users.
Built-In Sports Apps
The Epix Pro Series is loaded with dozens of built-in sports apps, including new team sport activities like football, baseball, softball, and more. These apps provide data and insights for any passion, catering to anyone who prefers working out at the gym, at home, or engaging in outdoor activities.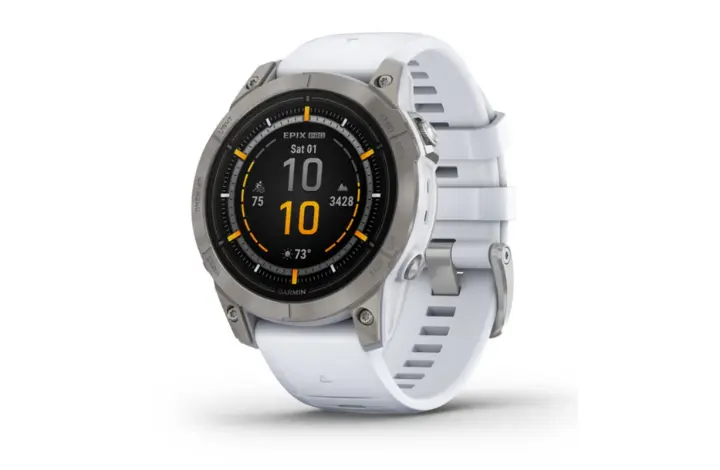 Around-the-Clock Health and Wellness Tracking
The Epix Pro Series is designed for all-day wear and offers advanced health and wellness tools. It also includes smart features to keep you connected while on the go. With 24/7 health monitoring, such as a wrist-based Pulse Ox sensor, Body Battery™ energy monitoring, jet lag adviser, and advanced sleep monitoring, you can stay on top of your well-being.
It offers connected features like smart notifications, phone-free listening with Spotify®, Deezer, or Amazon Music (premium subscription required), incident detection, assistance, LiveTrack, Garmin Pay™ contactless payments, and more.
Advanced Training Features for Race Day
The Epix Pro Series is equipped to support you through every step of your training journey, from 5K races to longer distances. You can receive a training readiness score every morning, helping you decide if it's a good day to push hard or take it easy. Metrics like VO2 max, training load, training status, and more help gauge overall performance.
You can prepare for your next race using the free Garmin Coach 5K, 10K, or half marathon training plans. You can also use the race widget to view training tips, completion time predictions, and a week's worth of daily suggested workouts.
For long-distance runners, the Epix Pro Series includes a wide range of advanced training features, such as PacePro™, ClimbPro, real-time stamina insights, and wrist-based running power.
Seamless Navigation with Premium Mapping Features
The Epix Pro Series includes premium mapping features to help you navigate your adventures with ease. SatIQ™ technology and multi-band signal reception improve positioning accuracy in challenging environments. It also optimizes battery life by using multi-GNSS
Preloaded TopoActive maps are available on Epix Pro Sapphire Editions. It provides multi-continent mapping from around the world. You can also subscribe to Outdoor Maps+ for access to premium mapping content like satellite imagery, directly on your watch.
Before heading out, you can create or find existing courses in Garmin Connect™ and sync them seamlessly to their watch. While exploring, you can create round-trip routes on local paths using Trendline™ popularity routing.
The bright AMOLED display ensures that maps are detailed and easy to interpret. This allows you to make informed decisions during your adventures.
Price and Availability
The Epix Pro Series watches are available in 42mm, 47mm, and 51mm models, with options for standard and Sapphire Editions. You can pick up the Epix Pro smartwatch at prices starting $899.99 on Amazon, Garmin or your favorite retailer.
Final Thoughts
Garmin's Epix Pro Series is a testament to the company's commitment to innovation and enhancing user experiences. With its advanced features, rugged design, and versatile functionality, the Epix Pro Series is set to become a popular choice for those seeking a high-performance GPS smartwatch to complement their active lifestyles.