The Garmin Epix Pro has made a grand entrance in the world of sports watches, offering a slew of remarkable features that cater to the needs of fitness enthusiasts and professional athletes alike. With an advanced heart rate monitor, versatile battery life, and a stunning AMOLED display, this cutting-edge timepiece promises to revolutionize your fitness journey. Read on to discover the top features that set the Garmin Epix Pro apart from its competition.
Top Features of the Garmin Epix Pro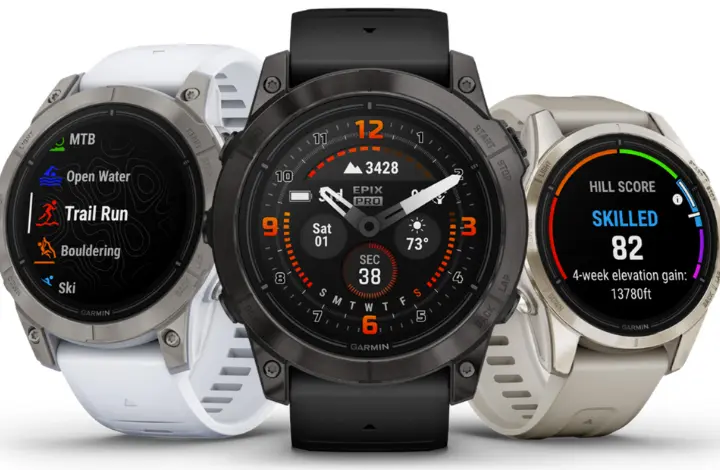 Heart Rate Monitor: Accurate, Reliable, and Cutting-Edge
The Garmin Epix Pro boasts a state-of-the-art heart rate monitor that ensures precise tracking during your workouts. This innovative sensor has garnered high praise for its exceptional performance, even during intense exercise routines. While it might occasionally display a slightly different reading than a chest strap, the watch's heart rate monitor consistently delivers accurate results across various activities, making it an indispensable tool for fitness enthusiasts.
The Power of Choice: Three Sizes for Every Wrist
The Garmin Epix Pro offers three distinct sizes to accommodate a diverse array of wrist shapes and sizes. With 42mm, 47mm, and 51mm cases available, this sports watch caters to everyone's preference. The AMOLED touchscreens vary in size as well, with the 42mm model housing a 1.2-inch screen, the 47mm model featuring a 1.3-inch screen, and the 51mm model showcasing a 1.4-inch screen. From the stainless steel bezel and case back to the Gorilla glass screens, the Epix Pro guarantees durability and style.
Battery Life: Customizable and Impressive
The Garmin Epix Pro's battery life varies depending on the model, with the 51mm version delivering an astounding 11 days of watch mode usage with the always-on screen enabled. The 47mm model offers the same battery life as its predecessor, the Epix 2, while the smaller 42mm version understandably provides a shorter battery life. Regardless of the model you choose, the Epix Pro's battery life ensures you can focus on your fitness goals without constantly worrying about recharging your watch.
Hill Score and Endurance Score: Stay on Top of Your Performance
Two unique features exclusive to the Garmin Epix Pro are the hill score and endurance score. These metrics provide color-coded ratings that represent your proficiency in hill running and long-duration activities across various sports. By analyzing factors such as strength, endurance, and VO2 max, the Epix Pro calculates your scores and helps you monitor your progress as you work toward your fitness goals. These scores add another layer of depth to Garmin's comprehensive training analysis tools.
Flashlights: An Illuminating Addition
All Garmin Epix Pro models come equipped with a built-in LED flashlight, offering four brightness settings and a red light mode. This handy addition can prove invaluable during outdoor adventures, providing extra illumination when you need it most. With the Epix Pro, you'll never be left in the dark again.
Multi-Band GPS: Enhanced Tracking Capabilities
The Garmin Epix Pro offers multi-band GPS tracking as a standard feature across all models. This is a significant improvement over the Epix 2, which provided this feature only on its Sapphire version. Garmin's multi-band GPS tracking has consistently proven to be one of the most accurate systems available. This makes the Epix Pro an excellent choice for outdoor enthusiasts who demand precise location tracking.
Red Shift Mode: Protecting Your Sleep Cycles
The Epix Pro has a new red shift mode. It changes display colors to red shades in the evening. This helps lessen the screen's impact on your sleep. This feature is unique to the Epix Pro. It can be turned on manually or set to activate when the watch goes into sleep mode. The red shift mode might not majorly change sleep cycles, but it helps preserve night vision. This makes it a great new feature for the sports watch.
Weather Overlays and Relief Shading: Enhanced Map Functionality
With the Garmin Epix Pro, you can now access weather forecast overlays on the watch's maps. This lets you view information on precipitation, cloud coverage, temperature, and wind conditions. While these overlays are not available during activities, they still offer valuable insight into the weather conditions in your area. Additionally, the Epix Pro introduces relief shading on its maps. This provides clearer and more detailed visuals to improve your navigation experience.
New Sports Modes: Expanding Your Fitness Horizons
The Garmin Epix Pro expands its range of sports modes, adding popular activities like basketball, horseback riding, and football. These additions show the company's commitment to both athletes and fitness enthusiasts.
Price and Availability
The Garmin Epix Pro was launched on 31st May 2023. The standard model retails at $899.99 in the US and £829.99 in the UK. The watch's price increases with the addition of premium features, with the most expensive models costing $1,099.99/£1,099.99.
Conclusion: The Garmin Epix Pro is a Game-Changer
With its innovative features, versatile sizing, and impressive battery life, the Garmin Epix Pro has established itself as a frontrunner in the sports watch market. Its advanced heart rate monitor, multi-band GPS, and comprehensive training analysis tools make it an invaluable companion for fitness enthusiasts and professional athletes alike. The Epix Pro's premium price tag reflects its top-tier quality, making it a worthy investment for those seeking to elevate their fitness journey to new heights.
Check it out on Amazon or at your favorite retailers.