When you think of body art, the one thing that immediately comes to mind is TATTOOS. Tattoos have a long unending love story with mankind, its popularity only slightly diminished by the fact that it's a permanent mark that you can't get rid off easily especially when you have a change of mind. India has had a long fascinating history with body art in the form of mehndi, a temporary tattoo made from the henna plant. Mehndi designs vary from simple circles to complicate and intricate designs and are usually applied to the hands and feet of women (sometimes men) on special festive occasions.
In India and certain other countries, Mehndi ceremonies are a grand dazzling affair. An entire night is set aside and a professional artist is hired to decorate the bride's hands and feet, amidst song and dance. And it's not just the bride who gets to wear these designs but every girl present at the party.
But you don't really need a special occasion to try mehndi. If you aren't getting hitched, or can't afford a professional mehndi designer to decorate your hands and feet, you can now flip your iPhone, download the Mehandi app and get awesome designs, tips, tricks and more at the tap of a finger.
Mehndi Designs on Your iPhone: Review
Mehandi is a recent addition to the App Store and is certainly every girl's dream lifestyle app. It has more than 50 awesome designs that will keep you engaged for hours. If you haven't got any idea how to get started, there are tips, tricks and guidelines that will help you create the best, brightest, and long lasting designs.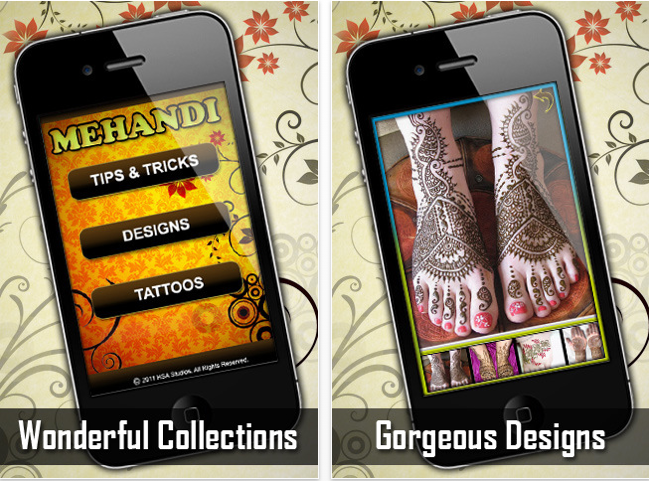 Here are a few cool things you can do with the Mehandi app
Hold a cool mehndi competition at your workplace or party and get teams to create designs available on the app. (It'll be great fun and you'll become popular!)
Have a loved one deck you up on your anniversary! (Could work the other way too!)
Make your friends and colleagues green with envy with your cool mehndi skills.
Share your awesome mehndi designs on your social network and become a Mehndi Rockstar.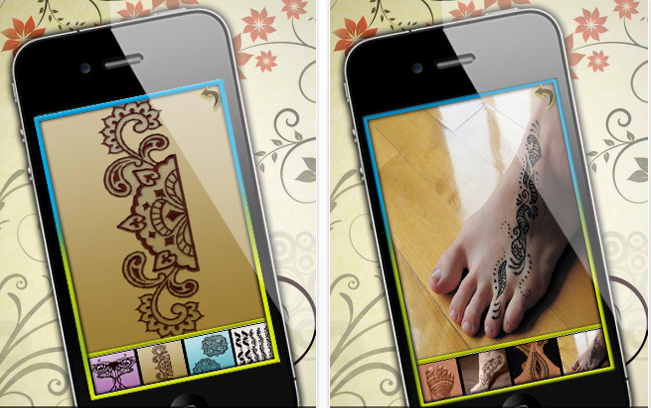 This app provides an opportunity for native users to sharpen their existing skills and for first timers to try their hand at the wonderful designs the app has on offer and engage in a whole new cultural experience.
Mehandi is not too sophisticated or complex. It shares the secrets of a good mehndi design and has new and updated designs that are worth trying out. And the really cool factor about Mehndi is that it's temporary and you can try varied designs whenever you fancy.
Mehandi, developed by HSA Studios is available in the iTunes store at $0.99 cents. It requires iOS 4.2 or later and is compatible with iPhone, iPod touch and iPad.
You can also buy the app in the Android Market ($0.99 cents) if you are running Android 2.1 and up.
If you love this app, share your views and feedback in the App Store or the Android Market. And don't forget to check out other iPhone and Android apps developed by HSA Studios.
Mehandi Giveaway
Well, that's not all. The developers of the app are sponsoring a cool Mehandi for iPhone Giveaway and there are 5 copies to be won.
The rules are very simple.
1. Tweet this post.
2. Follow @hsastudios and @theapptimes on Twitter
3. Post a comment below with your tweet link.
We will declare the winners on Monday, 1st August, (extended date) so don't forget to spread the word and win a cool lifestyle app from our sponsors.
Update: 01/08/2011[Contest Closed]