If you're in the market for a good tablet device, the iPad is definitely the one to buy. At any price point, the iPad simply stands out.  If you're not a fan of Apple (probably the only reason you won't buy the iPad), you may want to consider Microsoft's latest Surface device, the Surface Go. But before you're ready to part with your money, here's what you need to know about the Go.
Surface Go Quick Look: Tech Specs
Screen size: 10" PixelSense Display
Weight: Starting at 1.15 lbs
Battery life: Up to 9 hours of video playback
Storage: 128GB solid-state drive (SSD)
Memory: 8GB RAM
Processor: Intel®Pentium® Gold Processor 4415Y
Design & Display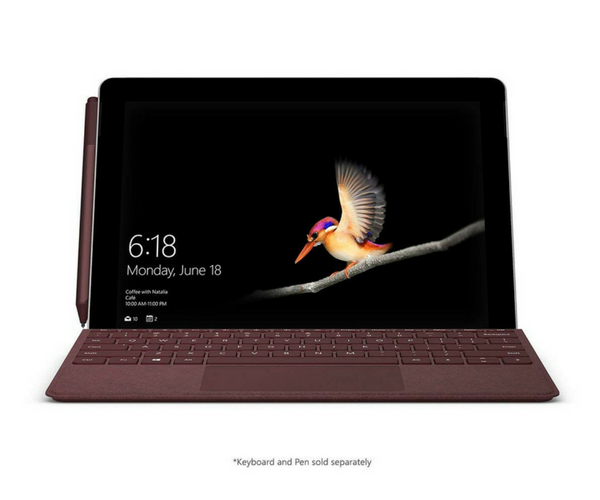 The Surface Go has a 10" PixelSense Display with 1800 x 1200 (217 PPI) resolution, 3:2 aspect ratio, with 10-point multi-touch capabilities. With dimensions of 9.65″ x 6.90″ x 0.33″ (245 mm x 175 mm x 8.3 mm), its body is a tad thicker than an iPad. The base model weighs about 1.15 lbs or (522 g).  It comes with a magnesium casing, a fully adjustable kickstand, a Windows Hello-compatible camera, and a keyboard connector. While all of that sounds good, you may be a little annoyed with the large bezels that seem to be totally unnecessary, giving the screen a cramped appearance.
Software
The Surface Go ships with Windows S mode. This version of Windows only allows you to install apps from the Windows Store. The primarily intention  – to protect users from malware and other apps that can slow down computers. Considering how bare-boned the Windows Store is, not many of us are going to be pleased with the S mode.
The absence of major apps in the Windows Store means you're more likely to be restricted to using Microsoft's own Edge browser to access many services.
The S mode can be switched off to download and use other apps like Chrome browser or Adobe, but that means you're already compromising on the performance of the machine.
Storage & Battery Life
The Surface Go comes with a 64GB eMMC drive and a battery life of about 9 hours.
Surface Go Accessories
The Surface Go works best with the official accessories and there are plenty of them. The Signature Type Cover is a keyboard that boasts a full-mechanical keys, backlit keys, and an extra-large glass trackpad for easy navigation. It allows you to use the Go as a laptop by acting as a kickstand or you can fold it back and us it as a tablet. Close the keyboard and it will protect the display.


The Surface Pen comes with precision ink on one end and a rubber eraser on the other. It has greater sensitivity ensuring no lag when writing or drawing on the Go.


Finally, there's the Surface Precision Mouse that gives you greater multi-tasking power. It allows you to work seamlessly across up to three computers. It supports both Bluetooth and wired USB connections.


Pricing
The Go is one of the more affordable Surface tablets. But the base price of $399 can be slightly deceptive. It means you'll be dealing with hardware that can slow down performance. For the tablet to deliver a reasonably good performance, you'll need to go at least with the 8GB RAM variant with a faster SSD storage.
And you'll definitely need a keyboard to go with it, which can cost you extra. If you want to use the Surface Pen, that adds up to the cost as well. In all, if you're looking for good performance on the Surface Go, you could end up spending as much as $800.
Surface Go
4GB RAM, 64GB eMMC, Wi-Fi:  $399
8GB RAM, 128GB SSD, Wi-Fi:  $549
Official Accessories
Type Cover (black):  $99
Signature Type Cover (Alcantara, red, blue, or silver):  $129
Mobile Mouse:  $34.99
Surface Pen:  $99
Also Read: Android and Windows Tablets Offer an Amazing Computing Experience
Buy the Surface Go If You Want:
something ultra-portable and super easy to carry on your travels and commute
access to Windows Apps
to browse and work in the Windows ecosystem
to do basic computing tasks
a secondary machine to complement your main Windows compute
What do you think of the Surface Go? Would you consider picking it up for yourself or a family member?