AirPlay is a feature on iOS devices that makes it easy for users to wirelessly stream content from the iPhone, iPad or iPod Touch to your Mac, Apple TV or other compatible devices. If you are a Windows user and want to mirror your iPad or iPhone screen to your PC, you can still do it using a third party receiver. If you'd like to give it a try, here are the steps to mirror iPhone screen on Windows PC.
How to Mirror iPhone Screen on Windows PC
To mirror iPhone screen on Windows PC, here's what you need to do:
1. Download the free, easy-to-use receiver called LonelyScreen from the official website and install it on your Windows computer.
If you're running Windows Firewall, you may receive a notification that Windows Firewall has blocked some features on the app. Specify the networks you want to allow LonelyScreen to communicate. Public networks are usually not recommended because they are not very secure. If you see a User Account Control dialog box, click Yes to allow LonelyScreen to make changes.
2. Once the installation is complete, you will see the LonelyScreen AirPlay Receiver window pop up. It should look something like this: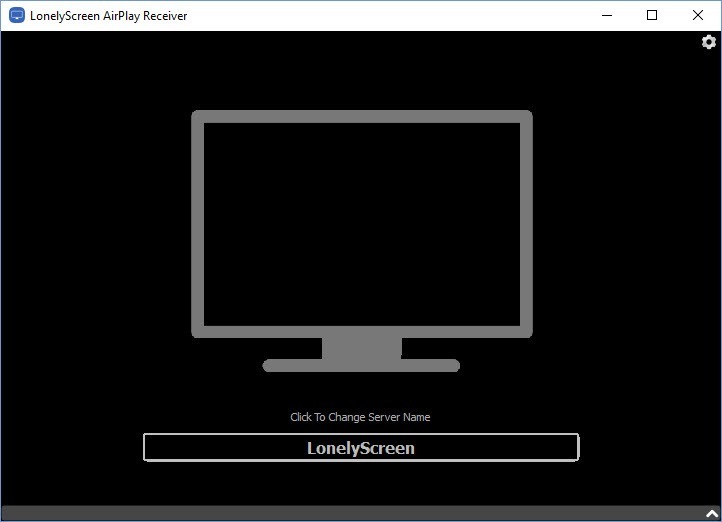 By default, the user name will be LonelyScreen. Hover over the name and you'll notice the option to change the name. If necessary, click on the name and change it to something you prefer. Note that this is the name that will show up on your iOS device as an AirPlay receiver when you mirror information.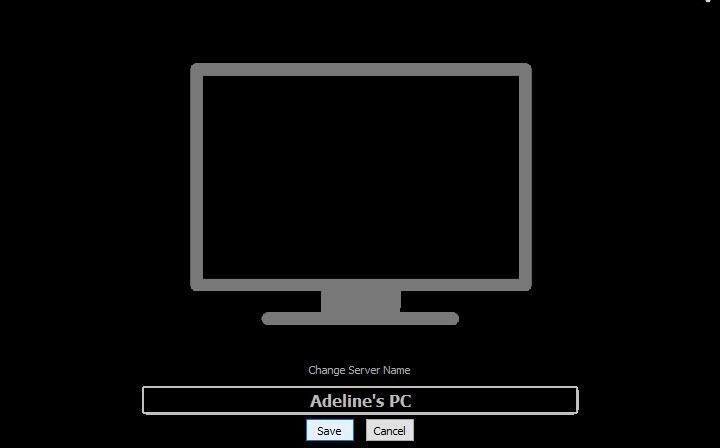 Now its time to set up your iOS device to mirror the information. To this you need to make sure that both your PC and your iOS device are on the same wi-Fi network and the LonelyScreen app is running on your PC. When your iOS device recognizes a receiver, it will display the AirPlay icon in the Control Center.
3. On your iOS device, swipe up from the bottom of the screen to access the Control Center.
4. Tap the AirPlay icon.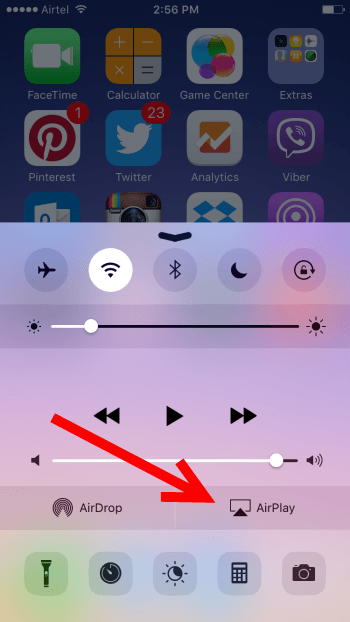 5. In the AirPlay screen on your iPhone, you will notice that the LonelyScreen screen name is displayed. Tap to select the option.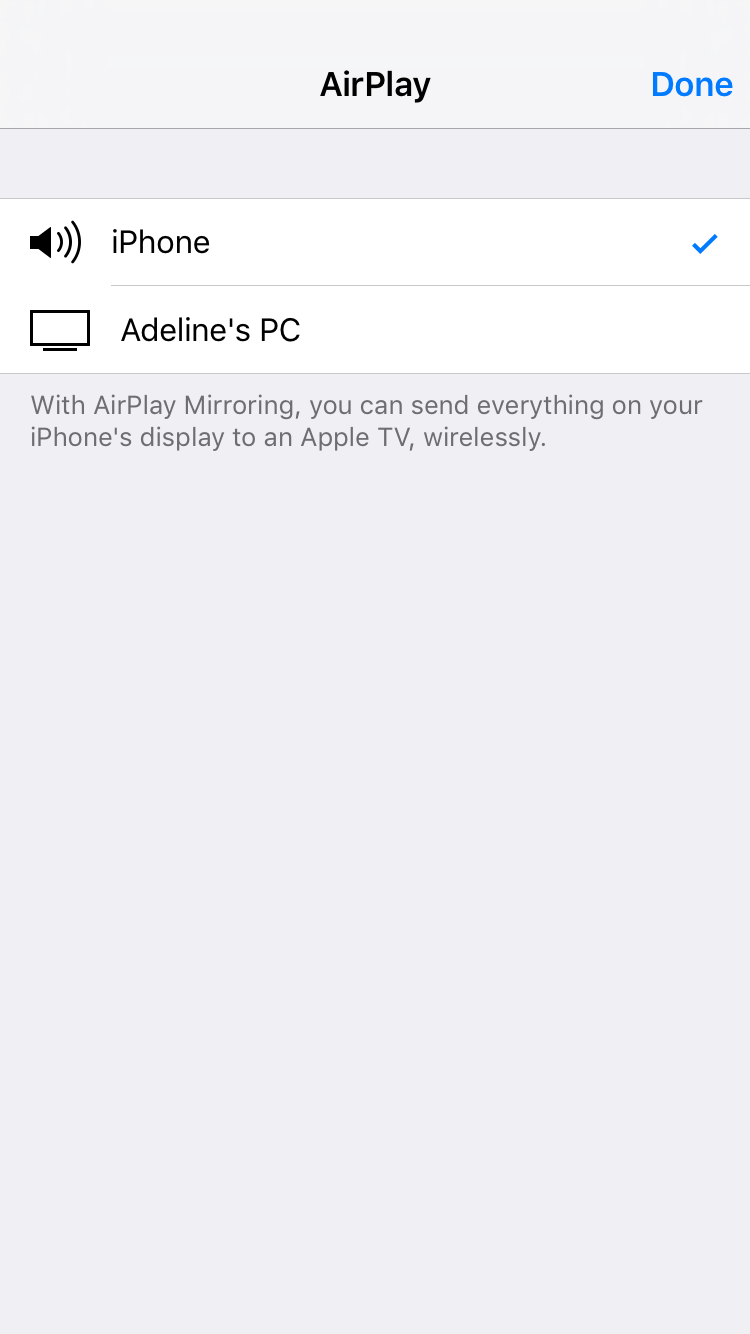 6. The Mirroring Toggle button is now displayed. Slide the button to turn it on. Then tap Done.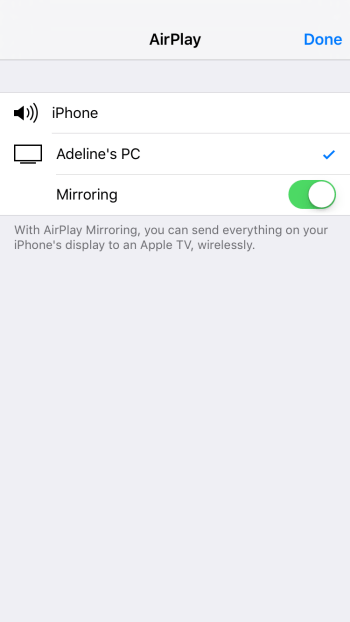 You will be taken back to the Control Center where you will see the LonelyScreen AirPlay receiver name displayed instead of AirPlay. Tap the Down Arrow to close the Control Center.
Now go to the LonelyScreen receiver and you'll see your iPhone screen mirrored on the screen.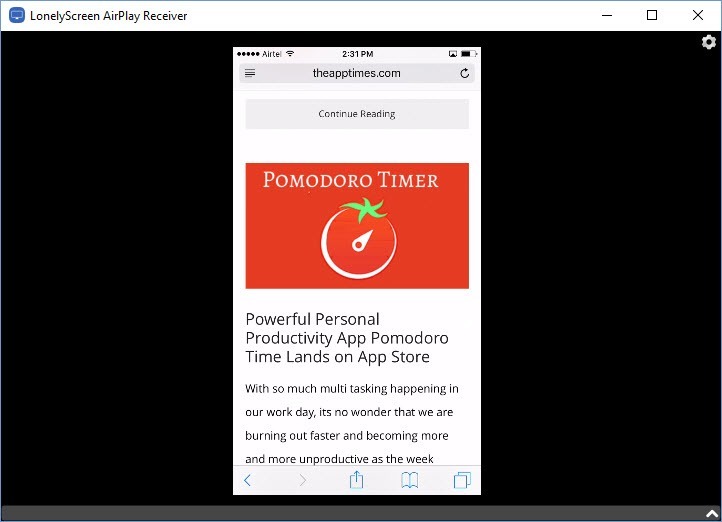 You can mirror videos, music, photos and more now on your Windows PC.  Switch to the Landscape mode to view your iOS content on the PC more clearly.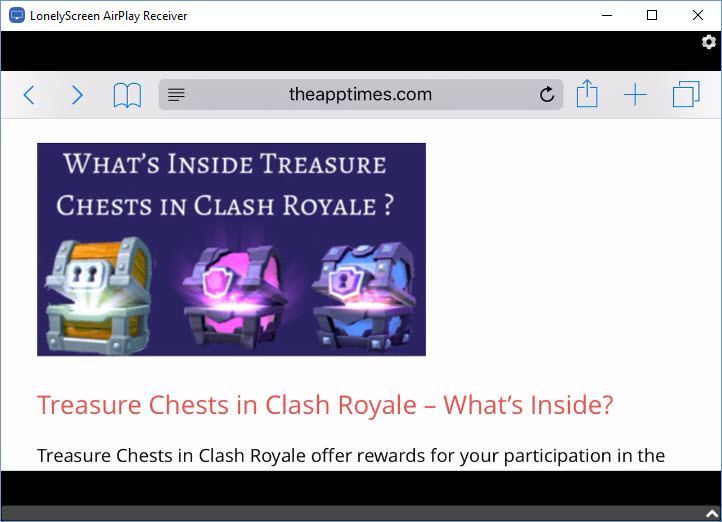 When you are done with your mirroring, you can disengage by clicking the Gear icon in your LonelyScreen AirPlay receiver screen on the PC and selecting Exit LonelyScreen.