There a plenty of tools that help you to easily connect Android mobile devices and computers. Today, we take a look at an outstanding manager for Android Data called MobiKin Assistant for Android. It does well in backing up, restoring, and organizing Android files on the computer. It can detect and scan files, whether it is stored in Android internal or external storage space. Read on to learn more about what MobiKin Assistant for Android can do for you.
Why is MobiKin Assistant for Android Worth a Try?
Why is it worth a try? You will know the reason after taking a look at its useful features below.
One-Click to Back Up and Restore Android Data
Searching for a way to back up all Android data at a time? This software can back up different types of Android files in 1 click. What's more, you can freely select data by category on the backup interface, and choose a location for storing your data before backup. Besides, it can restore the backup data to any Android device without hassle. If needed, you can select data by category on the backup interface.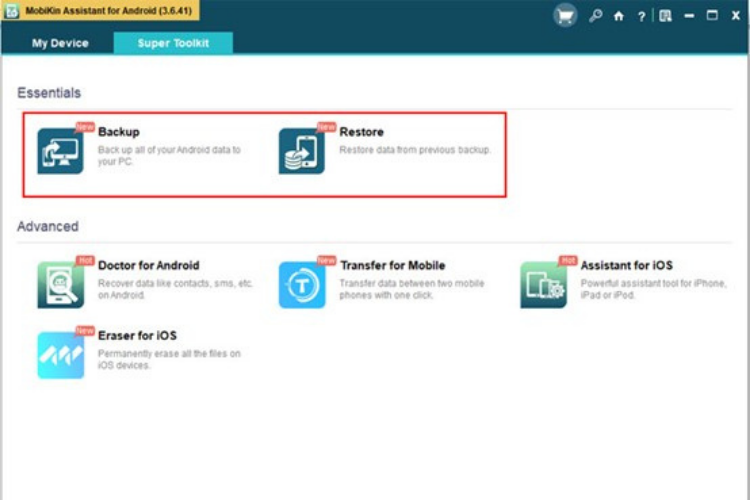 Support Multiple Data Types
So, what kind of Android data can it support? Your contacts, text messages, and call logs are supported, and it won't omit your photos, videos, music, and documents. More amazingly, it also works with applications. In general, these 8 kinds of files are the most important ones that people usually intend to back up. Now you can manage all of them on the computer with this Android assistant.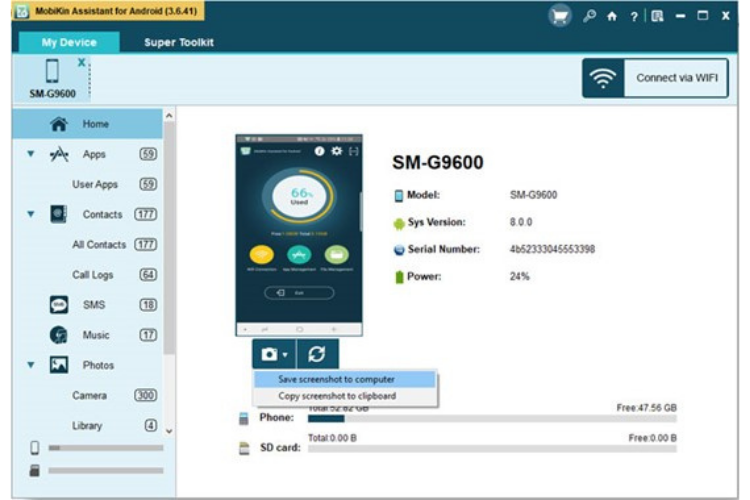 Flexible Connection Methods
Next, let's see how it can connect your handset to the computer. If you want the most stable connection, you can choose the USB connection. It can securely transfer and control data without the network. Additionally, its Wi-Fi connection can help you transfer files from android to pc without USB. No matter which connection you select, there are clear on-screen guides you can follow. In this way, you can easily connect your smartphone and computer.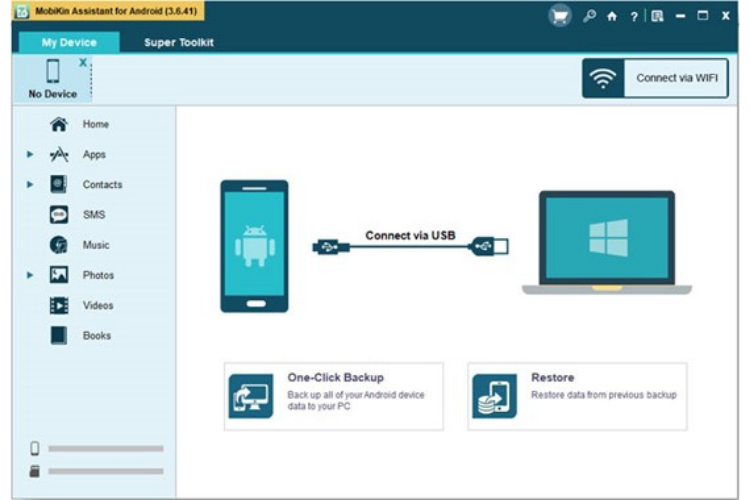 Clearly Display Detailed Android Files
"If I want to back up several files, how can it help me?" Good question. In this case, its one-click backup function is not suitable, but its preview function can give you support. After connection, it will list your data in different categories. Then you can click what you want, and it will display the data on the right side. Select the desired files by ticking checkboxes, and you can export them from Android to the Windows/Mac computer.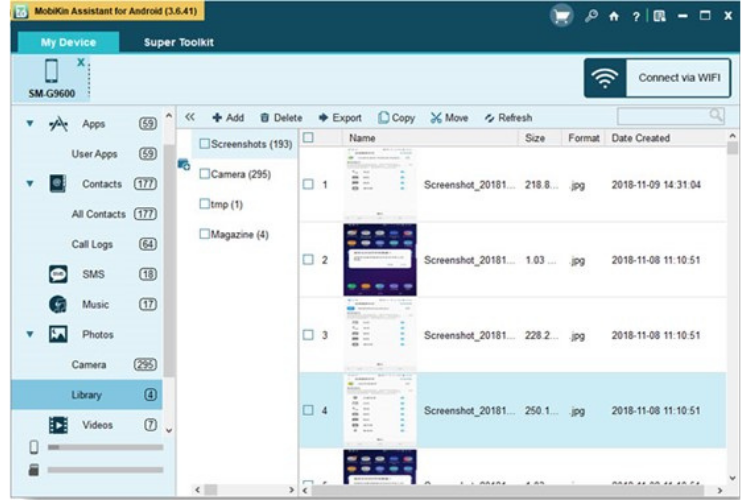 Multifunctional Data Management
It's time to show how it manages the Android data. At first, it can let you manage contacts, including modifying information, deleting unwanted phone number, and add new contacts. You can check the emails, addresses, groups, and more about the contacts.
For photos, it lets you to copy and move your target images from one album to another. Furthermore, it allows you to create, and remove albums at any time.
Next, for apps, it can help you install applications from the computer to the Android device. If you no longer need an app, you can uninstall it with ease.
Besides exporting files to the computer, it is also capable of importing data from the PC to your phone/tablet.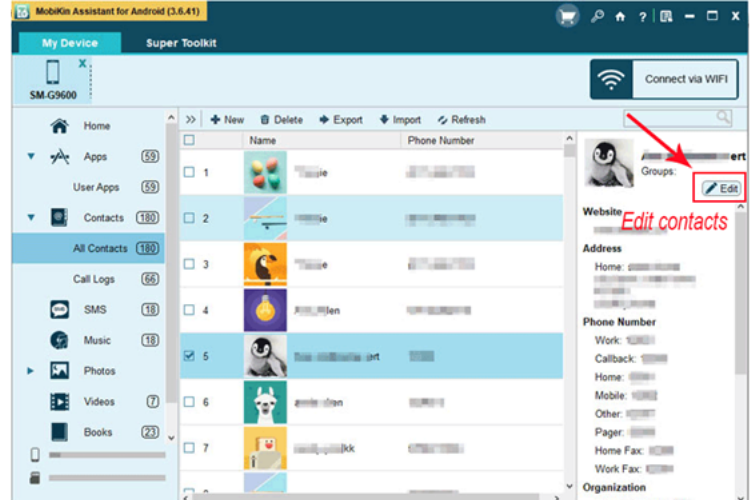 Support Receiving and Sending SMS
When working on your computer, you may perhaps miss some important text messages. To solve this problem, the app enables you to receive messages on the computer. More conveniently, you can text or mass text your friends on the computer. Therefore, although you cannot check your phone on time, you still can respond to messages.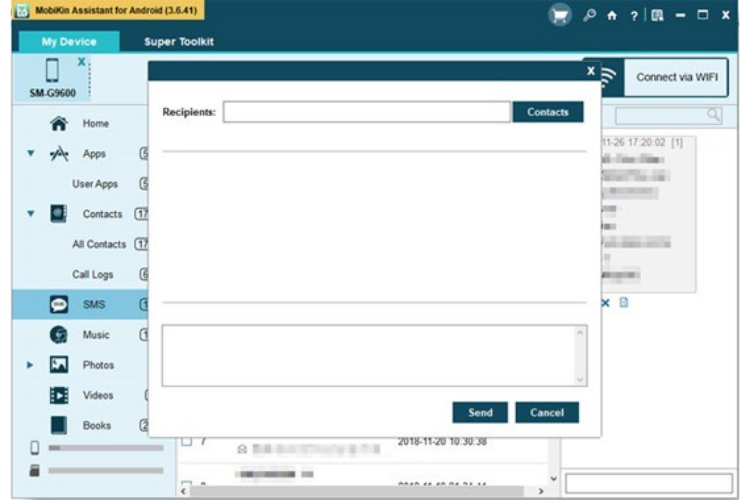 Widely Compatible with Android Devices
MobiKin Assistant is compatible with a number of Android handsets. This program works with Android OS 4.0 or upper (including Android 11). That means it supports most Android devices, such as Samsung Galaxy S20/S10/S9/S8, OnePlus Nord/8 Pro/8T/8/7T Pro/7T/6, Xiaomi 11/10/9/8, ZTE, Motorola, Google, and so on.
Final Thoughts
Currently, the latest version of MobiKin Assistant for Android is 3.12.11, which allows you to access all the features we listed above. You can try it to detect and scan your Android files. If you are satisfied with its performance, you can purchase a license for $29.95.
A professional backup tool can save your time in transfer and management. Thus, it is value for money. This is the experience of most users. So, what is your experience? Welcome to share it with us below.