By default the Dropbox folder sits in your Users folder at C:\Users\<username>. You may for reasons best known to you (it could be that you have a smaller drive for your OS or you prefer managing Dropbox files from your Documents folder or any other reason) you may want to move the Dropbox folder to a different location on your PC. In this post, we'll show you how to Move Dropbox Folder to a new location. Before we get started, you need to keep a few points in mind.
Firstly, you should know that Dropbox requires a continuous connection to the folder to sync in real time. Therefore avoid moving the folder to a removable external drive as there are chances of the drive getting disconnected and the whole purpose of using Dropbox is defeated.
Secondly, Dropbox monitors the folder to know when a file has changed for immediate syncing. Storing the folder on a network drive won't work as Dropbox cannot send events to monitor network drives.
Finally, it is better to move the Drop box folder with the help of the app rather than manually. This is because, should Dropbox go to the original folder location and find it missing, it will recreate the folder causing duplication of data.
Now let's see how you can change the location of Dropbox folder.
How to Move Dropbox Folder to a New Location
1. On the notification area, click the Dropbox icon to open the pop up window.
2. Click the Settings icon, and then choose Preferences.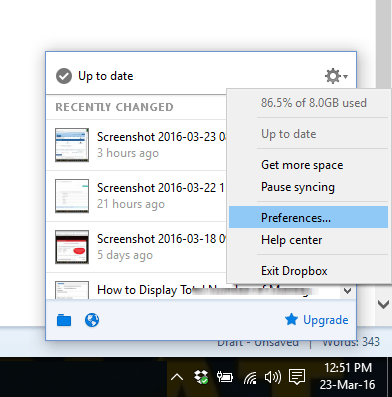 3. In the Dropbox Preferences window, select the Account tab.
4. In the Location field, click Move.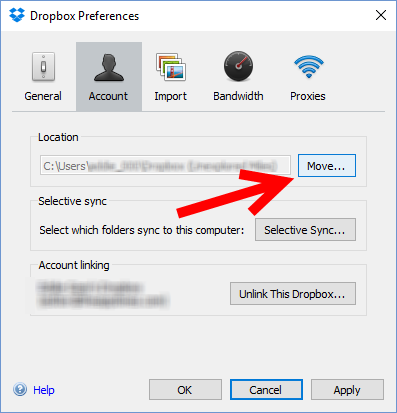 5. In the Browse For Folder dialog box, navigate to the new location you want to move the folder and click OK. A new folder called Dropbox will be created inside the folder that you selected. (You don't have to create a new folder with the name Dropbox.)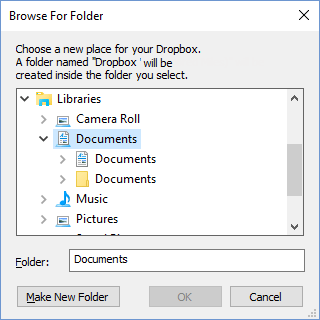 6. In the confirmation message box that pops up, click OK to tell Dropbox that you are sure about the move.
Your Dropbox folder will have now moved to the new folder location and you can continue using the folder as before.