Anyone who uses Dropbox knows how convenient and useful the application is, especially when it comes to collaborating and accessing data while on the go. Dropbox offers a number of ways in which you can save files, images, or other data. For instance, you can download the desktop application and use the upload and download options to transfer files. Now there's an even more convenient way to save to Dropbox, particularly if you are using Chrome. The Download to Dropbox Chrome extension offers the cool option to save to Dropbox from Chrome using the right-click menu. Let's take a look at how it works.
How to Save Files to Dropbox Directly from Chrome Browser
Download the Chrome extension and click Add to Chrome. Once added, it will show up at the top right corner of the screen.
Click the icon to authenticate your account by signing in using your Dropbox credentials and clicking Allow.
Note: You may have issues signing in initially. If you don't find yourself signed in, just right-click the icon and select Options. Try signing in from that page. You should be able to sign in without any issues.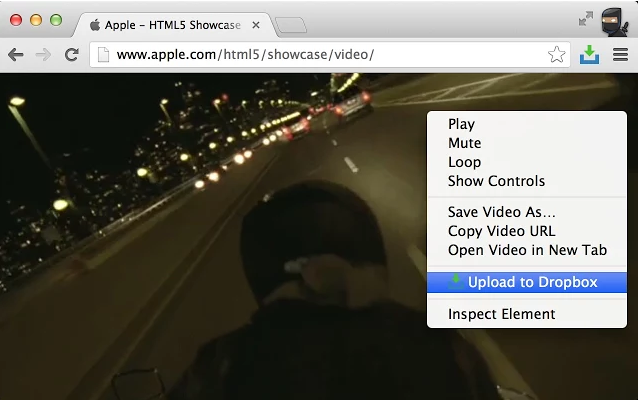 To upload files or images to Dropbox all you now need to do is, right click the file or image, and choose Upload to Dropbox.
This will set off the upload process. You will find files uploaded through the extension available in a specially created folder in Dropbox called Downloads from Chrome. You can check the status of the download by clicking the icon at the top of the screen.
If you wish to change the default file save location, right-click the icon, choose Options and modify the location there.
Overall, Download from Chrome is a handy app that lets you save a web page or file conveniently while browsing. Why don't you give it a try and let us know if you found it useful.
Get the Download to Dropbox Chrome extension.