If your work takes you out on the road a lot, you need an adapter to help you connect to your workspace efficiently. Satechi's latest launch, the USB-C Slim Multi-Port Ethernet adapter not only seamlessly combines 7 ports into one sleek, compact device, it also ensures you never worry about spotty internet connections again. Want to know more about this multi-port adapter? Read on.
Satechi USB-C Slim Multi-Port Ethernet Adapter – Features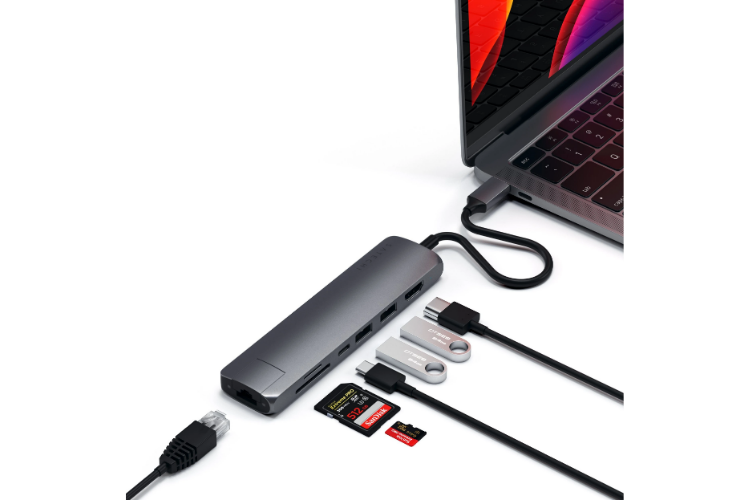 Gigabit Ethernet Port
The latest adapter from Satechi features 4K HDMI output capped at 30Hz, USB-C PD charging (up to 60W), two USB-A 3.0 ports and micro/SD card readers. It also has a Gigabit Ethernet port for a stable network connection, perfect in situations where you need to work in areas with spotty Wi-Fi, such as hotel rooms.
4K HDMI Display
You can connect a HDMI cable (2.0 or higher) from your monitor to adapter, for brilliant video output up to 4K @ 30Hz and enjoy crisp, high-resolution display on any HDMI-enabled monitor.
Transfer and Backup files Wherever You Go
Thanks to the USB-C PD charging port that keeps your setup powered – up to 60W, 2 USB-A ports and micro/SD card readers, you can transfer and backup files wherever you go.
Sleek Compact Design
With dimensions of 5.18 x 1.30 x 0.49 inches and a lightweight of 2.15 oz, the Satechi multi-port adapter has a modern plug and play design and a slim form factor that makes it ideal to take with you on-the-go.
Final Thoughts
If you are on the lookout for a slim adapter to take with you for working on-the-go, there's a good chance that you'll find adapters that leave out important ports like Ethernet, HDMI, or SD card slots. Satechi's USB-C Slim stays slim and compact while retaining all of the above. With its USB-C PD output limited to 60W, you'll find that it works best with smaller MacBooks.
You can learn more about this adapter, compatibility and other specs at the official website or on Amazon. The Satechi USB-C Slim Multi-Port with Ethernet Adapter is available in black, silver and space grey for $79.99.