Travel has become a big part of our lives today. Whether its going on work related trips or vacationing with friends and family, taking a trip away from home is becoming more common. If you find yourself travelling with a lot of luggage, chances are, you may end up struggling to identify your bags from a sea of similar looking bags in the carousel area. A simple solution to this is to use luggage tags. Luggage tags are tiny accessories that help you easily identify your luggage and also ensures that it can be returned to you if it does end up getting lost. A good luggage tag is also one that survives airline baggage tosses. In this post, we take a look at some of the best luggage tags that every traveller must have to make their travels a smoother experience.
Best Luggage Tags to Buy in 2022
Travelambo Luggage Tag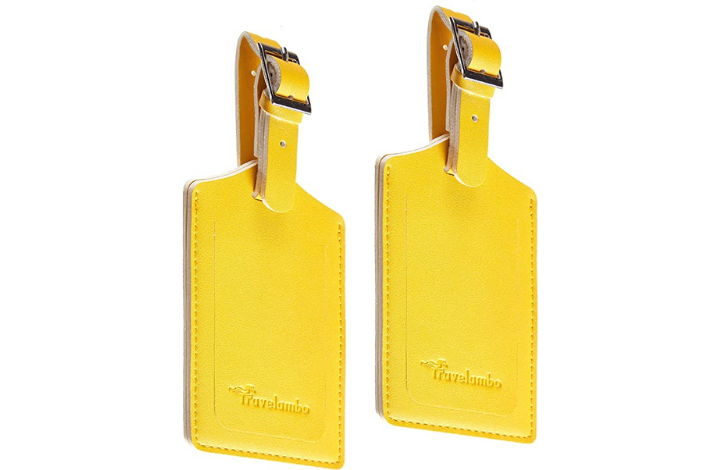 The Travelambo Luggage Tag is made from an eco-friendly, polyurethane (PU) leather with a genuine leather strap and stainless steel buckles. It comes in 28 different colors and patterns that ensures you can easily spot it in crowded carousels.
The tag lets you add your personal information on the front and back with a privacy flap keeps your personal data from prying eyes. You can of course, quickly raise the flap to confirm if its yours.
A set of 2 tags is priced $6.99. Check it out on Amazon.
XOLLAR Luggage Tags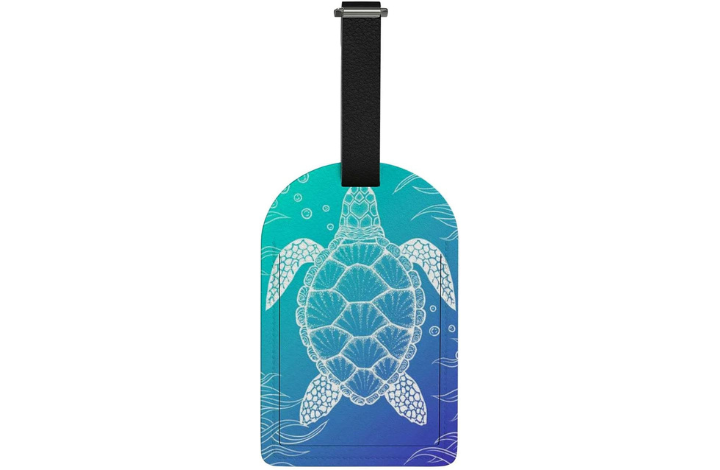 The XOLLAR luggage tags are made of PU leather and feature beautiful patterns printed on both sides of the tag. It also has an information cardboard in the middle, where you can add your personal contact information. This is privacy protected by the back cover.
This eye-catching tag features a blue green turtle but you can take your pick from plenty of other designs including pink unicorns, mysterious eyes or just a plain tag which you can personalize by adding your own image. Price: $10.99 a piece. See on Amazon.
COWDIY Luggage Tags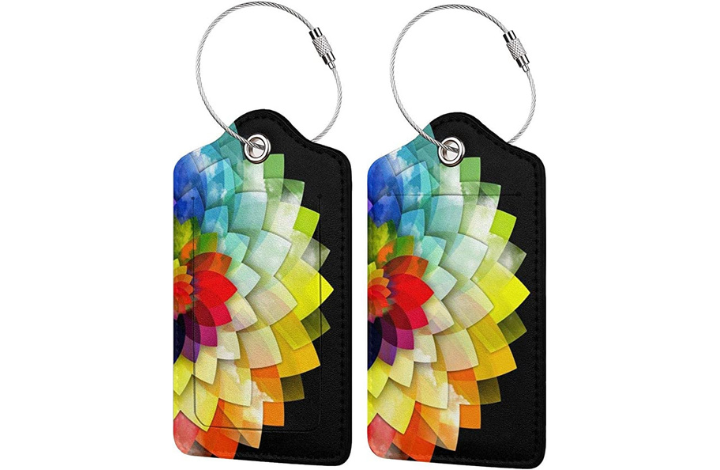 The luggage tags from COWDIY are also made from PU leather and  have a good build quality. A stainless steel ring helps to keep your suitcase and label securely closed. This is easy to attach and remove as well so that you can reuse it. A paper card inside the tag lets you add your personal contact details. This information is also privacy protected so you don't have to worry about snoopers.
These tags tend to stand out in a crowd as they are available in bright lively colors with scenic designs and patterns that's hard to miss. Price: $7.99 for a pack of 2. Buy on Amazon
Travelkin Cross Luggage Straps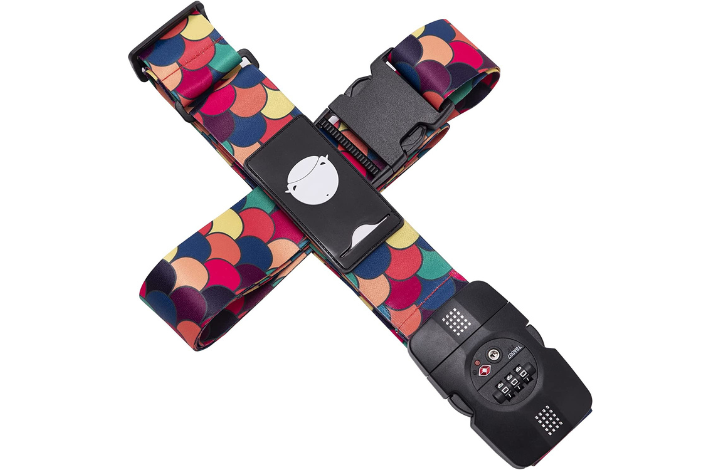 Although strictly speaking these are not luggage tags, they do the job of the tags quite effectively. Basically, you have 2 straps, a vertical and a horizontal one. A plastic junction connects the two straps in cross shape. You can adjust the straps to secure your suitcase tightly.
A TSA lock provides an added level of protection. It also enables airport screeners to unlock and relock it without damaging the lock. These straps come in fine colors and designs and you can take your pick from any one of them for $18.99. See on Amazon
Stephen Joseph Luggage Tag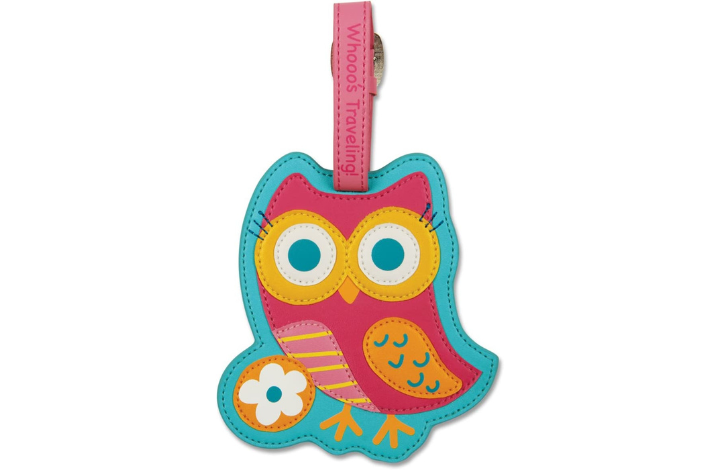 Stephen Joseph luggage tags feature cute imaginative characters that brings out the child in you. You can take your pick from an owl, a butterfly, a unicorn or a delightful sloth. Appliques, screen printing, glitter, and embroidered accents add texture and character to their design. These tags cost about $12 a piece. See it on Amazon
Neoprene Designer Luggage Tags by ART OF TRAVEL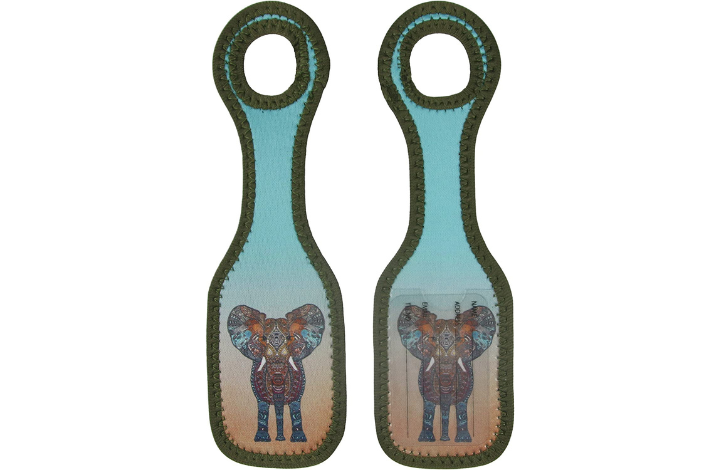 If you like artsy designs, the Neoprene designer luggage tags are for you. These designer tags are the handiwork of professional artists from around the world. The high quality neoprene materials ensures that it can last through many trips.
Plus, the bright and beautiful colors can help you easily spot your luggage wherever you are. However, this tag does not hide your personal information so if you are privacy conscious, this may not be ideal for you. Price: $19.95. See on Amazon
Conclusion
While there plenty of Bluetooth or smart luggage tags, they can be expensive and require twiddling with your phone which is not ideal when you want to just quickly get on with the task of collecting your bags and moving out.
We believe that a well designed luggage tag is a simpler way to get the job done. We hope that our roundup of the best luggage tags helps you find one that suits your personal style and travel needs.
Let us know if you have a favorite tag, in the comments section.