When you want to do more with the camera on your mobile phone you turn to companies like Olloclip. Olloclip are known for their award winning macro, telephoto lens, fish-eye and wide angle lens. The only problem with their offerings – you need to be the owner of a high end smartphone. Thankfully, all that's about to change with their newly announced "Multi-Device Clip." Here's more on the lens mount that makes it possible to take great mobile photographs from just about any mobile device.
Olloclip Multi-Device Clip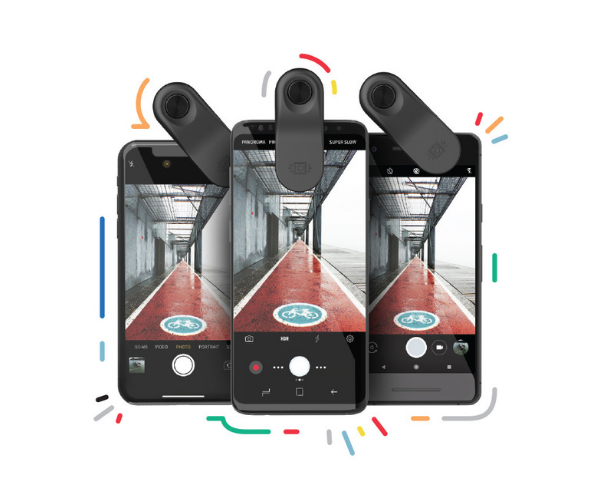 Olloclip's Multi-Device Clip is designed to align with any mobile device that's up to 12 mm thick, including screen protectors and cases. So if you owned a tablet or a smartphone that meets this requirement, you can slap the lens on the device and start taking incredibly detailed photos.
The Multi-Device Clip can also be switched between the front and rear facing cameras easily for capturing wide angle selfies. The clip also works with the Connect X lenses that come with 6 cool options:
Super-Wide: 4-element lens with120° field-of-view
Ultra-Wide: 155-degree action camera field-of-view
Telephoto: 2 times the optical zoom to get twice as close to the subject
Fisheye and Macro: 180° spherical effect with widest angle view and 360° VR shots
Macro 7X +14X: Captures details beyond what the naked eye can see
Macro 21X: Turns your phone into a microscope
Also Read: Best Mobile Lenses to Capture Creative Shots on your Smartphone
One point to note is that the new Olloclip clip does not work with any Connect Lenses (for iPhone 8/8 Plus or iPhone 7/7 Plus Clip). If you want, you can reach out to the company to convert your iPhone 8/8 Plus or iPhone 7/7 Plus Connect Lenses for $20 per lens.
The Multi-Device Clip will go on sale in September and will include one of the Connect X lenses. You can pick up the clip on the official website for $59. You can also check out all their other offerings on Amazon.
Are you excited about the new clip from Olloclip? Are you thinking about buying their lens? Let us know in the comments below.