Opera is a great alternative browser for anyone who is fed up with using Chrome and Firefox. What makes Opera even more exciting to use now is its mobile browser Opera Touch. Opera Touch is designed to do two things well. Browse, tweet or text easily using one hand. And share things easily with the Opera desktop browser so you are always on the same page whatever device you us. Does Opera Touch browser deliver on its promise? We find out.
Features – Opera Touch Browser (Android)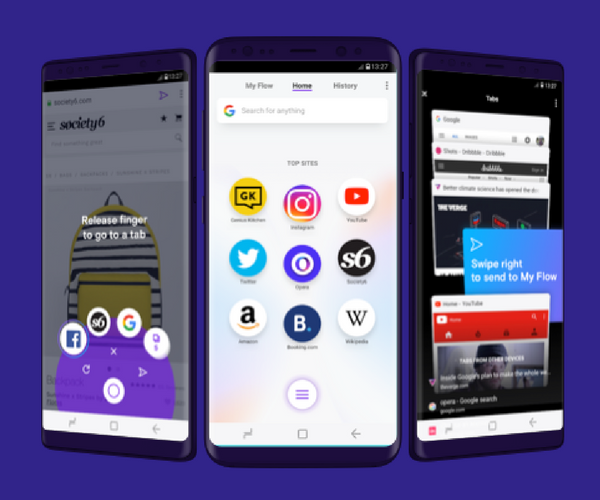 Well designed home page
Easy to instantly search the web
Can use conveniently using one hand
Can share stuff between phone and computer easily
Offers quick access to your browsing history
Well Designed Home Page
The Opera Touch Home page is designed to give you quick access to just about anything you want on the web. You can do an instant search, you can continue browsing from a page you left off on your computer, you can access top sites like Amazon, Wiki or Facebook or you can quickly visit your browsing history. A big Fast Action button (FAB) at the bottom of the screen makes one handed use more convenient.
Instantly search the web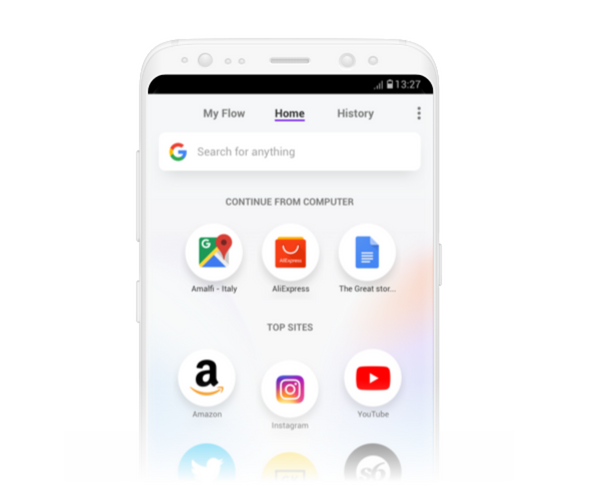 With Opera Touch, you can look up something online without leaving the website you are currently browsing. The Big big Fast Action button always remains at the bottom of the screen, just within your finger's reach. Tap it and you can start typing your search keyword right away. You also have options to tap the QR code icon just above the keyboard to scan something or use the Voice command button to do voice search. You can also swipe the button up to get to the Recent tabs, and the browser navigation.
My Flow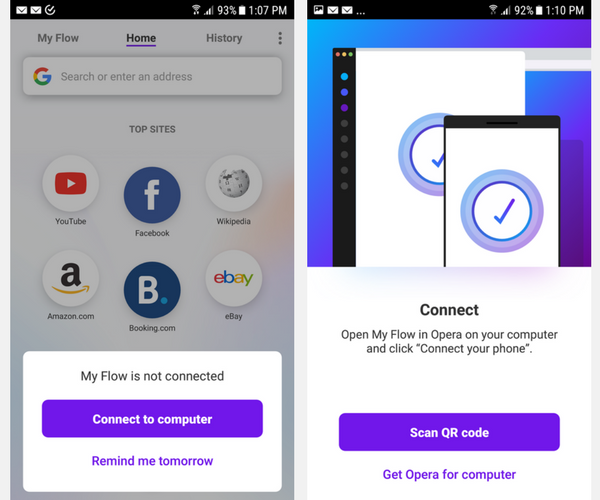 One of the best features of Opera Touch is My Flow. My Flow makes for a seamless browsing experience across devices. If you have Opera PC browser, just tap the My Flow icon on the sidebar and connect the phone to the PC securely. You don't have to deal with login, passwords and accounts.
Once connected to Flow, you can add images, links, videos and notes to yourself. You can then access them via any other connected device. If you are using multiple apps (like Viber or PushBullet) to send links, notes, screenshots and other stuff to yourself, you can now get rid of them. And the best part yet – Flow has end-to-end encryption so your data stays private and secure.
History
If you like to frequently access your mobile browsing history, you can find them conveniently on the browser's Home page itself. Just hit the History tab to get there.
The Opera Touch Experience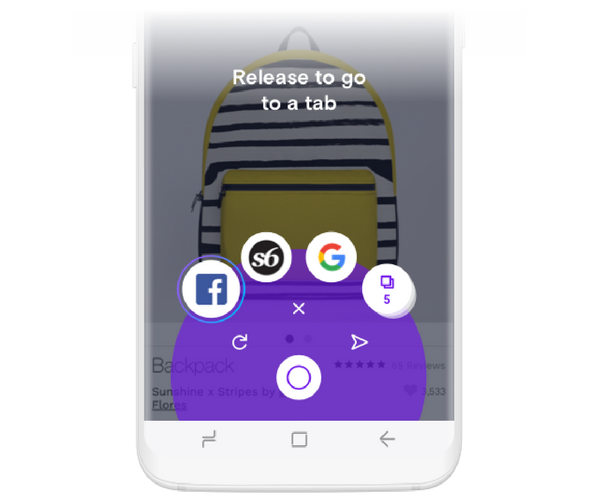 The Opera Touch experience is actually quite brilliant. I love how easy it is to access the Search screen using the FAB button instead of moving the fingers to the top of the phone to get to the Search box and then reaching back down to type. Swiping the button also brings quick access to shortcuts like accessing recently opened tabs or closing a page. Scanning QR codes are also just a tap away and so is accessing voice commands.
What's awesome about the Opera Touch browser is that the design changes are not dramatic requiring a completely new way of browsing. The improvements and enhancements are subtle and feel natural. And yet those small improvements dramatically improve the user experience.
Browsing with one hand is also brilliantly easy with Opera Touch. And My Flow has just made it so much more easy to manage my work flow. In fact, I'd switch to Opera Touch just to keep using My Flow.
Download
After struggling with various Chrome viruses and Firefox crashes, I recently moved to Opera with some caution. The latest improvements to the desktop browser and the fantastic mobile experience with Opera Touch has solidified my trust in Opera and I'd heartily recommend it to anyone looking for a better browsing experience.
Price: Free | Download: iOS : Yet to Launch | Android
What do you think of Opera Touch? Love it? Loathe it? Let us know in the comments.
Cheers,
Adeline