Emoticons are a cool way to express yourself when socializing with your friends and contacts. Whether it's chatting with friends on Facebook, posting a message on your Facebook wall,  updating your status message or commenting on your friends posts, emoticons are a fun way of communicating your thoughts! i2Symbol is a cool plugin that lets you personalize Facebook messages and tweets with symbols.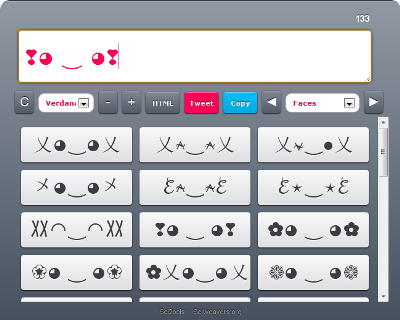 Personalize Facebook Messages and Tweets with i2Symbol
i2Symbol is available as a Firefox and Google Chrome extension. Once downloaded, it will appear in the Add-On Bar(Firefox) and the top-right of the address bar (Chrome). For instance, to add a symbol to a Facebook message, simply click the i2Symbol icon on the browser, click the symbols you want to add, then click the Copy button, head over to the Facebook post and paste the symbol in to the message box.
Since i2Symbol is a web browser extension, you can use it on other networks such as MySpace, Twitter, Gtalk, and so on. Each symbol in  i2Symbol represents a single character which is great for tweeting. The i2Symbol dialog box even displays the count of characters to help retain the 140-character limit. You can also make modifications to the font name and size and decorate your tweets or messages by wrapping them with styled frames available in the Box Elements category.
i2Symbol can also be used by web designers who can copy the symbols as HTML to insert into their codes. Give i2Symbol a try and take advantage of these cool features.
Personalize SMS, Email, Tweets, & FaceBook Status
Each Symbol is Only 1 Text Character to Save Msg Size
Symbols are Categorized to Ease Search
Available as Google Chrome Extension & Firefox Add-On
Type Emoticons, Accent Marks, & Diacritics
For Web Users, Copy Symbols as Text to Paste into Message
For Web Designers & Developers, Copy Symbols as HTML
Virtual Keyboard for all World Languages
Download i2Symbols for Firefox
Download i2Symbols for Google Chrome
You may also read other cool Firefox and Google Chrome extensions in my previous posts.

Connect Instantly to Twitter on Firefox With This Useful Extension

5 Photo and Video Add-ons For Your Firefox Browser

Use Diigo's Firefox 4 Add-Ons to Enhance Your Browsing Experience

How to Add the RSS Feed Button to the Address Bar in Firefox 4

Google Related Chrome Extension Offers Relevant Search Results

Remove Facebook Ads and More on Your Chrome Browser Using Facebook Clear