Thanks to smartphone, you can get driving instructions when commuting, you can keep track of where your kids are hanging out, and even watch over your pets. All this, thanks to the cool GPS tracking feature that is available on the devices. If you own an Android or iOS device, you can make use of third party phone tracking apps to get all the benefits of GPS tracking. Its always better to be prepared for any eventuality, isn't it? So here goes!
How Phone Tracking Works?
So how does mobile phone tracking exactly work?
First of all, the phone tracking system on your device attempts to detect the closest cell phone tower. It then makes an estimate of the distance to the tower and incorporates signals between nearby towers to determine a more exact approximation.
For this functionality to work, the phone must be switched on, although the user does not have to make calls. A phone with a dead battery cannot emit signals and therefore cannot be tracked.
Must Have Cell Phone Tracking Apps for Your Smartphone
Android and iOS users can make use of the Find my Phone feature and Android Device Manager for tracking lost phones. Apart from these built-in features, there are plenty of third party tools also that will do the job.
SMS Tracker Plus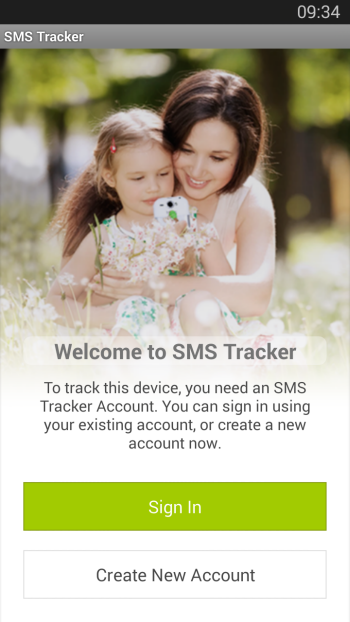 SMS Tracker Plus is a remote phone tracking app that lets you read all incoming and outgoing text and picture messages, phone call logs, web browsing history and GPS location remotely via a web interface. Read more about the app on our review page.
Phone Tracker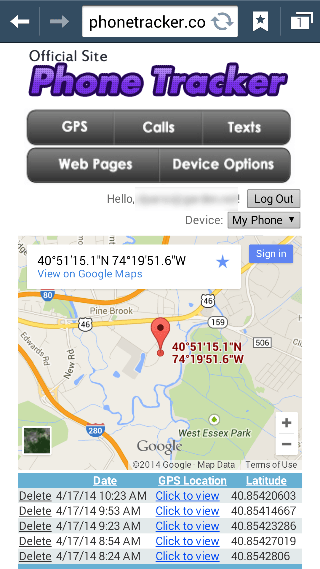 Phone Tracker is a free phone tracking software for Android. This app is primarily designed as a family monitoring tool. If you are worried about your kids activities and want to keep an eye on them, you can make use of Phone Tracker. It lets you keep track of incoming and dialed phone numbers, text messages and internet browsing habits.
It also uses the GPS tracking capabilities of the smartphone to track your child wherever he/she may be. All data is stored online so you can head over to the website to access the information. Unlike other apps, this is not a hidden app, so do keep the user aware that you've installed the app on their device.
Download Phone Tracker for Android
Phone Tracker for iPhones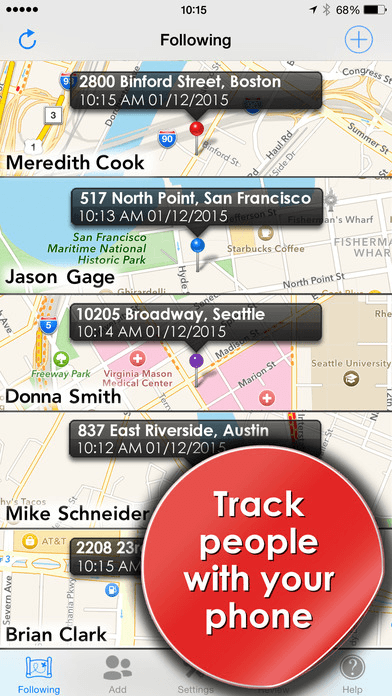 This free phone tracker app is available for iOS users who want to track other iPhone users. This is a permission based app so users can allow or deny permissions to be tracked. The app works silently in the background allowing you to track a child's movements, monitor a family member's location, or find friends.
It also works as an anti theft app helping you find your lost iPhone. The free version of the app allows you to track 2 iPhone devices and monitor the users'  movements for 24 hours. The paid version allows you to follow up to 100 people and monitor their movements up to 72 hours.
Family Locator – GPS Tracker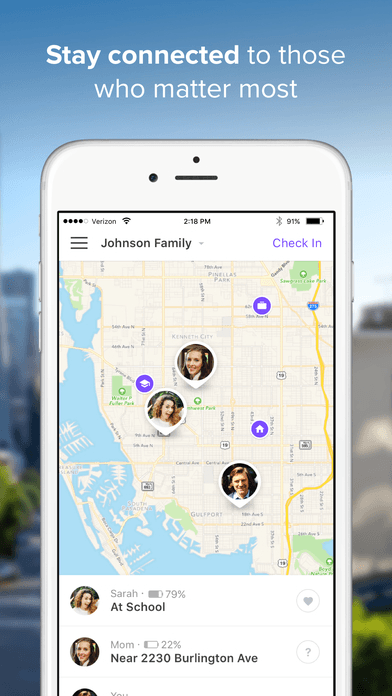 This free Android app lets you track your friends and family in real time. You can create groups or circles with your friends and family and track them on a private family map. You can also receive real-time alerts when a member in the circle arrives or leaves a destination. Its also keeps you informed if someone you are tracking is going to be late. Despite its name, Family Locator is also a reliable phone tracker and users can log on to the website to locate a lost phone's location.
Prey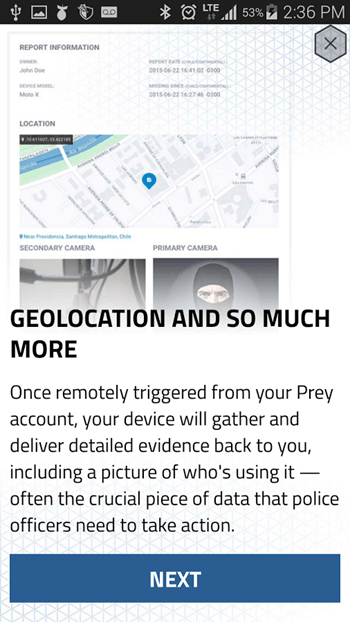 Prey is a phone tracking software that is designed to track your lost phone, tablet or laptop. You'll need to sign up for the service (free and paid) and download the software on to your device. Then mark your phone as missing and it will track it down for you and send you reports with geolocation, pictures and other necessary details. You can also remotely lock or wipe off private information on the phone so that it does not fall into the wrong hands.
Visit Prey to download the software
Hoverwatch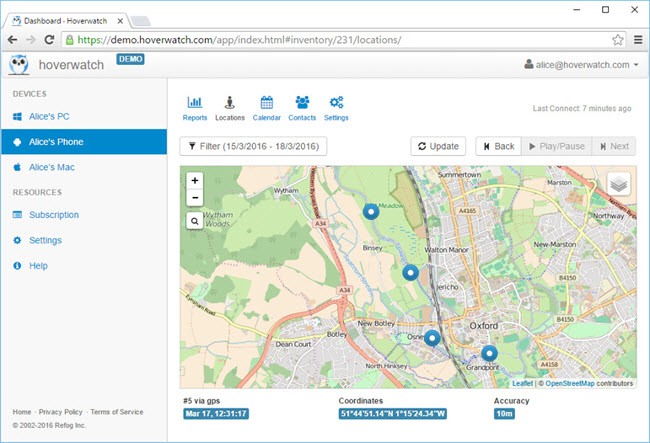 This is an invisible mobile tracker that lets you record incoming and outgoing calls, track images in MMS messages, read messages sent on Facebook & Viber & WhatsApp and monitor Internet activity, calendar and contact information. It also takes pictures of the user every time the phone screen is unlocked and allows tracking even if the SIM is removed and replaced. The service is available on Android, PC and Mac OS X.
Easy Logger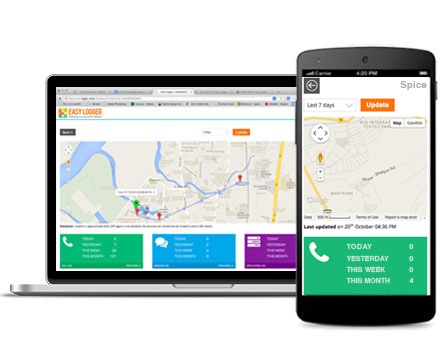 Easy logger is a cell phone tracker and monitor that lets you track your family members by tracking the real time location, phone calls, text messages and reviewing app usage history. Once you download an configure your device, you can choose what details you what to track. The app is not completely free, but is another great option to consider should you want to monitor your family members on the sly.
Visit the website to learn more
Mologogo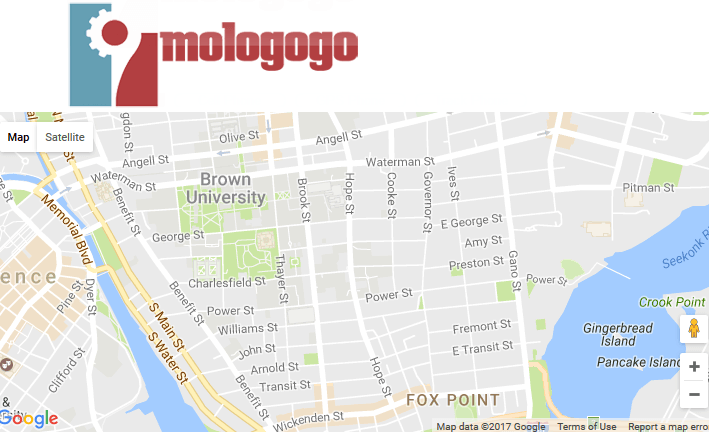 Mologogo is a free cell phone tracking solution that works even on a low cost smartphone. Sign up for the service and install the app and the phone's built-in GPS will do the rest. Mologogo allows users to see where their friends and family have been or are currently located. It can also be used to keep track of delivery vehicles or employee movements and get traffic updates. Location tracking can be done via the Mologogo website.
Tracking Cell Phones or Non-Smartphones
If you don't own a smartphone, you can still use third party tools to track your family members. AccuTracking is a pay as you go web service that allows you to get real time location tracking on any phone. Should your phone get lost, you can track your lost device from your PC or mobile browser. The service provides a 30 day history of GPS tracking data with options to download it in CSV/KML format.
Do you use third party phone tracking apps or services? Tell us which app best served your needs and if there's one app we forgot to add to this list.