If you are a parent who is worried about your kids activities on their smartphones, you may consider an app such as SMS Tracker. The app is a remote phone tracking and monitoring tool that allows you to read all incoming and outgoing text and picture messages, phone call logs, web browsing history and GPS location remotely via a web interface. Although it may be a most unpleasant task to spy on your own family, it certain circumstances, it may be your best ally. In this post we take a look at the popular SMS tracker app for Android from Gizmoquip LLC called SMS Tracker.
SMS Tracker App Review
To start using SMS Tracker you first need to register for an account. You can do that within the app itself. Just download SMS Tracker for free from Google Play and launch it. On the Home screen, click Create New Account, enter a username, password, optional email ID and a device nickname to register the device to your SMS Tracker account. The next step involves activating your account and you can do that by signing in to www.smstrackerweb.com with your username and password.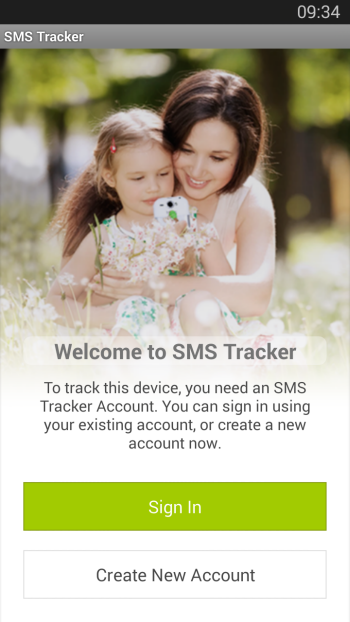 After you install SMS tracker on your child's device you can track SMS, MMS, calls, and location by signing into the web interface. You'll see an extensive menu when you sign in such as the Account menu, which displays various account settings. You can click on SMS logs to view the various incoming and outgoing messages, and Breadcrumbs to view the map to track the location.
Although the app is free to download and install, you only get access to SMS tracking in the free version. However, there is a free upgrade option where you can try all the premium features of the app for a 7 day period.
There are separate packages for SMS tracking plus, call tracking, browser tracking, location tracking and MMS tracking and all of them are available for you to try out for free for a 7 day period. The complementary upgrade option will not automatically become payable so once the 7 day offer expires you will need to subscribe for the pack you want. The complete package comes to just under $11 a month but should you opt for a yearly plan you will only be paying just over $65.
The SMS Tracker app is not a hidden spy app as Google frown upon such tools. So when you install the app on a phone, you will notice a pigeon icon showing up on the notification bar. There is however an undisguised version of the app available for download on the Account page, if you want a hidden feature. Just download the APK and install it.

SMS Tracker has just about all the features you would want in a spy app. However one must be aware that use of such an app will only further strain relationships between people and it is better to work out issues face to face than to employ sneaky tactics. That said, if there are situations where you'd rather rely on a remote monitoring tool, then SMS tracker should do the job for you.
---
---