If you think apps help you become a more productive person, then you need to be using NotePlan for Mac. Think of NotePlan as a Master Planner. It is a Calendar app that also works as a journal and notes app. Just jot down daily tasks or activities planned for later and integrate it into your calendar using markdown. With 3 different functions efficiently integrated into one app, NotePlan aims to make you organized and efficient, like a productivity machine. We take a closer look at what NotePlan does to help you stay productive.
Often in our eagerness to be productive, we end up using multiple apps. We have apps for to-dos, apps to keep notes organized, and multiple calendar apps. We then try to integrate all of these different app-related activities into one tool to ensure one smooth workflow.
Most often, these attempts are futile, and we end up spending more time trying to make these tools work, rather than becoming more productive.
If all these productivity apps are leaving you more exhausted than accomplished, you need to check out NotePlan.
Noteplan For Mac Review
NotePlan keeps the entire organizational workflow simple. Just the way it should be.
The Calendar View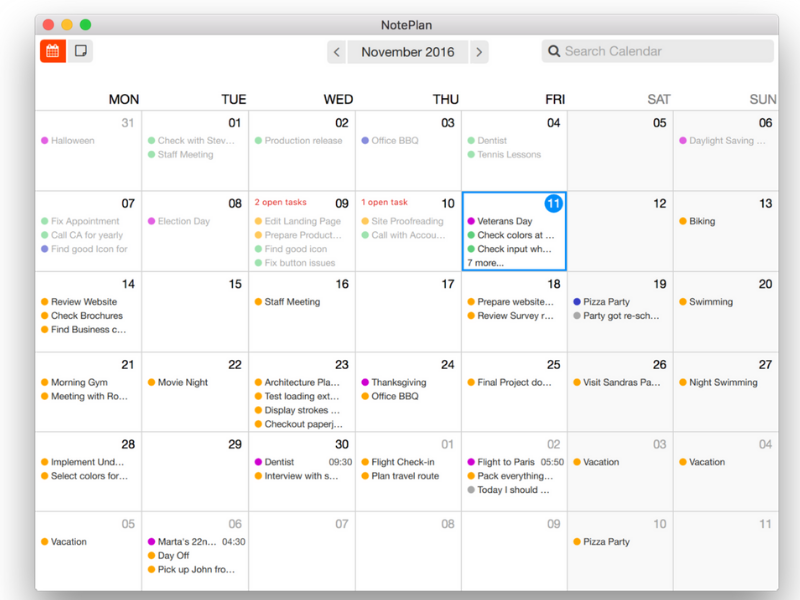 Once you launch NotePlan it opens up the Calendar in the Month view. Each day displays as a square block. If you have given permission for NotePlan to integrate with your Calendars, it will pull events from such Calendars and show in on the Calendar view.
Now that's typical to most calendar apps. Where NotePlan differs is what happens when you click inside a day to record a task.
Notes View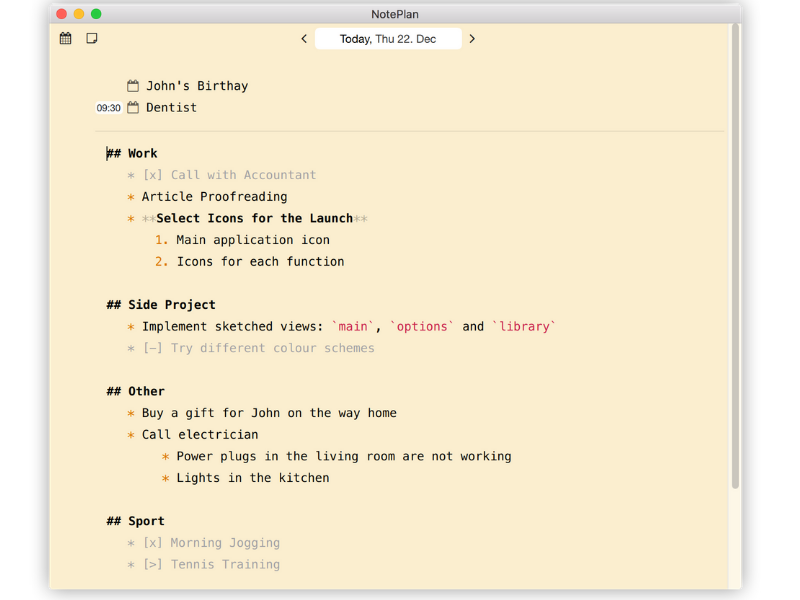 The Calendar entry opens into the Notes View. This is a plain editor where you can enter your tasks as notes or plain text and format it to show up a certain way.
Examples
For example, if you want to enter to-do item as a bullet point, you start it with an *
If you want to create sub-tasks, you use tabs and if you want to remove them, you use the backtab.
If you want to add a title, you start it with a #.
Display
Back in the Calendar, the bullet items will show up as orange dots. Green dots indicate completed list items. And normal text items are in grey. If you have scheduled to-dos, it will show up as blue dots.
If any bullet items are not marked as done, scheduled or cancelled, the calendar will indicate how many items are open, so you don't miss out on any of your tasks.
Hidden Icons
The Notes view also has a bunch of hidden buttons that let you do more. Hover over the left side of the window to access this hidden Toolbar. Here, you have icons that let you schedule tasks, mark them as done, cancel items, apply formatting and get help.
At the top of the pane you can see synced events from other calendars. You can see which calendar the event came from and switch between dates using the arrows next to the date label.
Markdown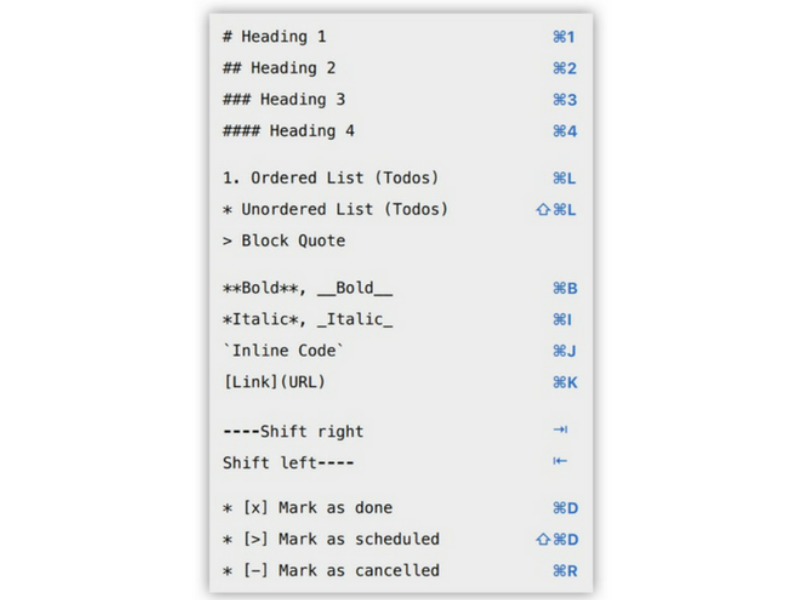 The magic that turns your ordinary notes into action items is NotePlan's use of the Markdown language. If you are not familiar with it, use the Markdown helper on the Toolbar to learn the shortcuts. Once you know your shortcuts, you can create H1, H2, H3, H4 titles, put together ordered and unordered lists, mark tasks as complete, or schedule and cancel tasks with ease.
Scheduling Tasks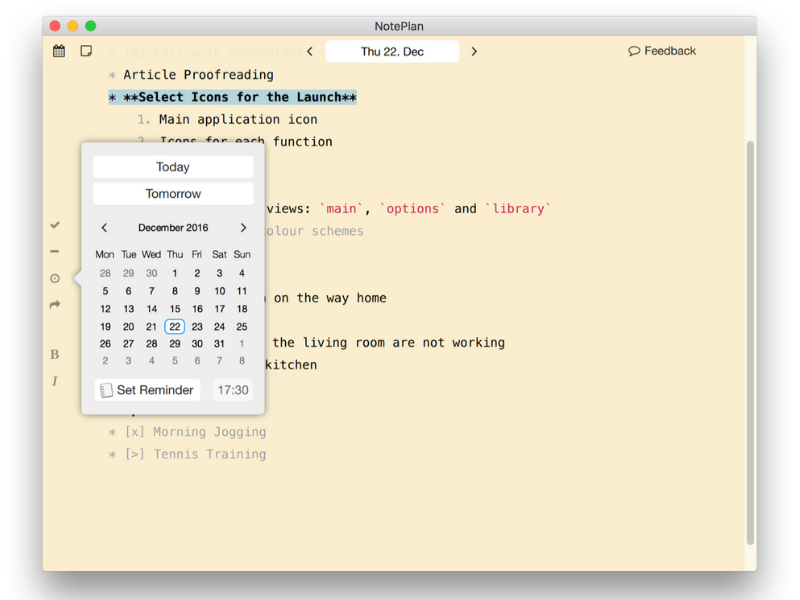 NotePlan also makes scheduling tasks super easy. And that's also done in the Notes view. When you hit the Scheduler icon in the Toolbar, a mini calendar opens up. Today and Tomorrow is preset at the top of the Calendar for quicker assignation. Hit the Set Reminder button at the bottom of the Calendar and you can get timely reminders for important tasks.
Daily Activities View
With all the planning and scheduling behind you, you can now start your day with a focus on just the day's agenda. Hover to the right of the window and your day's tasks are listed. You can now focus on the tasks you have for the day without getting overwhelmed by the full list of scheduled activities.
Taking Notes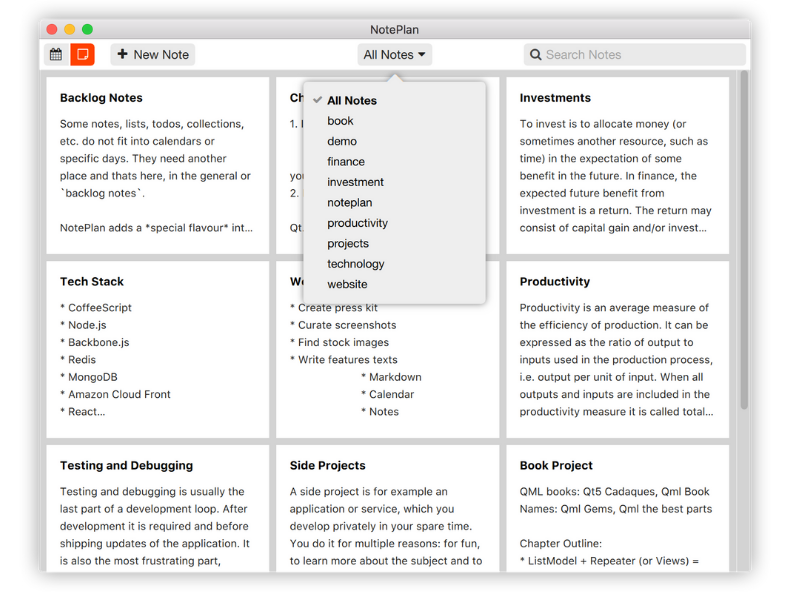 If you want to take some general notes outside of the Calendar, you can do it in the Notes section. Just click the Note icon at the top left of the application screen to access this section. By default, you'll see an Intro note prepared by the developer which gives you a quick summary of everything you can do with NotePlan.
To add a new note, you simply hit the New Note button on the left menu. All generic notes you write can be tagged. Just add them to the bottom of the note for easy organization and filtering later on.
One nice touch – you can do a bunch of extra stuff like share, duplicate or delete a note using the commands in the menu icon at the bottom of the note.
And, not to forget – you can convert any item in the note to a scheduled task in the Calendar. Such is the flexibility of NotePlan.
There's More – The Extras
– Search
Finding anything in NotePlan is pretty easy. This is a searchable Calendar. In the Calendar view, you can find tasks/events/activities by keyword. Similarly, if you have added tags to your general notes, you can use the Search bar in that screen to filter notes by tags.
– Backup
All the data recorded in the app is saved and backed up in your iCloud Drive folder. It is not stored anywhere else, so you can be assured that the contents are safe with you on your Mac.
– Themes
If you're big on themes, NotePlan has 6 light themes and 6 dark themes you can choose from. Just head over to the Preferences section to find them.
– Sharing
Notes you prepare on the app can be shared to Dropbox, Mail or other apps.
– Multiple Device Support
NotePlan is available for both the Mac and the iOS platform. That way you can plan on the go on the iPhone or iPad and process it later on on the Mac. All your notes are synced with iCloud Drive automatically across your devices. Only trouble is you'll have to buy the iOS and Mac apps independently of each other, which becomes pricey.
Final Thoughts
I've been through my share of productivity apps, but am yet to settle down with one app that organizes my day smoothly. With its simplicity and ease of use, I find NotePlan to be remarkably efficient.
I like NotePlan for the fact that it eliminates the need to have multiple apps to manage my activities. I also love the fact that I can put my random thoughts on the app, and later on, if I want to take action on it, can easily convert it into a task.
With NotePlan, I can also easily plan my day, juggle between different projects and access events from Google Calendar. Plus, there's an easy option to reschedule all open tasks. And the iPhone and iPad apps makes it so much more easier to jot down stuff and to-dos while on the go.
Not for Everyone
NotePlan is great at what it does. But everyone always wants something more. Some of you may wish for more collaborative options. Others may want to have the ability to save or attach files to notes. Some may like a more polished UI like Things for Mac and still others may want exporting options.
Some users may not care for Markdown. And there are those who don't really prepare tasks as lists. And if you're on a tight budget, you may not find NotePlan's individual pricing for iOS and Mac appealing.
Final Takeaway
For me, NotePlan is light, efficient and reliable. Anyone looking for an efficient way to manage various to-dos and calendar activities smoothly will definitely find great value in NotePlan.
NotePlan for Mac costs just under $20. You can download a trial version of the app to see if it meets your organizational needs. If you are completely satisfied, you can go ahead with the purchase. That's a pretty decent deal, don't you think?
Price: $19.99 | Link : Mac Store | Website: Link
If you're not using NotePlan, tell us which app helps you stay organized. And why you're not considering (in my opinion) one of the best Mac apps for productivity?